It's the summer school holiday and we have 6 weeks of kids holidays ahead – wow! While the kids ease their way to school-free days, we get that for parents it can be a struggle to fill the time, and not empty the bank. In Stoke-on-Trent we will keep the kids happy and the costs down. Great value things to do are Made in Stoke and right here for you all to enjoy. Beat the boredom, beat the costs and make the most of what Stoke has in store this school holiday.
Check out our Top Tips to get great value days out in Stoke-on-Trent, and beyond and get more inspiration from like-minded day-trippers by searching #mystokestory on social. We can't wait to see what you're getting up to, so feel free to add your experiences and pics by using the #.
Made BY YOU in Stoke
Try your hand at pottery skills, get creative and make a masterpiece from just a fiver a go, you get to Love Clay when you head to LoveClay at Valentines in Fenton. Take to the potters wheel at World of Wedgwood, make flowers from clay at Gladstone Pottery Museum, or happily paint the day away at Emma Bridgewater or Royal Stafford – share your creations with us, and be proud to be #MadeinStoke #mystokestory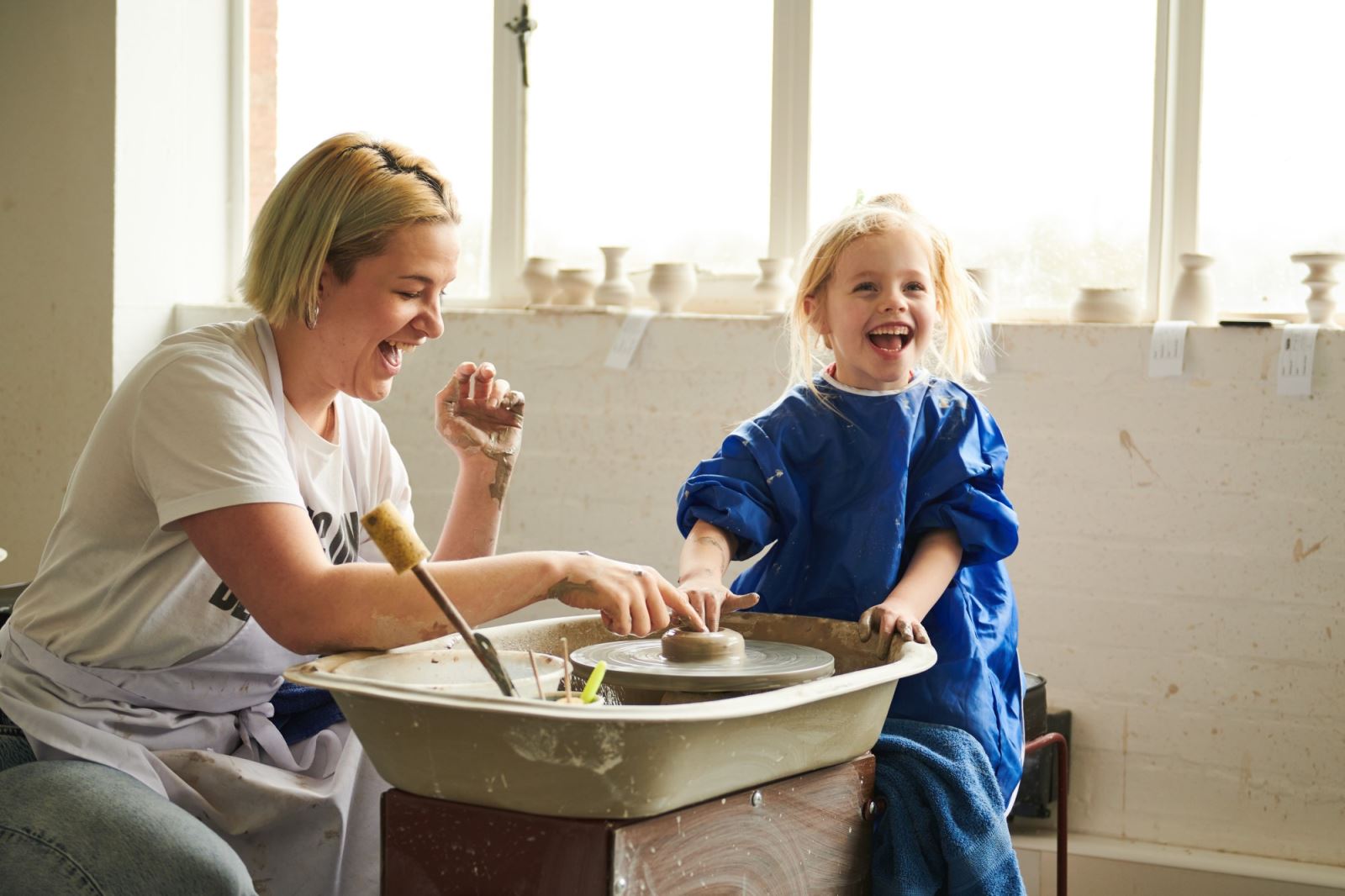 Fairy trails and monkeys don't have to be deer
Trentham Estate, Trentham Monkey Forest and Middleport Pottery are award-winning attractions right here in Stoke-on-Trent, that offer annual memberships for locals. Which means when you join up, you get to join in the fun - day after day, as well as enjoying special discounts and privileges. From finding the fairies, to getting knee deep in mud, meeting the baby monkeys or just hanging around in the playgrounds, discovering our heritage and stepping inside a bottle kiln.
If you're looking for a TOTALLY FREE Trentham day out, just head to the wonderful woodland walks, see the Monument and take in vast views of the city – it's a great place to picnic then head down to Spring Valley and back up through Kings Wood keeping your eyes peeled for wildlife, including wild deer. Parking is free at Trentham.
Have a trail of a time
Going on a trail fires imaginations and gets little hearts and feet pounding. Stoke Reads have story quests all over the city, simply sign up and go on a local quest whenever suits you. Or turn a quest into a mini fest-ival, by heading to one of the FREE Tales in the Park events, with storytelling, draw-alongs, face painting, free books, crafts and pop up sports activities.
Take a treasure trail to discover a new dimension to your town. Treasure Trails currently have a 3 for 2 offer on.
For an artistic take on the city, follow the FREE sculpture trail. We'd love to see who and what you find, and how you will interact with the likes of Arnold Bennet, Perseus and Sir Stanley Matthews, or can you find more? Share your pics on social with #mystokestory
Park Life
For a sense of "enormous well-being" spend time together in the great outdoors, get some exercise and enjoy a bit of park life. Our parks were established mostly in Victorian times as the green lungs of the City for everyone to enjoy. In practically every town you'll find a park - Burslem Park, Tunstall Park, Queen's Park Longton, Fenton Park and Central Forest Park with its skate park – up Hanley duck!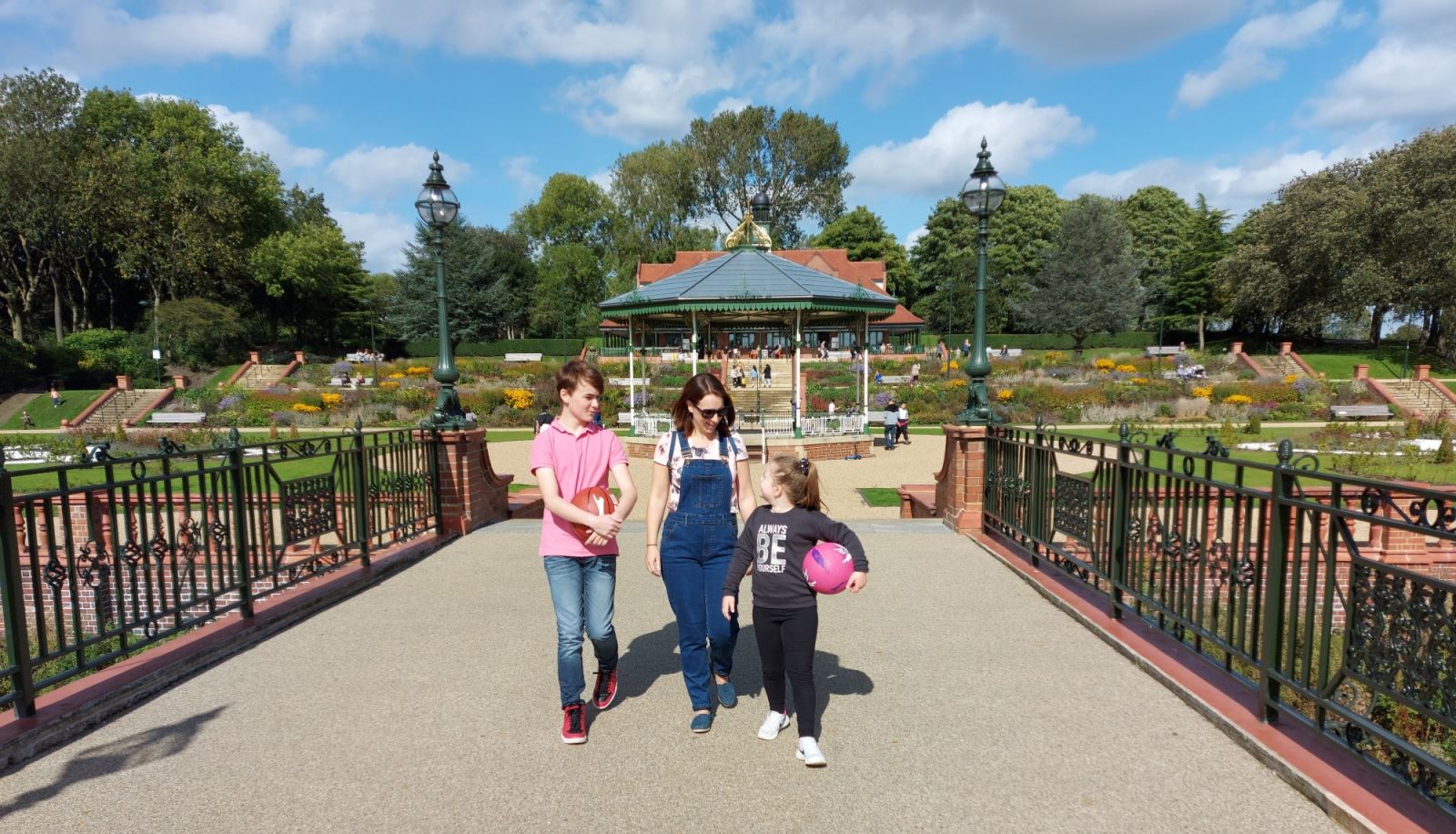 Right in the midst of the City is Hanley Park, with the Trent and Mersey canal running through it, a scenic lake, newly refurbished Pavilion café and boathouse, sports courts, playgrounds and even a dragon! Visit their facebook page for details of FREE SUMMER HOLIDAY ACTIVITIES from crafts to sports throughout the school holidays.
Walk this way
One of Stoke-on-Trent's many attractions is that, despite being an industrial city with beautiful parks, we're also surrounded by stunning countryside.
There's no need to feel down this holiday, when right on the southern edge of the city are the National Trust's Barlaston Downs, (also known as Downs Banks) with a babbling brook and paths to suit all walking abilities, it's very, very dog-friendly and FREE so you'll see big smiles and waggy tails all round.
Pick a country park near you – from Apedale Country Park with the Apedale Valley Light Railway, to Biddulph Grange Country Park and Biddulph Valley Way, Whitfield Valley, take a climb up to Mow Cop, Park Hall, or get back to nature at Staffordshire Wildlife Trust's Hem Heath Woods.
Climb, jump, escape duck!
For energetic and daring youngsters there's plenty activities to help run off some steam and stop them climbing the walls at home. Battle the boredom with a trip to Ninja Warrior UK, take one of 150 routes up the wall at Kilnworx, or have a flippin' great trampolining time at Flip Out or Tumbling Trampoliners.
Explore another dimension at XP-VR for the ultimate, virtual escape from reality or head to Trentham Treetop Adventures for a natural, adrenalin-fuelled adventure. Dare you take the plunge and share a video or reel with us on TikTok or Instagram? #mystokestory
Ports of call, without the sea? We can-alp!
Yes me hearties, we are about as far from the sea in England, as can be. However, water runs right through us. Where are we? Stoke-on-Trent of course, where the Trent and Mersey and Caldon canals once transported our pottery wares, they are now where a rich seam of heritage runs through our City.
Follow the Trent & Mersey from Harecastle Tunnel, Westport Lake to Middleport Pottery, through Longport – enough ports, you'll agree? Then it joins with Festival Park's marina, on to Etruria Industrial Museum - where the junction of the Caldon Canal branches off to Hanley Park and past Emma Bridgewater Factory. The Trent & Mersey Canal continues down to Stoke City's Bet 365 stadium, and on to Barlaston, the home of World of Wedgwood. If your teens are keen on TikTok or the 'Gram there's lots of interesting, post-industrial encounters and backdrops to post about. Keep your eyes peeled for wildlife and narrowboats and the odd pub or two! Extend your walk into any of the attractions, by taking your toes from the towpath and into cobbled courtyards and vast visitor centres. If you're feeling energetic, do it in one go, or take your time and walk yourself fit, bit by bit. Flat canalside walks are great for pushchairs and cycling too - don't forget to dismount or duck, duck as you go under the bridges!
We haven't finished with ports quite just yet however...
Following promotion after their Wembley play-off final win, Port Vale kick off life in English Football League One this summer whilst Stoke City also get their English Football League Championship campaign underway. Whatever your colours, get down and support the lads - Why Why Deliah? Well, That's The Wonder Of You!
Have an Umbrella, ella, ellava time up Hanley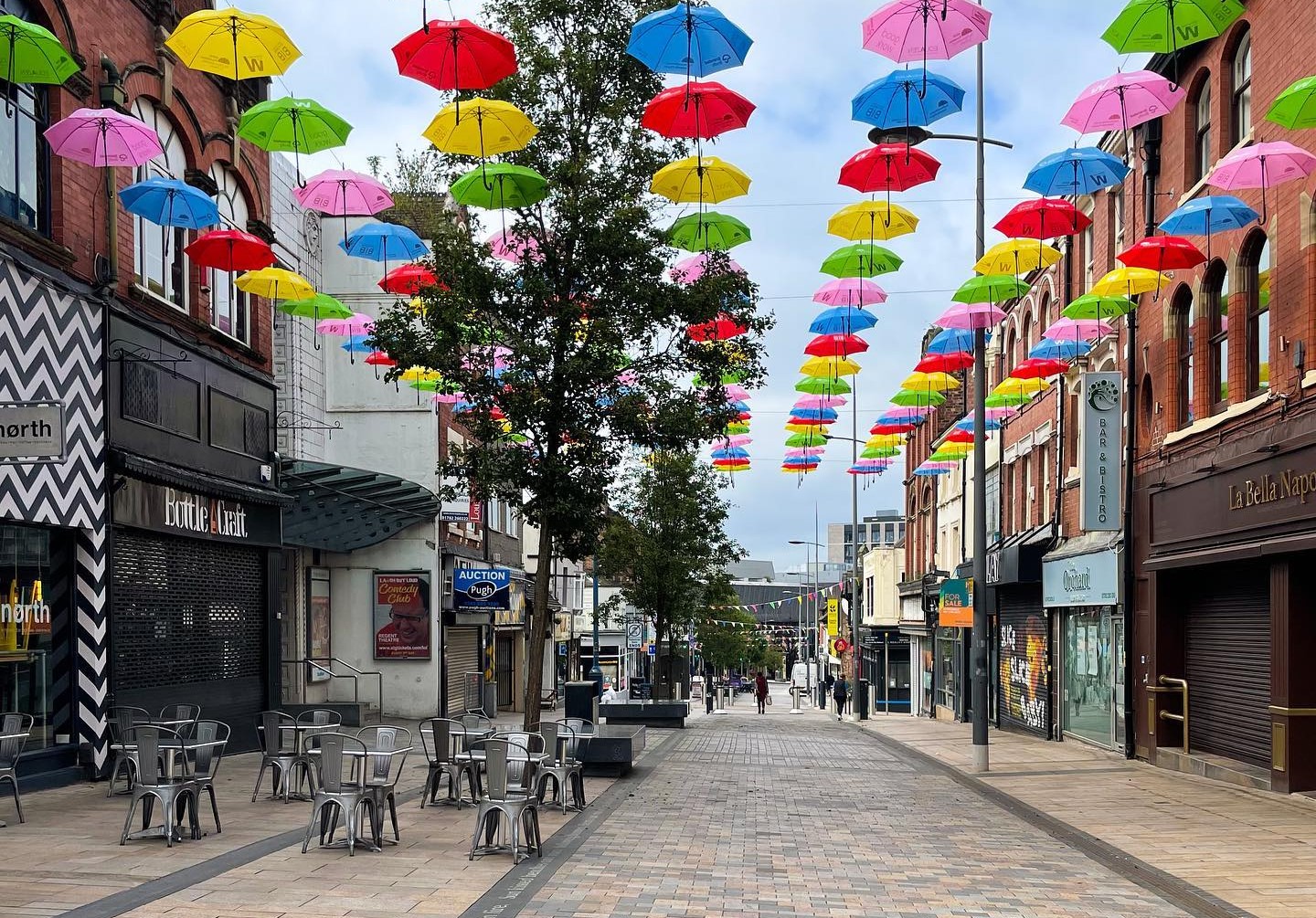 Come rain or shine we've got you covered in the City Centre, quite literally – the Neurodiversity Umbrellas are up, adding a splash of colour to Piccadilly with this uplifting public art installation. There's a real feel of the Mediterranean with alfresco dining and lots of free activities for the kids, by Appetite and Stoke Libraries – circus skills, children's yoga, kids fitness and family board games, culminating in a FREE festival The Big Feast on the 27 & 28 August. Keep up with what's on when in the City Centre by following Stoke-on-Trent City Centre BID on facebook
It's not just books you'll find at the local libraries either… the Gadgeteers are running fun FREE activities throughout the holidays, from origami to science, hedgehogs to robots, 3d animation to feathered friends and LegoTM – give it a go!
Follow the Umbrellas downhill and turn left to find family fun for FREE at The Potteries Museum and Art Gallery. Let your kids pride in the people of the Potteries soar, as they take in the sight of a Spitfire in the cool new gallery. Museums are perfect places to head to if the weather is less than hot, or you need a place in the shade…
Just a stride away from the museum is the Mitchell Arts Centre, which is runs fab film clubs for families and tots, where tickets are just £3.50 and one adult goes free with a paying child.
Oh we do like to be beside the…
OK, ok we already said we don't have the "sea" but, there are plenty of beautiful waters to be beside, besides the seaside! There's Trentham Lake, Westport Lake, the lakes at Hanley Park and Longton Park, and the canal to walk beside. Or… you can safely jump in duck, at Fenton Manor pool, Dimensions, or splash out on a visit to Waterworld at Festival Park.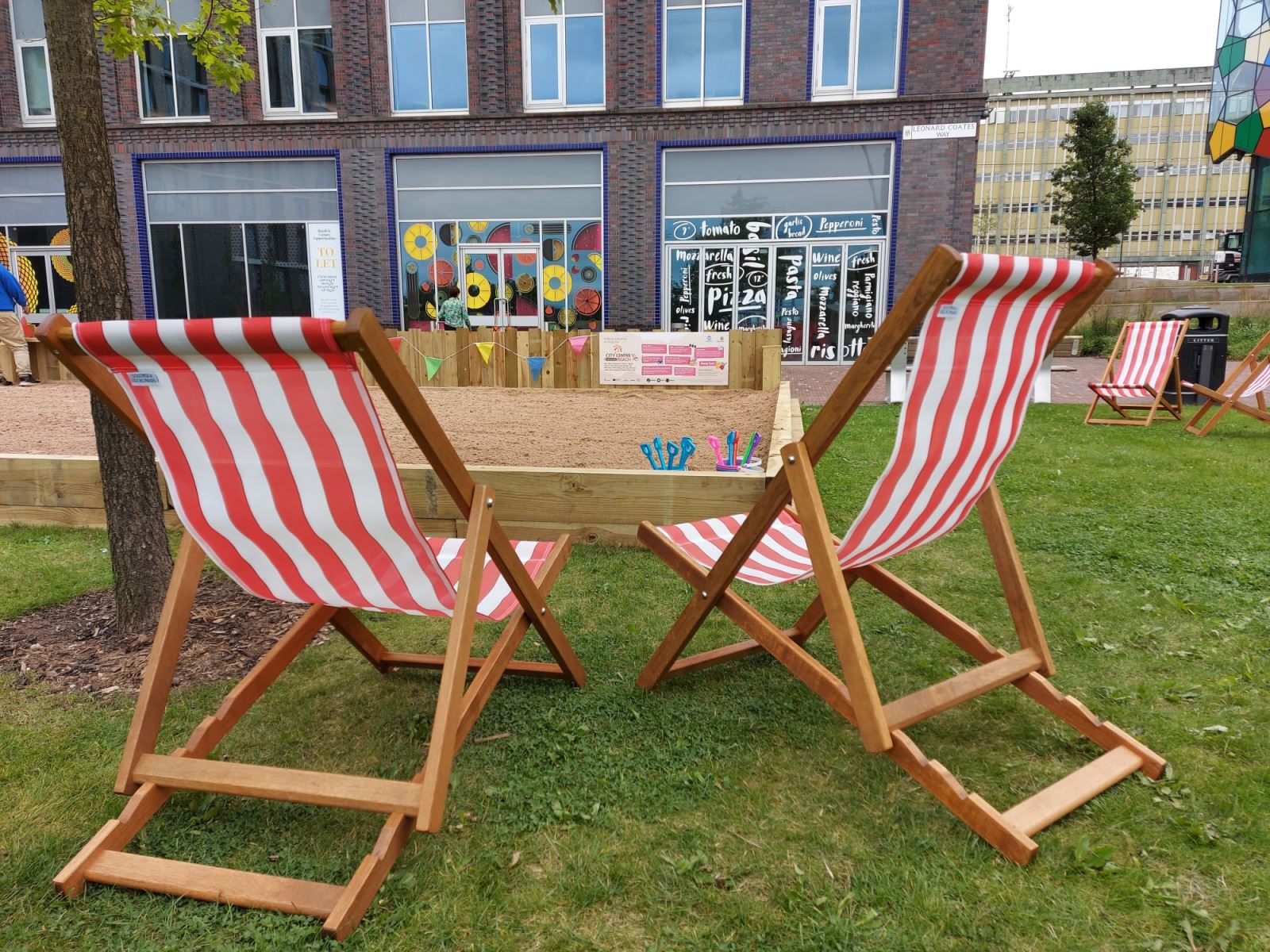 Pull up a deckchair, at the City Centre's urban beach, beside the colourful Smithfield building and overlooked by the Hilton Garden Inn, where you can find a pew with a view, and enjoy a brew on their outdoor terrace.
Affinity Staffordshire also have a beach open to visitors throughout the summer holidays! With buckets and spades, plus deckchairs to lounge in, there's also some great prizes to be won by solving a weekly riddles throughout the holiday!
High hopes for summer of sharing
From the squelch of muddy feet, the flap of the picnic blanket being laid down, to the wonder of wandering the cobbles, the towpaths, gardens and galleries, we hope your Made In Stoke summer holidays are fun, that the excitement is high and the cost is low… and that you share your adventures with us @VisitStoke on facebook and twitter, @visit_stoke on instagram and use the hashtags #madeinstoke #mystokestory
If you want the lowdown on where to go down, or up, take a scroll around our website www.visitstoke.co.uk or tap into the local tourist knowledge on social media @VisitStoke #mystokestory
Dialect disclaimer for non-natives
* Us Stokies often say "up" or "down" rather than "to". So, for example, we go Up Hanley, and Down Longton.
** Duck, is a term of endearment in The Potteries, as well as an instruction to quickly crouch down, or a type of waterfowl that quacks.
Related
0 Comments