The Perfect Potteries G&Tea
Getting a taste for the perfect Stokie "G'n'Tea"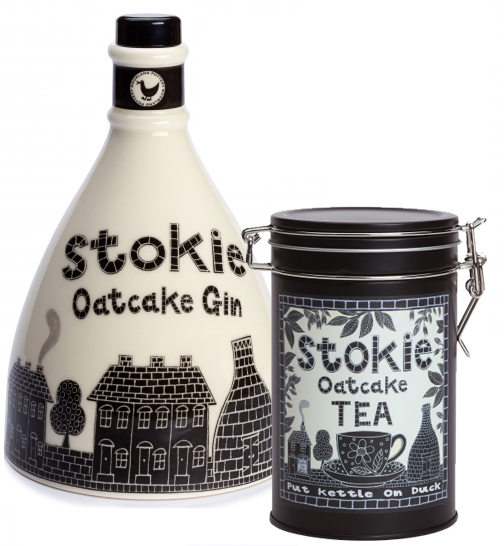 Moorland Pottery is perhaps best known for its eclectic range of "Stokie Ware" mugs.
Now an instantly identifiable brand in the world of ceramics, it has given the company an almost unmatched local identity with Stoke-on-Trent. Not to mention, an oatcake gin - and now, an oatcake tea - that's offering a far greater audience the chance to experience a truly iconic flavour of The Potteries.
For anyone not already in the know, the oatcake is a local food that is unique to North Staffordshire.
Bearing no relation to its Scottish counterpart, the Staffordshire Oatcake has the appearance of a moist pancake, or crêpe, and is made (usually from a 'secret' recipe) largely from oatmeal and yeast. To some, it's the 'oat cuisine' of The Potteries. To others, it's the 'Potteries poppadum', or 'clay suzette'!
Historically, the oatcake was the equivalent of the Cornish Pasty: workers in The Potteries would wrap whatever 'left-overs' they had in their oatcakes, and place them close to the bottle-ovens to warm them through for lunch.
These days, you'll still find oatcake shops in the area, mostly in terraced shops, where the smell of freshly cooked oatcakes mixes mouth-wateringly with a full range of fillings.
But the shelves of Stoke are also now being stacked with Stokie Oatcake Gin, and - more recently - Stokie Oatcake Tea.
The gin became an overnight sensation when it was first launched at the tail end of 2019. What helps, of course, is that it comes in a collectable Stokie Ware ceramic bottle, designed to match the shape of the famous pottery bottle ovens which still punctuate The Potteries skyline.
The tea, meanwhile, is designed to offer the perfect cuppa for anyone with a Stokie Ware mug; with the tasting notes on the back of the packet telling you everything you need to know. "Like our Oatcake Gin, it takes some imagination to create a bespoke blend of tea that honours the noble Staffordshire Oatcake," it begins.
"The idea came to life with the discovery of oat flowers which are harvested and dried before the formation of the oats. So, armed with our oat flowers we eventually arrived at the door of a master blender, and worked together to create a brand-new blend of tea with the inclusion of our oat flowers. The result is a uniquely flavoured Oatcake Tea, worthy of the name".
So there you have it. Stokie Oatcake Gin, and Stokie Oatcake Tea: both now available separately online from Moorland Pottery! Or, as a combo-package which, for £60.95, reveals the full flavour of the perfect Stokie "G'n'Tea"!