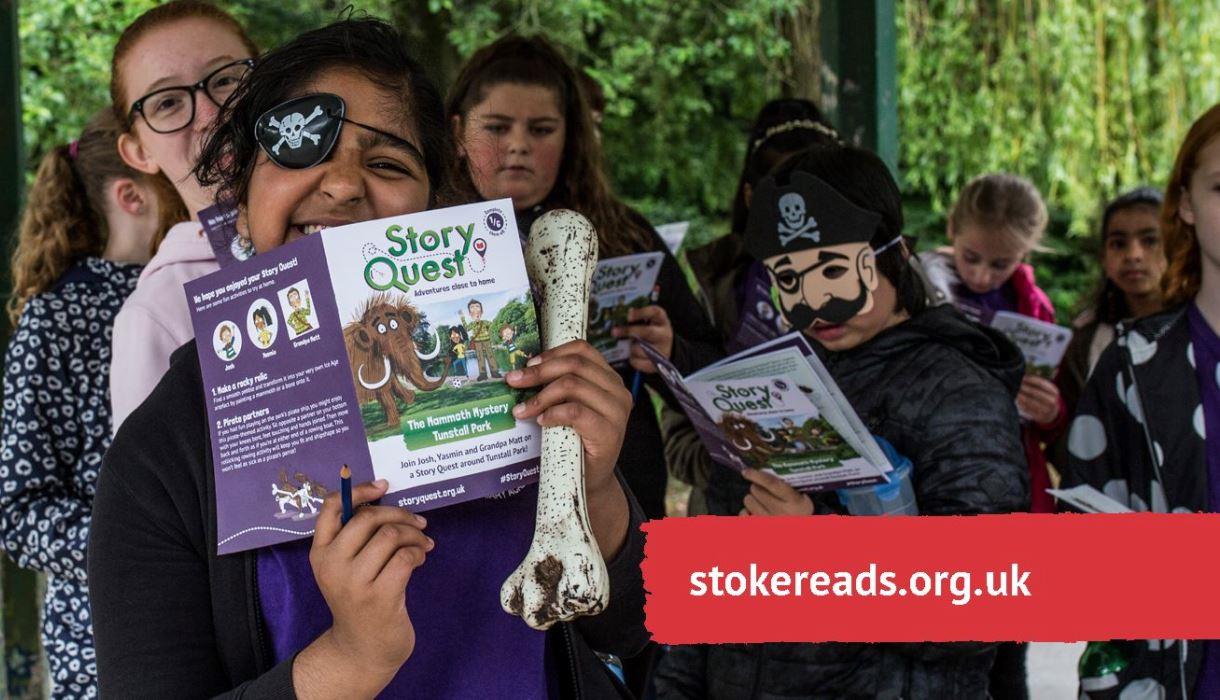 About
Story Quest is a project delivered by the National Literacy Trust through Stoke Reads funded by Sport England and in partnership with Street Games. Story Quest encourages families living in Stoke on Trent to get outside together and take part in free adventure story trails around their local green spaces and neighbourhoods.
Trail Locations
There are eleven Story Quest trails located across Burslem, Tunstall and the surrounding areas, for families to enjoy:
- Burslem Park (x2)
- Tunstall Park (x2)
- Central Forest Park
- Ford Green Hall (x2)
- Westport Lake
- Tunstall town centre
- Burslem town centre
- Middleport Pottery (new location, trail to be released in October 2020)
- Hanley Town Centre *Christmas Special Edition*
What do the trails include?
Each story/trail has its own booklet. These consist of:
- A child-friendly map of the trail location
- Stories linked to the culture and heritage of the local area
- Both physical activity and literacy challenges throughout to help children engage with the story and location
- Suggested reading lists and additional activity ideas
How can families access the trails?
Sign up online at www.storyquest.org.uk to gain access to digital copies of the trails
Once families have signed up online, physical copies of the booklets can also be collected from Tunstall Library as part of their click and collect service. These packs also include a free book for families to enjoy. Families can also contact the Story Quest team to arrange collection/delivery.
Keeping up to date with Story Quest
Like and follow our Facebook page to keep up to date with new Story Quest trails and resources.
Questions:
If you still have some questions about Story Quest and how to get involved, please do not hesitate to get in touch with your local Story Quest team who will be more than happy to help.
You can do this by contacting either:
Lois (Project Manager) 07849 353 729 lois.bateman@literacytrust.org.uk
Jenna (Project Officer) 07511165566 jenna.lee@literacytrust.org.uk
Map & Directions
TripAdvisor