Just like the Easter bunny, we're here handing out Easter treats in the shape of the best things to do in Stoke-on-Trent this Easter holiday. Now, shhhhh - don't tell Santa - but we think Easter is like Christmas, but without the hassle, and with much better weather! It's a time to spend time with friends and family – not to mention the two big "Ch's" of Easter – Chocolate and Church! So, grab your Easter egg baskets and join us on the trail down a rabbit hole. See Willy Wonka's famous factory on film, or visit real factories complete with their own Mad Hatters and Hen Ladies, or take a gentle potter back in time.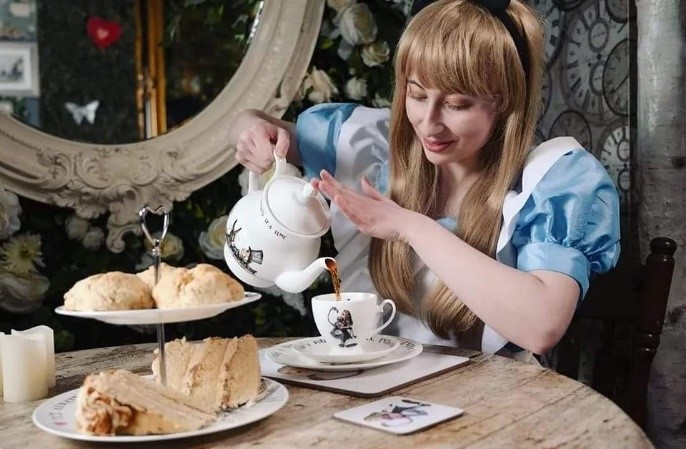 Let's begin with a sit down and a cuppa in Stoke, at the wonderful Rabbit Hole Tea Room. As the name suggests it's wonderland styled in homage to all things Alice, but with a Beauty and the Beast theme this Easter. Their delicious afternoon teas are served on, and poured from teasets made by Duchess China, fit for royalty! Don't delay as booking is necessary and their Easter Afternoon Tea slots are going fast.
As you're in Stoke (which – it gets curiouser and curiouser - is a town in Stoke-on-Trent), do visit Stoke Minster. Christian worship has taken place there since Saxon times and continues to draw pilgrims today on the Two Saints Way. Stoke Minster is the civic church for the City of Stoke-on-Trent and reflects the rich history of the Potteries.
Looking for a stopover? Then it doesn't get more unique than staying in a former Potbank (as us locals call pottery factories). The Potbank Aparthotel is housed in the former home of legendary ceramicist Spode, (there's still a museum there) and The Quarter - a fabulous café come Mexican restaurant on site. Head to the Factory Floor on Good Friday and Saturday 16th April, and dance your way into the Mad Hatters Easter Eggstravaganza, complete with professional dancers, a magician, "eat me" lunchboxes and of course, paint a ceramic rabbit activity. It's £20 per child with adults going free. Book in advance, online here.
Drink me! No visit to Stoke is complete without calling in at The Glebe, an historic taphouse run by local brewers Joules. Enjoy a pint, a pork pie and pull up a pew in their beautiful secret town beer -garden. Non-alcoholic, meat-free options are also available!
In the city centre (which – curiouser and curiouser – isn't Stoke, it's Hanley!) roll up, roll up and get a Golden Ticket to the original Willy Wonka & The Chocolate Factory film. Unbelievably, it's 50 years since this classic hit the big screen with the memorable Oompa Loompa song. The showing is at the Mitchell Arts Centre on Easter Sunday at 10.30am, with tickets at just £3.50 each. Family films run throughout the holiday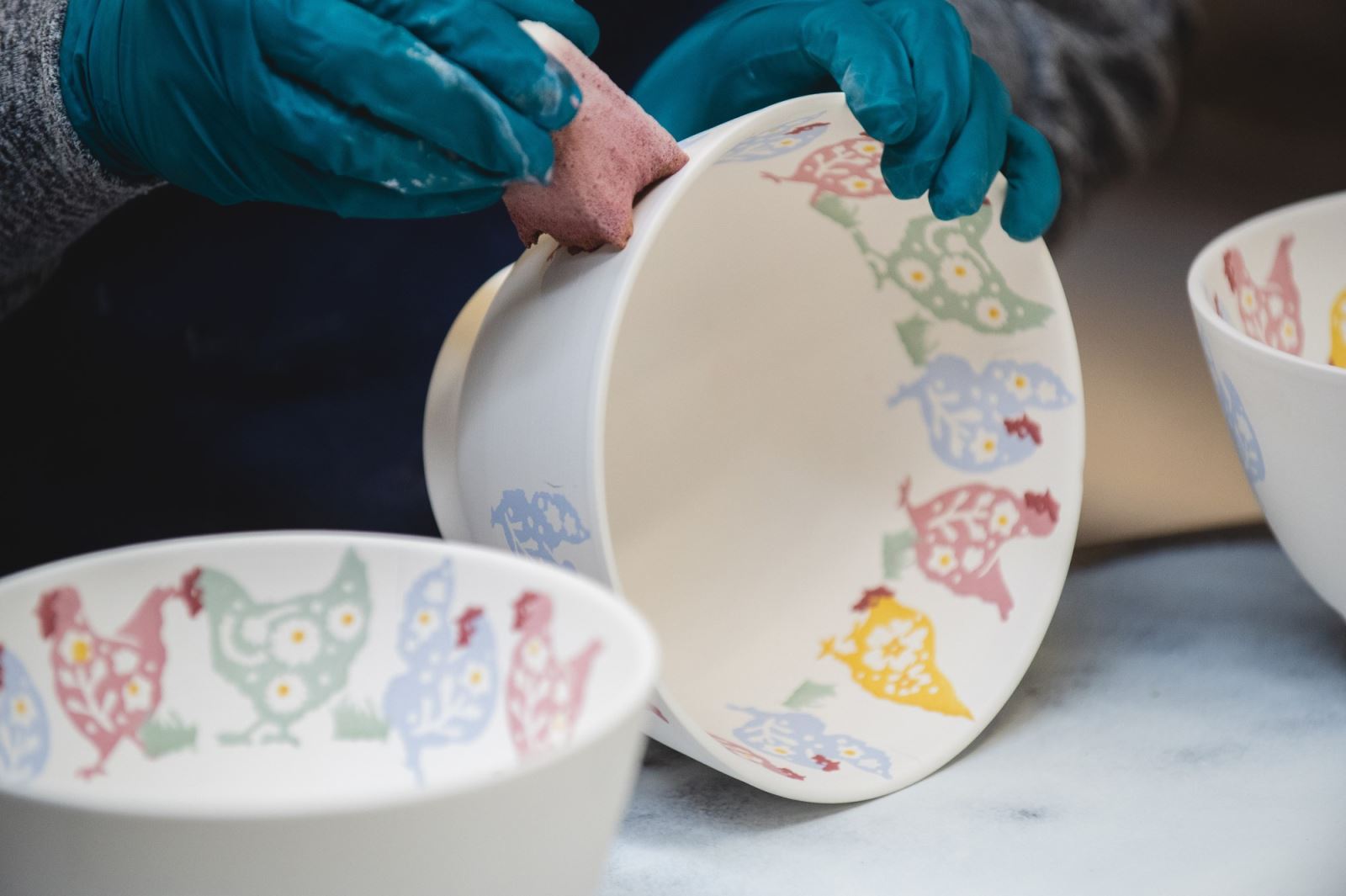 Also, "Up Hanley duck" (as us locals say) you'll find the marvellous Emma Bridgewater Factory – we're simply dotty about visiting their café, shop and decorating studio. On Tuesday 19th and Thursday 21st April, 12-3pm – have a go at screen printing your own Emma Bridgewater Easter poster (suitable for all ages with some help, free drop-in activity, booking not required). Find the chicks and ducklings hiding around the factory on their free children's trail around the shops, café and secret garden to win a treat. Visit on Thursday 21st or Friday 22nd April, to meet The Hen Lady and cuddle up with a fluffy Easter chick (free drop-in activity, booking not required). Put spring on a plate in their decorating studio using special seasonal sponges, hmmm will it be a bunny or a chick, daffodils or tulips… the pottery possibilities are endless. Oh, and just a heads up that their factory tours start again from 25th April.
The Dudson Museum are hosting some great children's activities - choose to paint a pot, or take on the Dudson quiz for a small fee. And Mrs. Potts will be back for an Easter-themed Storytime.
Take a potter out of town to Ford Green Hall, where memories stretch back to the year 1624! From 11-18 April, you can search for Easter eggs and chicks throughout the Hall and garden. Play with period toys and games and have a go at their Easter craft activity. Normal admission plus small charges for trail and craft activity which run 1-3.30pm.
On the outskirts of the city lie wonderful gardens for you to explore. To the north is the National Trust's Biddulph Grange garden, where famous National Trust Egg Hunt takes place between 8th-18th April.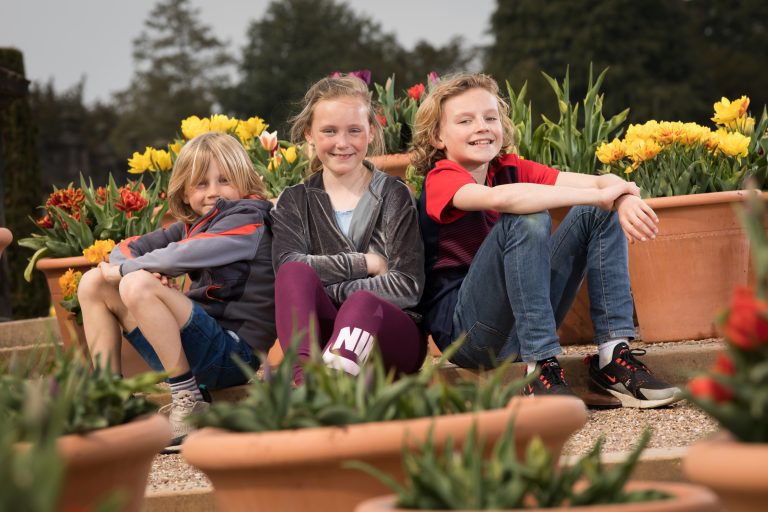 Head south and discover a spring wonderland at the award-winning Trentham Gardens, hunt for the white rabbit or or enjoy Lambing Live when Trentham bring their rare breed sheep into the Gardens under the watchful eye of Trentham's farmer, to share the joy of lambing season. Hop over to visit the neighbouring Trentham Monkey Forest, where their Easter trail may just lead you to the primate playground!
If that's not enough monkey-ing around this Easter, then pop over to Affinity at Talke Pits, to the north of The Potteries, for FREE Easter activities between 11-14th April, including meeting Beatrix Potter characters and visiting the petting farm.
Phew – we're exhausted after that trail around the with the Easter bunny, we hope you'll consider some of our suggestions. Tell us about your Potteries Easter days out or send us your Stokie selfies! Tweet us @VisitStoke share your pics on Instagram @VisitStoke #mystokestory or follow our story on facebook
Posted with love from The Potteries, happy Easter!
This blog is funded via the Welcome Back Fund, a European Regional Development Fund managed by the Ministry of Housing, Communities and Local Government.

Related
0 Comments