Factory Floor @ the QUARTER Potbank
Potbank
Spode Creative Village
Elenora Street
Stoke-on-Trent
Staffordshire
ST4 1QQ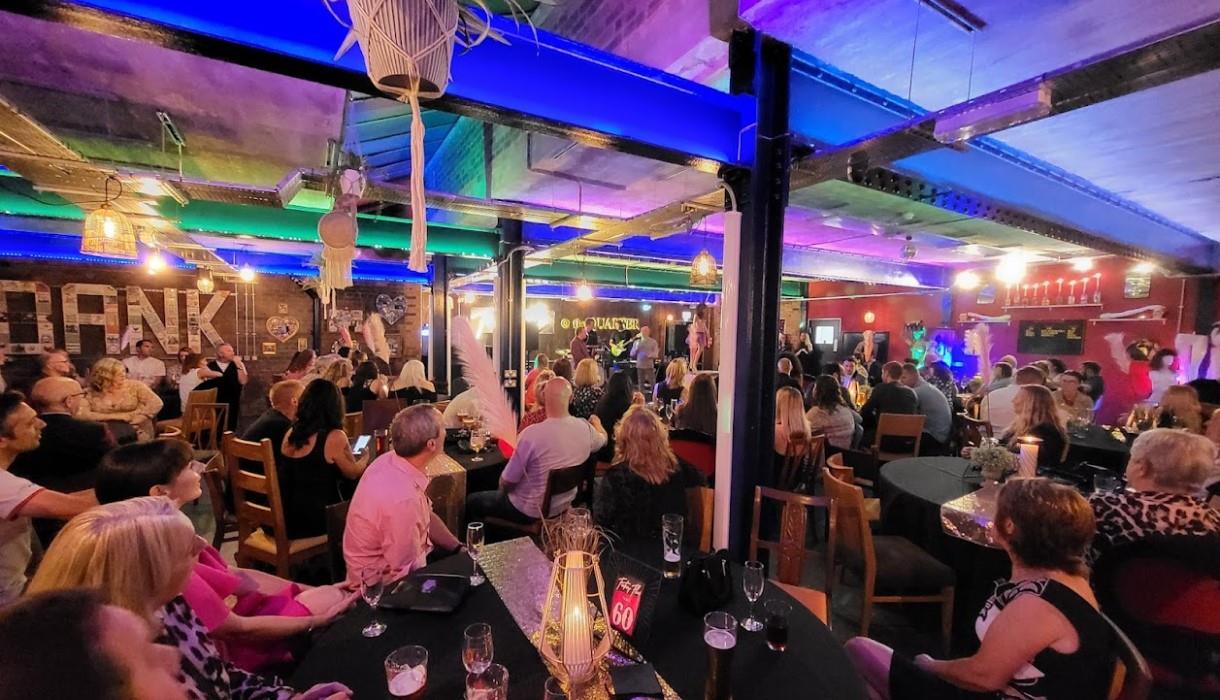 About
The Factory Floor @ the QUARTER Potbank, is live entertainment space in the heart of the historic Spode Pottery Site. Bringing music, drinks, dancing, the arts and food together with the usual quirky QUARTER twist.
The entertainment space houses a bespoke bar with a vast range of drinks including 'Boozy Slushies', independent beers and ciders, high end spirits and a range of cocktails.
Professional live music shows will take place each Friday and Saturday and are be ticketed events, giving you access to some of the country's top entertainers, singers and party bands, along with Salsa Nights, Comedy Shows, and so much more.
The band sets are approximately 8.30pm – 9.30pm and then 10.30pm – 11.30pm. DJ will play in between.
Doors open at 7pm and our resident DJs will kick off the night as you arrive, you'll take in the show, then dance the night away until midnight to some of the best party tunes in town.
Our exclusive Mexican Street Food Hatch will be open from 7pm until 10pm where you can buy your delicious homemade Mexican food, catering for all dietary needs and giving you that casual dining experience to accompany your night out. You can also grab a sweet treat from our Mr Whippy machine.
The vibe for the Factory Floor is that quirky night out where you can eat, drink, listen and dance all in one place, perfect for any occasion, or simply a weekend treat! You can even book a table in our popular restaurant and purchase a late entry ticket at a reduced price; however, these are limited. The QUARTER wants to bring that old fashioned cabaret style night out in its usual quirky style.
The Factory Floor @ the QUARTER Potbank is located in the original Spode Pottery Factory and has kept some of that industrial charm seen in the main restaurant, café and bar but has been given that live entertainment twist. The heritage of the site has really been highlighted within the space and has brought back to life the previously derelict factory floor.
TripAdvisor
Opening Times
* The Factory Floor is a ticketed event space. Please visit the website for a list of events.