Visit Stoke are absolutely delighted and hugely thankful to local haulier Danny W Poole & Sons for funding a Visit Stoke advertising campaign on two of their articulated lorries.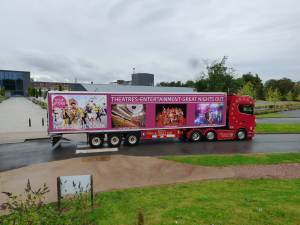 The two eye-catching trailers will travel thousands of kilometres each week, showcasing Stoke-on-Trent's fantastic heritage & cultural tourist attractions and outstanding entertainment venues.
Entertainment venues highlighted on one of the trailer's livery include The Regent Theatre, Victoria Hall, New Vic Theatre and Mitchell Arts Centre.
Some of the city's outstanding attractions making an appearance on the other trailer include World of Wedgwood, Emma Bridgewater, Middleport Pottery, The Potteries Museum & Art Gallery, Gladstone Pottery Museum, Trentham Estate and Trentham Monkey Forest.
Councillor Lorraine Beardmore, cabinet member for culture, leisure and public health at Stoke-on-Trent City Council, said: "The tourism industry has had a really tough time over the last 18 months.
"It's fantastic to start to welcome visitors back to our wonderful attractions. And what better way to do it than to celebrate with these fantastic trailers."
The trailers were seen for the first time at a media launch at World of Wedgwood on Tuesday and will now begin travelling across the breadth of the UK and Europe.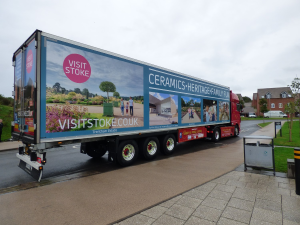 Phil Houlton, operations director for Danny W Poole and Sons, said: "The advert we have got on the side for Stoke-on-Trent is two-and-a-half metres high.
"They are fantastic trailers, which we track right across the country and, in fact, into the whole of Europe.
"These trailers can expect to cover over 1,000 kilometres a week. They will be seen right across Germany, Belgium and Holland."
Frazer Hoyle is theatre director for the Ambassador Theatre Group's venues, the Victoria Hall and The Regent. He said: "This is going to be a big boost for the public to see that we are open and ready for business."
When you're out and about on your travels, keep your eyes peeled for the Visit Stoke trailers and if it's safe and legal to do so, post a photo and tag @visitstoke – we'd love to se where you've spotted them!
Related
0 Comments