Oh we do love a right royal knees up in Stoke-on-Trent! Even before the reign of the last female monach, Queen Victoria, the talented ceramicists of The Potteries have been producing commemorative ware for Royal Celebrations, such as Coronations, Weddings and Jubilees. No china cabinet is complete without a piece of Staffordshire pottery, adorned with Union Jacks and royal portraits, past and present. And we believe that no Platinum Jubilee spread is complete without a toast to The Queen from a British-made cup, and a visit to the English Potteries starting with a look at three-centuries of our Jubilee creativity.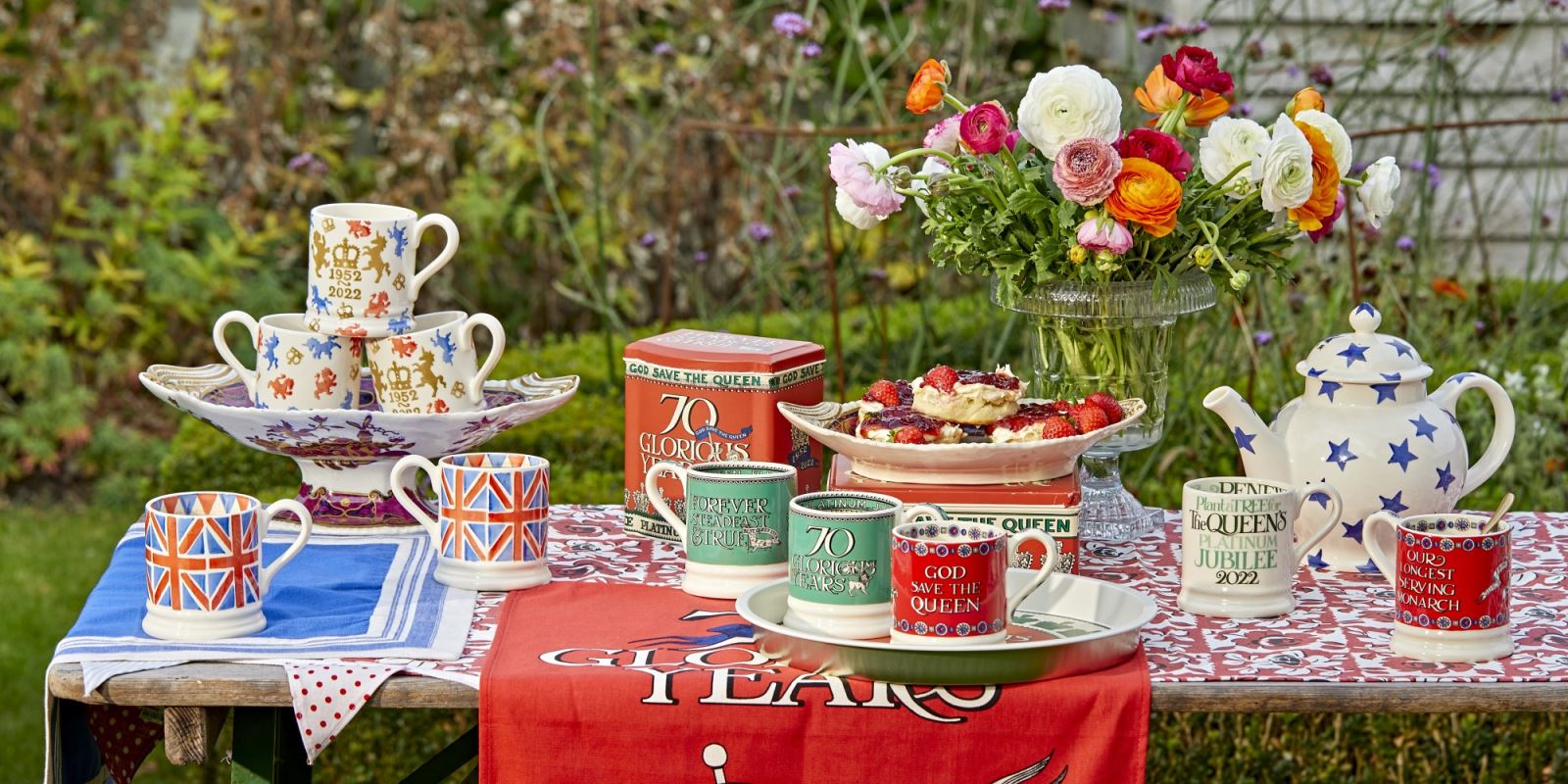 Image above: Red, white and blue inspiration for your Platinum Jubilee table from our friends at Emma Bridgewater
It's almost time to stop spinning the potters wheels, cool down the kilns, put the platinum paint brushes down and the bunting up, all over Stoke-on-Trent. Get ready to celebrate 70 glorious years of Queen Elizabeth II's reign, and a wonderful long Jubilee Bank Holiday Weekend.
We cordially invite you to join in the Potteries Platinum Jubilee fun…
The 4-day jubilation celebrations begin at noon in Trentham, with quintessentially British activities planned for the whole long bank holiday weekend. Prince, Princesses and Knights schools, daily Changing of the Guard, 1950s rock and roll dancing, face painting, balloon making, bubbles, wartime singing and brass bands, all feature in the fun line-up. On Thursday 2 June at 8pm guests will gather in an act of national unity, as twilight turns to moonshine by the lakeside, in the atmospheric Trentham Gardens, to witness the lighting of Trentham's Community Beacon, high on Monument Hill at 9.45pm. You're invited raise a glass of fizz, enjoy wartime songs, a rousing rendition of the National Anthem and a cornet solo of Majesty. This is a "once in a lifetime" experience, offered as a sponsored, ticketed event. Visit Trentham for admission, booking, and full activity info.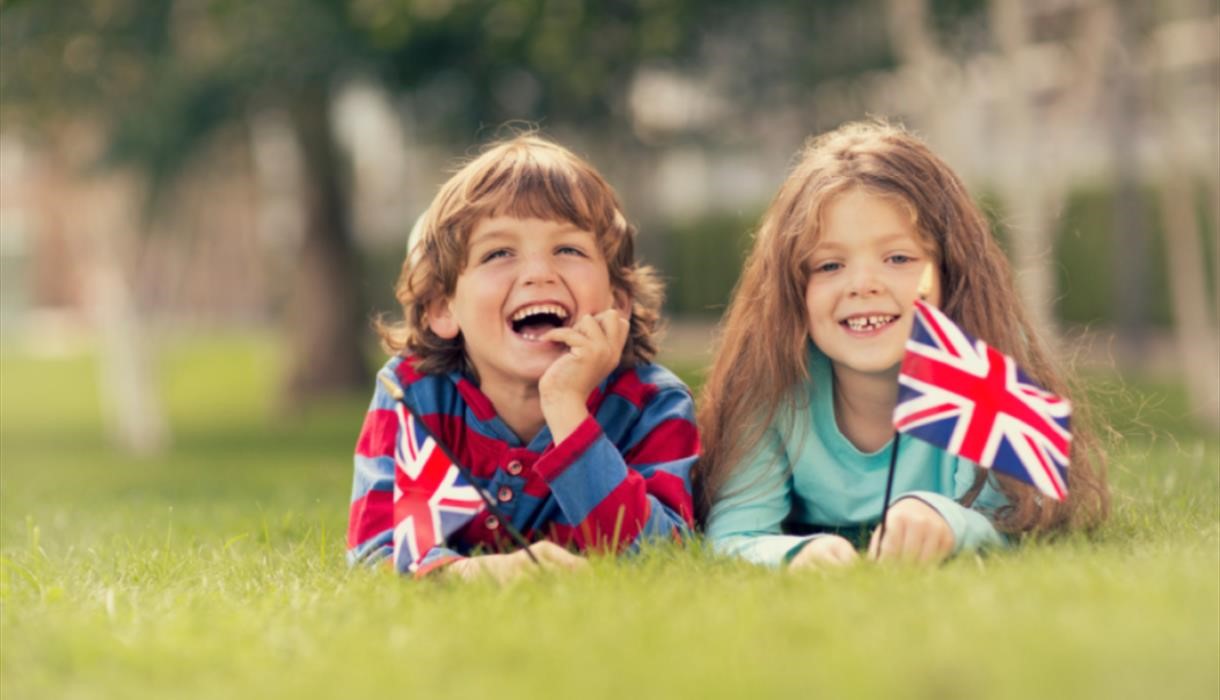 Meanwhile, a FREE Jubilee Park Party in Hanley Park is planned for Thursday 2nd June, from 11am to 3pm. This beautiful, Victorian Park has benefitted from a multimillion-pound restoration. Pack a picnic, lay down a blanket and enjoy the splendour of the setting, which will be buzzing with live music from the bandstand, circus skill workshops, interactive magic shows, football and archery activities, crafts and entertainment including a greeting from a Union Jack waistcoat-wearing, Penny Farthing rider!
The City Centre BID and Appetite will be encouraging you to dance through Hanley and the seven decades of Her Majesty's reign, on both Friday and Saturday 3rd and 4th June, from 11am to 5pm. From lindy hop to hip hop, a troop of colourful dancers, DJs and performers will be leading the way from the 1950s to modern day music. If you're in the mood to carry on the party, head to Piccadilly for alfresco drinking, dining, DJs and a Jubilee Social. Don't forget your jazz hands.
Visit the World of Wedgwood for a Great Jubilee Feast, on the 4 June 10am-5pm, for live reggae music, DJ's, crafts including fresh flower crown and felt flag making, and origami flower crafting with the V&A Wedgwood Collection. The fabulous chefs at Lunar will be cooking up a storm of British classics in honour of Her Majesty, while Sixtowns will be shaking things up with cocktails, and the Wedgwood Tea Room hosts an exclusive, Bridgerton inspired Jubilee Afternoon Tea complete with string trio. Please book food options in advance. Admission to the courtyard is free.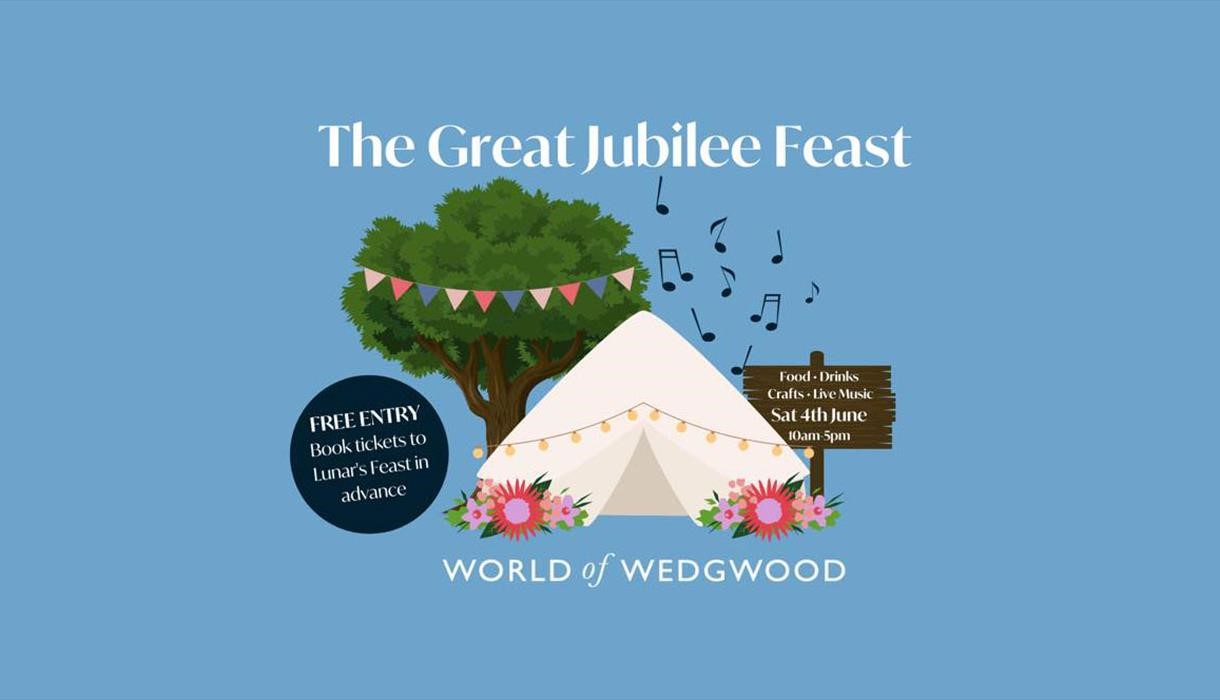 With cobbles underfoot, bunting overhead and bottle kilns alongside, Jubilee street parties just don't get any more Victorian than this! Head to Gladstone Pottery Museum, on the 4 June, dress the kids as Victorians (we hear that Queen Victoria herself will be judging the best dressed!), be enraptured by the Victorian Raptors in a series of presentations with live birds of prey, and tuck into traditional sandwiches, sausage rolls, themed Jubilee cupcakes and lashings of juice. Food served 12 – 1pm, tickets £3.50 with admission. A moving montage of film footage featuring The Potteries Past Royal Visits and Jubilee Celebrations will be shown throughout the day at Gladstone.
Take a trip around the Potteries and find some royal bargains from the pottery factory shops that claim blue-blooded connections - Royal Doulton and Royal Albert (at Wedgwood), Duchess China, Royal Stafford and the Queen's favourite prime minister… Churchill!
We all want our Queen to "Live Forever" and enjoy "Park Life" with the "Common People", and those are exactly the sounds you'll hear on The Factory Floor at Spode, on Friday 4th June at the Jubilee Brit Pop Party Night. In another quirky take on the Platinum Jubilee, as Her Majesty is in her 90s you can celebrate the sounds of the 90s, by getting down on the Factory Floor on Saturday 5th June with 90s Jam.
PMAG are all set to host a stylish Coronation Catwalk that will have you kitted out, ready to meet 1950s royalty, while enjoying a cream tea, at 1pm on the 29th May. Tickets are available in advance.
Join John Bull, a Beefeater with a difference, and a patriotic pair for a Great British Garden Party at the Potteries Museum and Art Gallery. Lots of comedy, slapstick, audience interaction, fun and games, jam sandwiches and cakes, all washed down with a cup of tea. This is a family show that will have everyone from age 6 to 96 joining in the fun. Free shows at 11.30am, 1.30pm and 3pm on Sunday 5th June.
Oh, we've just got time to shoulder in one more performance… The Queen's Shoulders! From the city famous for its backstamps, this is the story of Staffordshire-born Arnold Machin and his 1964 attempt to mould the Queen's head, for use on coins and stamps. He just missed one thing… her shoulders. A story that promises that you'll never look at a stamp in the same way again, told in musical and word form by the Phoenix Singers and Claybody Theatre. It's FREE but tickets must be booked ahead of the performance on Sunday 5th June, at 7pm in All Saints Church, Hanley.
The Potteries Party continues at the Dudson Centre, from 2pm – 7pm on Tuesday 7th June with a revelation of a mosaic depicting the development of the Potteries' world-famous industry through the 70 years of Her Majesty's reign, including the Dudson Group's historic contribution to the pottery industry. The courtyard plays host to a 1950s-themed fete with the café offering classic dishes from the time The Queen ascended to the throne, a retro sweetie shop and Mrs Potts who'll be sharing a special Jubilee story. Dancing, fruit punch and traditional games such as tin-can alley and a coconut shy will ensure a fun time is enjoyed by all.
That completes our right royal round up ahead of a long Bank Holiday Jubilee weekend in Stoke-on-Trent, may it – and you – be "Happy and Glorious".
God Save The Queen!
Related
0 Comments