New artist impressions of Capital&Centric's striking £60m urban quarter next to Stoke-on-Trent's train station have been revealed.
They give a first glimpse inside the design-led apartments planned for the Goods Yard neighbourhood, showing the quality spaces residents will enjoy, as well as a new view of the community, set to include works spaces, shops, bars, cafes and a new public square.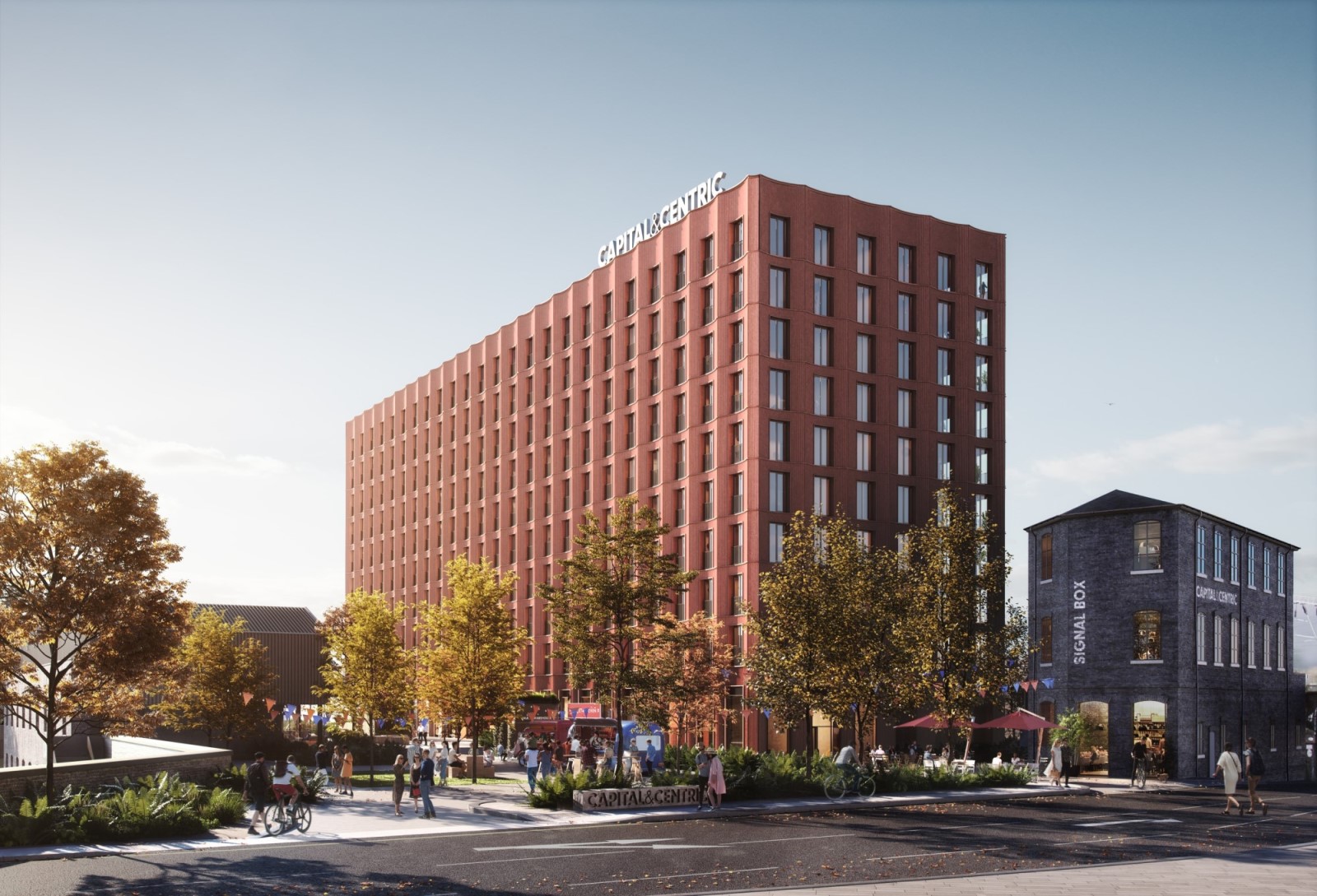 The first look at the iconic 174 apartments show the planned exposed concrete finish, high ceilings, juliet balconies and huge windows – detailing the high-quality finishes to be used throughout...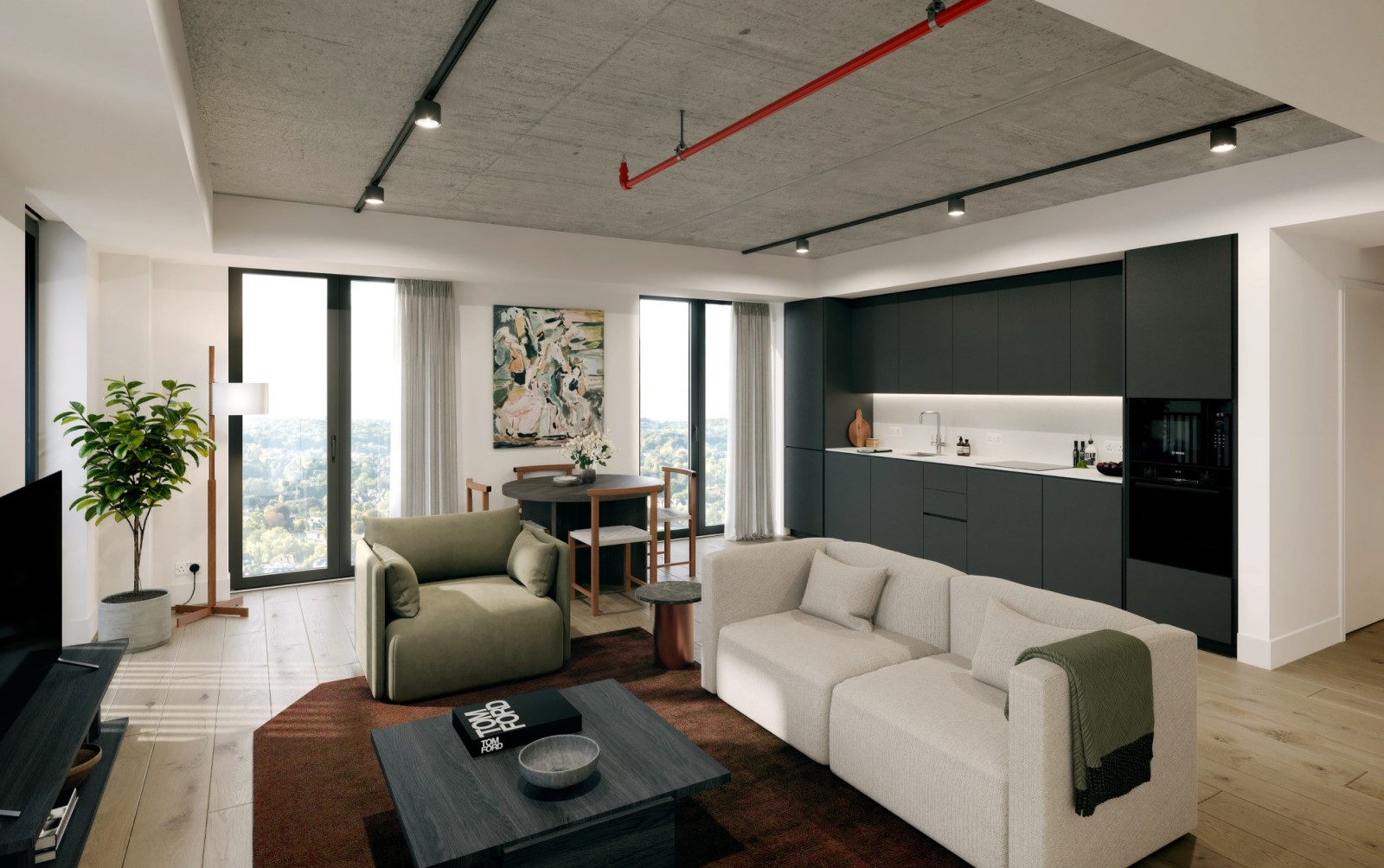 The Goods Yard is one of Stoke-on-Trent's 'Levelling Up' investment opportunities being showcased this week at MIPIM, the global real estate conference in France.
Set to transform the Swift House site, plans for the Goods Yard have already been submitted by pioneering social impact developers Capital&Centric and are shortly set to be considered by city councillors. If approved, construction could start this summer, backed by £16m from the Government's Levelling Up Fund.
Tim Heatley, co-founder of Capital&Centric, said:
"The Goods Yard is going to be ace. We've set out to create a genuine community, with super high-quality, design-led homes in the heart of the Stoke-on-Trent. We've packed in everything to support that lifestyle, from shops, cafes and co-working spaces, to green hangouts to host outdoor events and commercial spaces for new start-ups.
"We've made rapid progress as we know this is a levelling up priority. In just 12 months, we've worked closely with the Council on a neighbourhood that we think local communities can be proud of, consulted and submitted an application. We're ready to get on site this summer. It's fab that the government have recognised our ability to redefine Stoke-on-Trent and backed our vision with levelling up support."
Located next to Stoke-on-Trent train station – making it HS2 connected – and on the doorstep of Staffordshire University, the Trent and Mersey Canal and the A500, the site is in an ideal location for commuters, students, visitors and businesses.
The Goods Yard is among several projects being showcase at MIPIM. The city council is attending as part of a contingent of businesses from the city and across Staffordshire, with the cost being met from sponsorship by those businesses.
Cllr Abi Brown, Leader of Stoke-on-Trent City Council, said:
Levelling up has shone a massive spotlight on Stoke-on-Trent, particularly highlighting the work that's been under way over the last few years to bring forward ground breaking developments like the Goods Yard. There's so much work that goes on behind the scenes, in terms of planning, creativity and a deep understanding of the right 'fit' of opportunities that are in the best interests of our residents and businesses and are attractive to developers. So many developments in other places stopped during the pandemic, but we have continued to accelerate forward, reflecting how our city's growing in confidence. The future of this site is tremendously exciting.
"It's a huge source of pride for our city that we are in such a strong position with our Levelling Up projects, that we have a clear plan that we are delivering right across the city, backed by major investment from government and can offer such fantastic opportunities that will support our towns and city, and reap benefits for residents and businesses for generations to come. We're seeing increased interest from investors and businesses wanting to come here as a result of that strong track record of delivery.
"It's also vitally important that we create a sense of community within the Goods Yard development itself, we have worked with Capital&Centric to capture this, to celebrate how brilliant and beautiful the bond warehouse is and embrace the heritage the site enjoys whilst also creating beautiful sustainable spaces in the new buildings that have been designed that help raise the aspiration of the city."
Plans for the Goods Yard include:
The Goods Yard Living: 174 design-led apartments for rent, with a mix of 1,2 and 3-bed homes. The new building is planned to feature private resident gardens, as well as resident facilities such as a café or bike repair shop, alongside other uses such as a gym or convenience store.
Signal Box: A café-bar in what is currently a derelict Network Rail signal box.
Vaults Warehouse: Restoration of the stunning, locally-listed, brick vaulted, below ground warehouse to create a combined work space and leisure venue.
Canalside Jetty: Opening up the water's edge to the public and creating a potential mooring point for visiting canal boats or a water taxi.
The Pavilion: A contemporary building with an industrial feel that will provide 5,000sq.ft. of floor area in a double height space that will be made available for workspace and/or leisure uses.
The Goods Yard Square: A bustling public square at the heart of the site, with seating, gardens and spaces for pop-up events, with pedestrian and cycle links to the surrounding area
Hotel: A 150-bed hotel (to be delivered as part of Phase 2)
Related
0 Comments