World of Wedgwood warmly welcomes celebrity chef Niall Keating to a new modern dining concept opening at their Barlaston site in Staffordshire, this November. Ed and Craig of The Great British Experience Company (the minds behind The Great British Drive In, London's Best Experience 'The Murder Express' & Alberts Cafe) have invited Staffordshire born Chef, Niall Keating, to oversee Lunar; a new, elegant dining experience in the heart of Staffordshire. Niall is one of the small handful of chefs in the UK to currently hold two Michelin stars, giving him a reputation as one of the leading chefs in the country today, many recognizing him as BBC's Great British Menu Champion of 2020.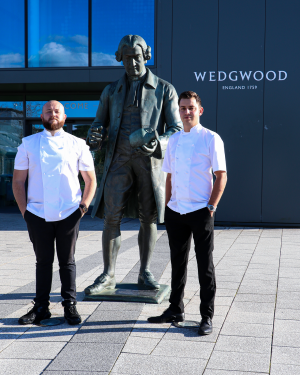 The opening of Lunar is just one of many exciting developments at the historic Wedgwood estate. Lunar will take over the former dining hall; the once laid-back canteen-style setting will be no more as itis transformed into the sophisticated Lunar. From upcycling furniture to working with sustainable suppliers, Lunar has a passion for sustainability and encourages strong environmental and ethical standards throughout the restaurant. There will be a prominent focus on local produce and nurturing local talent, making it a space that Staffordshire is proud of.
Jemma Harrison, the newly appointed Head of World of Wedgwood, says "We are delighted to welcome Lunar to Barlaston. The restaurant space has been developed with incredible creativity and enormous respect for the heritage of the beautiful estate and the Wedgwood brand. The combined passion and experience of Niall, Ed and Craig bring something unique and very very special to Staffordshire; it's been a real privilege to be involved in this project and I'm so excited to see the concept come to life at World of Wedgwood".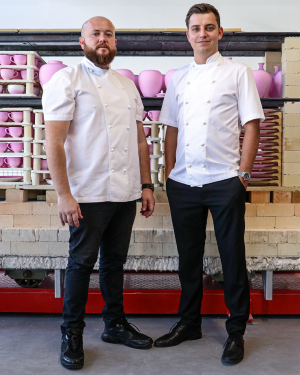 World of Wedgwood, which is home to the iconic Wedgwood tea room, Wedgwood Factory and Wedgwood Flagship Store, has recently received press recognition for another special development; it's new store, Josiah and Co, 'Purveyors of Local Goods', selling products exclusively handcrafted by local artisans across Stoke on Trent and Staffordshire.
Commenting on the partnership with Lunar, Adam Hemming, VP Marketing Vita says
"Wedgwood is committed to investing in the region's future and the ongoing redevelopment of the Barlaston site is an example of the company's ambition to create an inspirational leisure and hospitality destination for the local community. World of Wedgwood brings to life the creative spirit of the brand and our new visitor experience celebrates the heritage and culture of The Potteries by providing local enterprises with a collaborative space and purpose-built environment to introduce something new to the area and make World of Wedgwood their home. The opening of Lunar is a perfect example of this entrepreneurial vision and a great addition to the Barlaston site, Niall and his team have created a contemporary dining concept that encapsulates the spirit of Wedgwood and the traditions of the Staffordshire region and I encourage everyone to visit Lunar and experience modern British cuisine served on Wedgwood."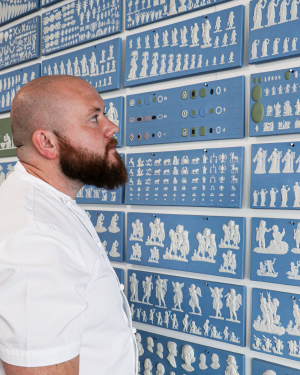 Diners will be served their food exclusively on Wedgwood fine bone china, from the brand's most loved tableware patterns, including the striking Arris and vibrant Wonderlust collections. Josiah's DNA will be tremendously apparent throughout the dining experience, from the interior colour scheme that has been carefully chosen, influenced by Josiah Wedgwood's experimentations with colour through oxidation, down to the industrial aesthetic as a nod to Wedgwood's place in pioneering the industrial revolution. The name 'Lunar' was inspired by the legendary Lunar Society, a supper club formed during the 'Midlands enlightenment', of which Josiah Wedgwood was a founding member. This club brought together forward thinkers, entrepreneurs, scientists, philosophers, poets, inventors and much more. Lunar, like Wedgwood, is a celebration of the past, present and future– founded with a deep respect for our heritage whilst having a keen eye to the future. Originally from Staffordshire, Ed and Craig return with Lunar after various years traveling around the world, with the intention to bring their experiences home and create world-class experiences in their home county.
The Wedgwood estate is becoming quite the hub for exciting times ahead, as alongside Lunar they welcome their new garden Landpod, in which guests can enjoy takeaway afternoon tea in a quirky, woodland-style outdoor seating alternative. In 2014, London's Victoria and Albert Museum, otherwise known as the V&A, announced their partnership with World of Wedgwood, acquiring the Wedgwood collection, which remains on the World of Wedgwood premises in Barlaston within the former Wedgwood Museum, now known as the V&A Wedgwood Collection.
Co-director, Craig Wilkinson, says that "We are delighted, inspired, enthused and extremely proud to be working with Wedgwood. The history of Wedgwood is something everyone locally should be aware of and as the home of curious, creative, imaginative people we feel perfectly at home and well placed to make Lunar a world class destination. The synergy, values an ambitions we all have could not be more aligned and we're looking forward to making Lunar a destination that we can all enjoy and be proud of for many years to come."
For more information and to book a table, please visit lunarwedgwood.com
Related
0 Comments