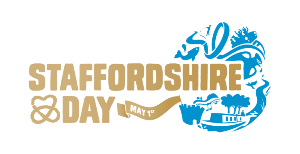 1st May is Staffordshire Day and to celebrate here is our Love Letter to Staffordshire...
Dear Staffordshire,
Well, here we are, it's the 1st May,
Which can only mean one thing – It's Staffordshire Day!
People will be celebrating Staffordshire's great and the good,
From our delicious Staffordshire oatcakes to Stoke's very own Josiah Wedgwood.
We love how we're such a creative county,
We specialise in making art from dirt,
Our people are so skilled and talented,
Especially those wearing a Stoke City or Port Vale shirt!
We love the warm welcome offered by our friendly folk –
"Eh up duck!" they yell,
As they cycle, walk, run, and sail
along the Caldon Canal!
We're blessed with beautiful outdoor spaces,
Trentham Gardens, Dorothy Clive, Biddulph Grange, The Peak District, our city parks - these are just a few of the places,
Where we love to spend time to unwind,
Where we find peace, are able to relax and clear our mind.
Our culture & heritage bring fantastic reactions,
Brought to life through our world-class museums and attractions,
Our visitors are always blown away,
By the unique offering on display.
We love that we're a county who likes to laugh,
We certainly know how to have fun
Whether it's walking through the forest with monkeys,
Or braving the drop on Alton Tower's Oblivion.
It's fair to say, the last 12 months have been pretty tough,
I think you'll agree – lockdown, we've had enough!
So let's look forward to being free to explore,
And once again enjoy Staffordshire's incredible allure.
Lots of love
Visit Stoke X
Related
0 Comments