The Trentham Estate offers the perfect retreat for families and friends to get together and enjoy some spring fresh air as lockdown measures are eased from the 29th March (following the rule of 6 of course!)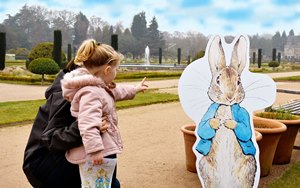 Follow the Peter Rabbit™ Garden Trail from 27 March – 18 April 2021 as characters from the World of Peter Rabbit™ and scenes from Beatrix Potter's best-loved tales will be located around the Italian Gardens with clues to spell out the secret word. Work out what the secret word is for a tasty treat!
A Spring Activity Pack for children will also be available to pre-book or purchase on arrival, which includes a History Hunt, Fairy Trail, pencil, sticker, and Spring Spotter which has a Spring Flower Rainbow and a Wildlife Spring baby theme.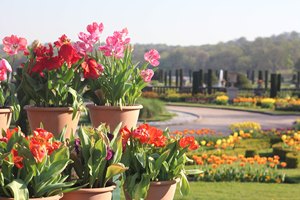 Trentham's Spring Bulb Festival will transform the gardens as a kaleidoscope of jewel colours combined with fragrant flowers will fill the garden with the sights and smells of Spring in pots dotted around the 10 acres of Italianate Gardens, with bees and early season butterflies flitting amongst the flowers. More than 61,000 extra bulbs were planted this autumn, to create early colour and scent in the gardens. Included in the display are planted boats bobbing on the Capability Brown mile long lake. Tulips in a whole range of colours will, of course, be among the stars of the show, but other highlights will be the Rose Border's 12,000 tulips and alliums with 5,000 spring and early summer flowering bulbs planted in British manufactured pots to create the highly popular 'pink walk' making this a favourite sunny location for photos and outdoor socialising. For the Perseus Walk, more than 12,000 bulbs, combined with spring bedding and foliage perennials, will provide a rich colour palette. In addition, benches will be surrounded by pots filled with scented and colourful displays, offering the perfect spot for visitors to sit and enjoy views across the lake, woodlands and the Italian Gardens. Adding to the fragrance of spring will be sweetly scented Narcissus and Hyacinths planted into the Balustrade borders to create a permanent Spring display, alongside 2,000 bulbs in pots banked on the Balustrade Steps.
Making Memories' photo points will appear around the gardens too, surrounded by pots of different coloured flowers as the season matures - offering a 'living' photo frame for family snaps. All of this is in addition to the 77,000-plus bulbs planted for the last two festivals.
As well as creating dazzling displays, Trentham hopes the Bulb Festival will also inspire visitors to create their own displays too, with bulbs zoned in different colour palettes to offer ideas to try at home. Throughout the garden, menus for the planters are displayed to inspire visitors for their own plantings next Autumn.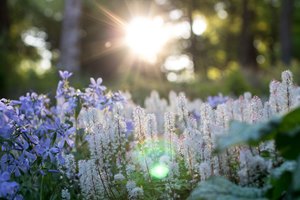 Enjoy Woodland Walks around Trentham's historic mile long lake. There are a series of circular walks passing through glades of hazel, and ancient oaks and beeches. At this time of year the woodland is carpeted with a magical meadow of spring flowers and bulbs created by the award winning designer Nigel Dunnett and the team at Trentham. Ribbons of planting meander through the trees with mixes of flowers that immerse visitors in scent and colour. Over 20,000 oxlips and 10,000 sweetly scented wood violets create a bold and simple display. Beyond this a series of colour themed mixes creating a mosaic of flower from January to November but the peak is in late April.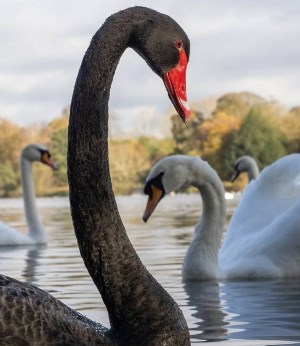 For more spring sights a walk around the lake will include Trentham Estate's Black Swans who are currently sitting on a nest of eggs, Great Crested grebes and characterful Tufted ducks. You will hear the spring drumming of Lesser Spotted Woodpecker as they make new nest holes in the 300 year old oaks, possibly even catching a glimpse. The 700 acre estate has a range of free to access woodland and heathland walks, with lots of wildlife to spot including the estates rare melanistic Fallow Deer.
Trentham's heritage breeds of sheep have been brought in from their conservation grazing on the estates Woodland Pastures to lamb adjacent to the main gardens on what were once Trentham's Georgian Deer Lawns. The flocks of Herdwick, Jacob and Hebridean sheep will be lambing in April with special socially distanced arrangements in place enabling families to see the lambs and ewes.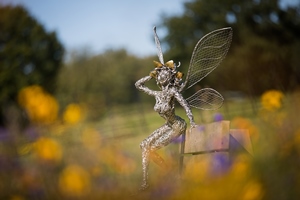 Can you spot the fairies on the Fairy Trail? Everyone knows that fairies live at the bottom of gardens and Trentham Gardens is no different. A walk through the Gardens, Lake and Woodlands of Trentham will reveal 21 fairies in their homes. Each one is different – some are bold, some cheeky, others a little shy, but daring. Inspired by a real-life encounter, Trentham's fairies are created from galvanised steel wire by local artist Robin Wright.
If you're celebrating a special occasion or would like your own private space when enjoying a day out in the gardens, why not book a Garden Gazebo? Bring your own picnic, or pre-order a picnic hamper from Totally Delicious and let the Trentham team do the rest.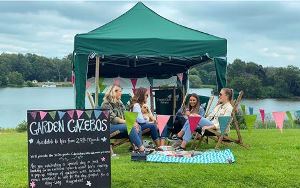 They'll provide a 3m x 3m gazebo plus private grass space, 6ft trestle table and 6 deckchairs all located within the seating area with an elevated view across the lake. In line with social distancing guidelines, gazebos are recommended for a maximum of 6 people. Normal garden admission applies.
From 29th March, Totally Delicious will be offering a picnic experience within Trentham Gardens. The picnic includes a selection of freshly made savoury and sweet delights including a trio of sandwiches, a trio of cakes, one prepared homemade scone with butter, jam & clotted cream, a packet of crisps and a soft drink per person. This is the ultimate picnic experience with views of Trentham Gardens. Pick up your picnic, find a spot to suit you and enjoy some time with your loved ones.
Don't forget to stay safe by following government guidelines and share your spring adventures by using #MyStokeStory.
Related
0 Comments