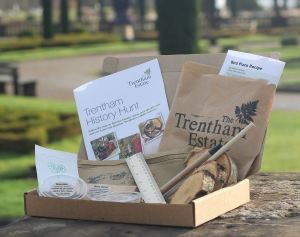 The Trentham Estate has come up with a novel way to enjoy a slice of its award-winning gardens at home – by offering a helping hand to wild birds in the winter months.
The popular gardens, on the edge of Stoke-on-Trent, not only offer a chance to enjoy the great outdoors in wide-open spaces, but have long been a haven for wildlife, especially birds.
Wildlife is a key element of the Trentham experience, and the varied garden and woodland habitats are home to a wide range of bird life, ranging from one of the biggest heronries in the country, based on an island in the lake, to flocks of finches gathering on the meadows.
Keen eyed twitchers - and photographers - are also able to spot tree pipits, stonechats, linnets, and other species in the trees and around the lake, while less-accomplished bird spotters have been helped to discover more through regular RSPB-led events in the gardens.
Now, as lockdown continues, The Trentham Estate is launching the Trentham at Home box, a new initiative aimed at encouraging bio-diversity at home… by creating a 'bird pizza' treat for feathered visitors in your own garden.
The self-assembly activity packs feature wooden log slices, as the pizza base, with berry suet, bird seeds and raisins as the toppings. All of the elements are sustainably sourced, using resources from the Estate.
Aimed at helping keep the kids entertained, and educated, while schools are closed, the boxes are also a fun way of attracting wildlife into gardens for those who love bird watching.
As part of Trentham's commitment to caring for the estate's horticulture, wildlife and conservation programmes, as well as the preservation of its ancient woodland, the new packs are aimed at bringing a little bit of that wildlife experience back to people's homes.
As an outdoor public space, which can remain open under Government rules and guidance, Trentham Gardens aims to continue offering local visitors a Covid-secure place to enjoy time outside of the home.
But for those who can't visit, and for anyone looking for new ways to keep families entertained and educated at home, the new bird activity pack can be ordered online.
As well as encouraging biodiversity in people's gardens, the packs also contain a virtual History Hunt, covering history and heritage, hopefully lending a helping hand to parents with home schooling too.
Available to purchase online now, the packs cost £10, or £6 for Trentham Gardens members, including postage.
To order a pack, visit http://bit.ly/3qcM7ze
For the latest updates on visiting The Trentham Estate, see www.trentham.co.uk
Related
0 Comments