Spitfire
Celebrate the return of Stoke-on-Trent's restored Spitfire RW388 and the opening of its new home, the brand new Spitfire Gallery at Potteries Museum & Art Gallery, with a family-fun weekend of activity in the City Centre on 18 & 19 September.
The Potteries Museum & Art Gallery's new striking glass-fronted extension, home to the restored aircraft, opens to the public for the first time on Saturday 18 September. Visitors to the free-to-visit gallery will be able to get up close to one of Britain's most famous aircraft and learn more about the story of the plane and its designer, Reginald Mitchell, who has close connections to the city.
To celebrate the opening, there will be a host of family fun activities taking place at the museum and around the City Centre.
Click on the map below to view a full programme of events taking place including a map showing where activities are located over the weekend.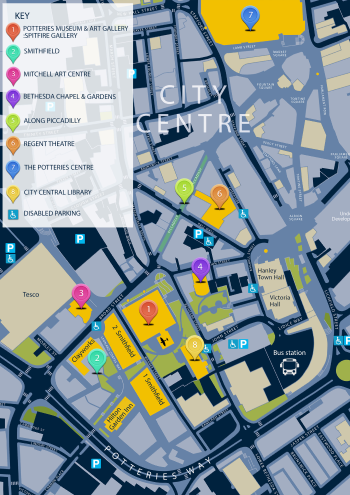 For further information about the events taking place, take a look at the event listings below.