Welcome to Stoke-on-Trent's Living Heritage City Trail
Help us to curate an inclusive narrative about our city's culture and history by walking Stoke-on-Trent's Living Heritage City Trail from Stoke to Hanley.
Add your voice by walking the route, providing feedback, and sharing your stories so we can develop content that reflects and showcases our city's rich and diverse heritage.

To explore the trail, pick up a map from one of our partner locations listed at the bottom of this page, or use the version below. Then share your thoughts and experiences via our feedback form linked above, or using #StokeLivingHeritage on Facebook, Instagram, X and TikTok.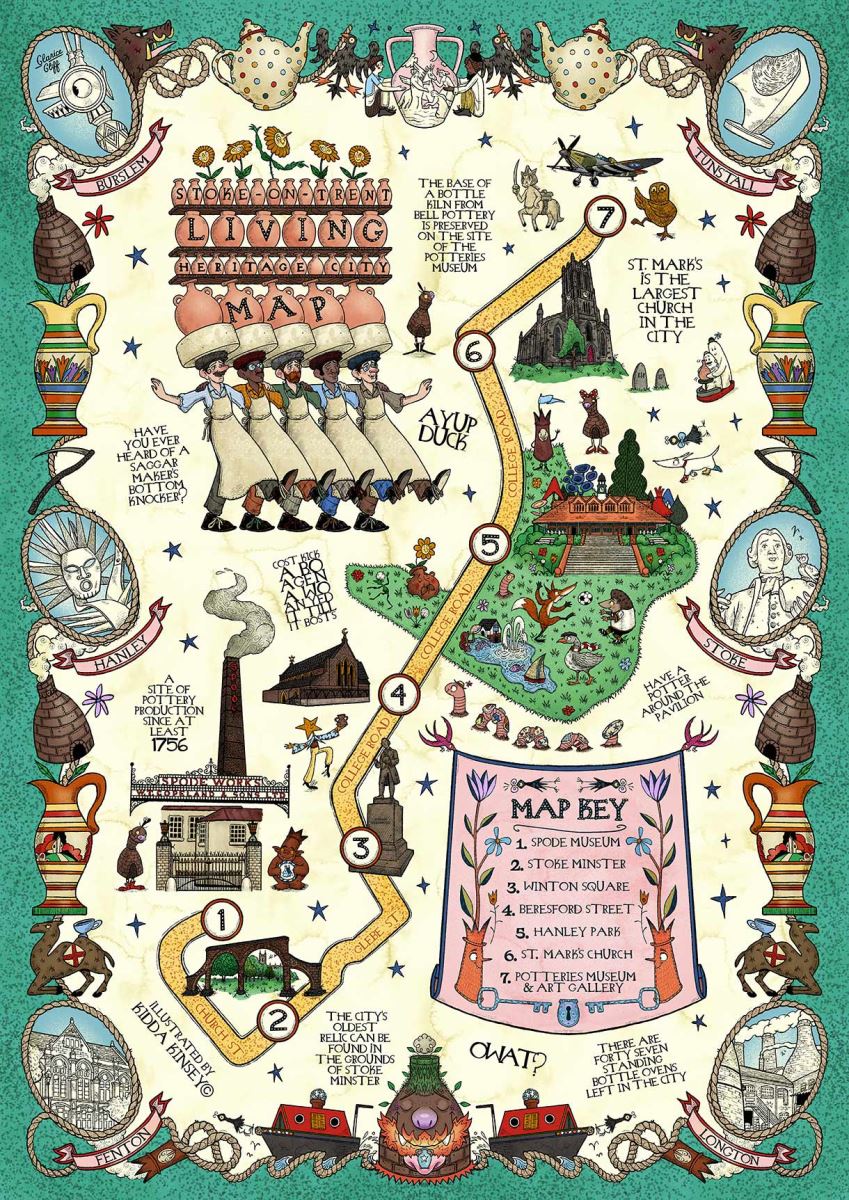 1. From the Spode carpark on Elenora Street, go left and continue left along Church Street. Passing Stoke Library on your right, you'll see the churchyard across the junction.
2.Turn left and walk alongside (or through) the Minster churchyard. As you go round the corner past the Civic Centre, you'll need to cross at the lights and walk across the bridge over the A500.
3. You'll pass over the canal and under the railway. Then turn left onto Station Road and walk towards the station. Cross at the crossing by the station and continue along the road.
4. At the mini roundabout, turn right onto College Road and walk past Staffordshire University. Beresford Street is the fourth street you will cross.
5. Continue up College Road with Hanley Park on your right. If you walk through the park, you'll need to exit back onto College Road.
6. At the corner of the park where College Road turns into Cleveland Road, stay left and continue to the end of College Road.
7. At the end of College Road with St. Mark's Church on your left, turn right and along the main road, keeping right and walking towards the Hilton Hotel. Cross at the crossing and continue straight towards the Spitfire Gallery. The entrance to the Potteries Museum & Art Gallery is past this gallery and left, on Bethesda St.
The Living Heritage City Trail is a taster of the UKSPF-funded Stoke-on-Trent: A Living Heritage City project (launching in March 2025) that will connect the archives and collections of our museums to buildings and communities in Stoke and Hanley.

Stoke-on-Trent City Council will aim to work in partnership with local communities along the route and will consult and
co-curate with users, organisations and partners to showcase the rich stories and significant heritage of the city.

Partner Locations for map collection:

Stoke Library

Spode Museum Trust Heritage Centre

Civic Centre

Potteries Museum & Art Gallery
Hanley Park Community Hub