Itinerary Planner
72 hours in Stoke-on-Trent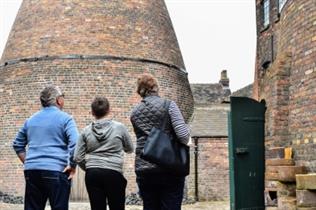 With so much to see and do, enjoying a short break is the only way to fit everything in!
DAY 1
Morning:
Barewall Gallery
Based in Burslem, the Mother Town of the Potteries, Barewall is an Art Gallery selling original art, limited edition prints and collectable ceramics. Barewall also sell a unique range of quality artisit designer gifts all made in Staffordshire. A perfect one stop shop to find special Stoke-on-Trent one-offs, trials and quality gifts as well as changing exhibtions throughout the year.
Moorcroft Heritage Visitor Centre
Described as the world's best kept secret, a visit will reveal Moorcroft's unique handcrafted, quality, collectable art pottery. Factory tours, shopping, museum and bottle oven come together creating an unforgettable experience.
Lunch & Afternoon:
Middleport Pottery (home of Burleigh)
Middleport Pottery, the home of world-famous Burleigh, is an award-winning visitor destination Stoke-on-Trent. Learn all about Middleport Pottery as you explore its new unique visitor experience. Book a factory tour to find out how Burleigh is produced using traditional craftsmanship. See pottery produced over the years and step into the iconic bottle kiln in the visitor centre. Afterwards, relax in Totally Delicious' tearoom which overlooks the Trent and Mersey Canal.
Biddulph Grange Garden
An amazing National Trust Victorian garden with year-round interest created by Darwin's contemporary James Bateman as extension of his beliefs, interests and collections of plants. Discover the Chinese garden, Egypt court and geologial gallery.
Evening:
Regent Theatre & Victoria Hall
At the heart of the Cultural Quarter in the City Centre, The Regent Theatre & Victoria Hall play host to some of the biggest names in music, comedy and theatre.
DAY 2
Morning & Lunch:
World of Wedgwood
Afternoon:
Trentham Estate
Home to Trentham Gardens, Trentham Monkey Forest, and Trentham Shopping Village - this is a destination with something to please everyone! Visit Trentham Gardens with its vast perennial plantings that change throughout the seasons. Encompassing 725 acres, take a stroll around the mile long lake, through the woodland and parklands. Take a trip on the catamaran or miniature train and search for the fairies on the lakeside walk. Experience distinctively different shopping at the Trentham Shopping Village. Get up close and personal with 140 free-roaming Barbary macaques at Trentham Monkey Forest.
DAY 3
Morning
Emma Bridgewater
Enjoy a morning at the atmospheric Victorian factory of Emma Bridgewater. Relax for a coffee and cake in front of the spotty Aga in the beautiful cafe, go on a factory tour, decorate your own piece of pottery and shop for factory secondsand lovely gifts. In the summer discover a lovely secret - a walled English country-style garden just witing to be enjoyed.
Lunch & Afternoon
Potteries Museum & Art Gallery
Discover the history of the Potteries and the new fascinating Anglo-Saxon Kingdom of Mercia exhibition which sets the Staffordshire Hoard in the context of everyday Anglo-Saxon life and death. As well as 200 pieces of the Hoard the exhibition includes objects the Anglo-Saxons used in their daily work, and items they buried with their dead to provide for them in the afterlife.
Gladstone Pottery Museum
The only complete Victorian pottery factory from the days when coal fired burning ovens made the world's finest bone china. See traditional skills, original workshops, the cobbled yard and huge bottle kilns that create an atmospheric timewarp that has no equal.
Itinerary Distances
From
To
Distance * (metric)
Barewall Gallery

(53.04648,-2.1978)

Moorcroft Heritage Visitor Centre

(53.0394,-2.18459)

1.07
Moorcroft Heritage Visitor Centre

(53.0394,-2.18459)

Middleport Pottery

(53.04117,-2.20973)

1.52
Middleport Pottery

(53.04117,-2.20973)

Biddulph Grange Garden

(53.12981,-2.16229)

9.33
Biddulph Grange Garden

(53.12981,-2.16229)

The Regent Theatre

(53.02452,-2.17683)

10.59
The Regent Theatre

(53.02452,-2.17683)

World of Wedgwood

(52.95468,-2.16949)

7.01
World of Wedgwood

(52.95468,-2.16949)

The Trentham Estate

(52.96229,-2.19504)

1.72
The Trentham Estate

(52.96229,-2.19504)

Emma Bridgewater Factory

(53.01958,-2.17099)

5.92
Emma Bridgewater Factory

(53.01958,-2.17099)

The Potteries Museum & Art Gallery

(53.02335,-2.17742)

0.54
The Potteries Museum & Art Gallery

(53.02335,-2.17742)

Gladstone Pottery Museum

(52.98645,-2.13103)

4.64
Total Distance *
42.33 miles
Estimated Journey Time
1.36 hours
* Approximate distance by road