VisitStoke Bingo
It's Bingo time! Eyes down, look in! It's the VisitStoke Family Lockdown Bingo!
View the bingo card below or download a full size copy here and let's get playing!
Tick off each activity as you do them and don't forget to share your fun with @visitstoke on Facebook & Twitter or @visit_stoke on Instgram and using #MyStokeStory
Links for all the relevant activites can be found below.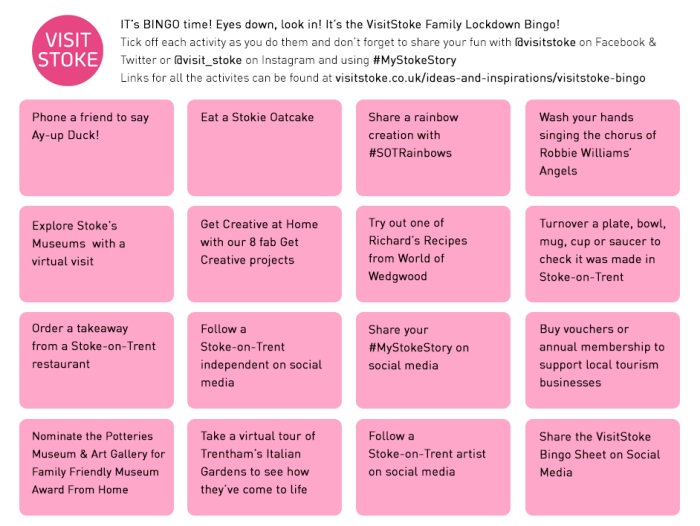 Links to activities:
Eat a Stokie Oatcake - Oatcakes can be found in lots of shops around the city or why not try making your own with this oatcake recipe from BBC Food
Explore Stoke's Museums with a virtual visit - head to our Visit Vitual Stoke page where you will find links to virtual tours of our fab museums!
Get Creative at Home with our 8 fab Get Creative Projects - visit our Get Creative at Home page
Try one of Richard's Recipes from World of Wedgwood - Richard Allen is Executive Chef at World of Wedgwood and during lockdown he has been sharing some of his recipes! Below you will find links to the recipes so that you can have a go yourself! Find out more about Richard here
Richard's Recipes: Wedgwood Shortbread
Richard's Recipes: Wedgwood Victoria Sponge Cakes
Richard's Recipes: Seared salmon, wholemeal tortilla with beetroot hummus and red chilli slaw
Richard's Recipes: Oven bottom muffins with avocado mash, smoked Scottish salmon and poached eggs
Richard's Recipes: Cranberry Scones
Nominate the Potteries Museum & Art Gallery for Family Friendly Museum Award From Home - The fabulous Potteries Museum & Art Gallery have provided us all with lots of virtual events & activities to help keep us all busy during lockdown and we think that they thoroughly deserve a prize! Show your support and nominate them here!
Take a virtual tour of Trentham's Italian Gardens to see how they've come to life - Head to Trentham's blog to take a tour!