19 things to do in 2019
1. Try an oatcake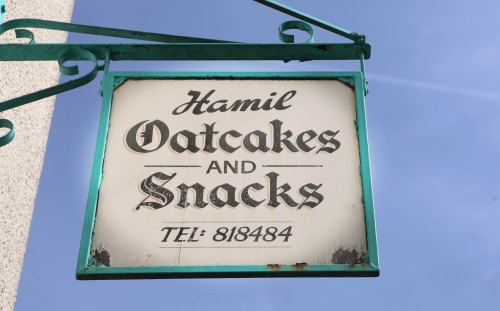 Ok, we need to be more specific here… Try a North Staffordshire Oatcake (we're not talking about those bizarre biscuit things with the same name!) The proper oatcakes, the type that you get around Stoke, are the best things you'll ever taste. Granted, on their own they may seem a bit dull, but combine them with melted cheese, some bacon and brown sauce, and you're in for a culinary treat! In fact, oatcakes work with a variety of different toppings so come and discover your favourite combination!
2. Step inside a bottle oven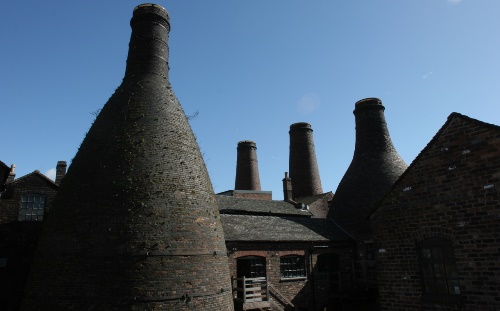 Bottle ovens used to dominate Stoke-on-Trent's skyline and at the height of the Potteries industry, there would have been around 4000 bottle kilns. Even as late as the 1950s there were still around 2000. The Clean Air Act of 1956 saw the rapid decline of the bottle oven as they became redundant and cleaner methods of firing pottery were used. The bottle kiln still remains an iconic symbol for Stoke-on-Trent and The Potteries and today there are 47 still standing - all listed buildings. Middleport Pottery, Moorcroft Heritage Visitor Centre, Dudson Museum, and Gladstone Pottery Museum are great places to go and step inside a bottle oven. No two bottle ovens were exactly alike. They were all built according to the whim of the builder or of the potbank owner.
3. Sample a refreshing pint of Titanic Ale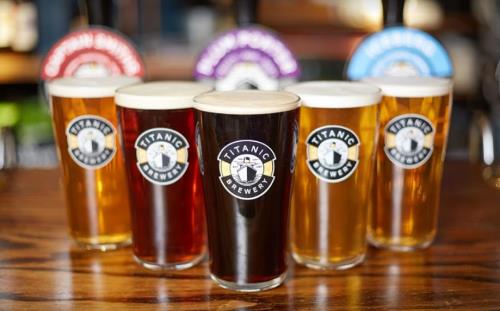 Titanic Brewery was founded in Burslem in 1985 with one goal – to produce great beer. And they have certainly succeeded at this! The Stoke-on-Trent brewery is run by local brothers, Keith & Dave Bott. Titanic now brew over 3 million pints of beer per year with the beer traveling throughout the UK and further! Taking the brewery's name from Stoke's connections with Titanic's Captain Smith, who was born in Stoke, Titanic's beers often hold a reference to the nautical disaster in their names. Beers include: Steerage 3.8%, Iceberg 4.1%, White Star 4.5%, First Class 3.8%, Lifeboat 4.0%, Black Ice 4.1%, Anchor 4.1%, Captain Smiths 5.3% and Mid Atlantic Pale (MAP) 4.5%.
4. Throw a pot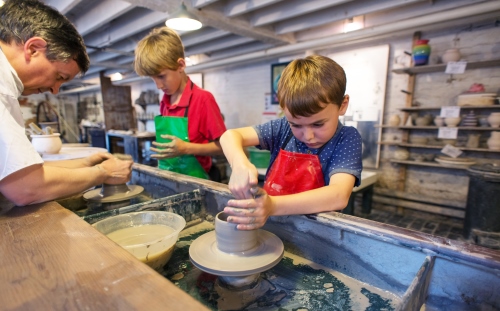 Have you been inspired by Channel 4's Great Pottery Throw Down or wanted to recreate that scene from Ghost? There's no better place than The Potteries to try your hand at pottery skills and have a go at creating your own masterpiece on the potter's wheel! You can throw a pot at Gladstone Pottery Museum, World of Wedgwood and Middleport Pottery!
5. Walk with the monkeys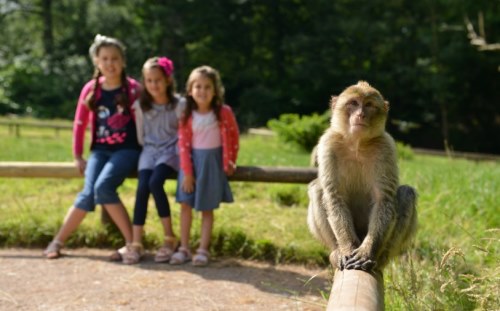 Trentham Monkey Forest is home to 140 free roaming Barbary macaques. The monkeys live in freedom within a beautiful Staffordshire woodland, with no cages or bars. Visitors can walk the ¾ of a mile woodland path and see the monkeys living as they would in the wild! Trentham Monkey Forest also carry out hugely important conservation work as numbers of wild macaques in their native Morocco and Algeria become increasingly threatened.
6. Take a barefoot walk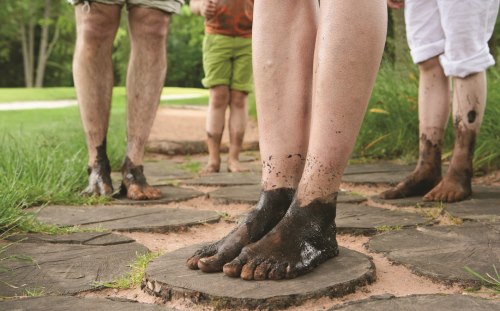 We dare you to brave the Barefoot Walk at the Trentham Estate! Get naked from the knees down and enjoy a walk through the Capability Brown landscape. Tantalise your toes with an array of testing textures including mud, bark, babbling streams, grass and pebbles. Not only is the Barefoot Walk fun, but it's therapeutic too - as you walk you will be improving your health and vitality, using the historic principles of Sebastian Kneipp.
7. Go on a pottery factory tour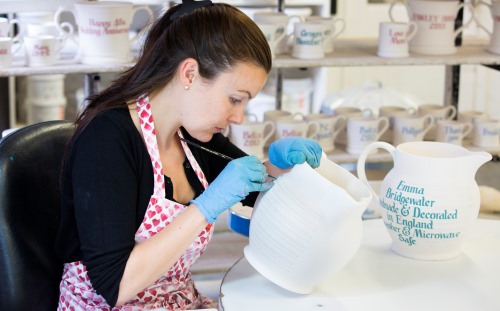 Head over to one of our ceramic attractions and book on a factory tour. You'll be able to meet the skilled factory workers and learn all about the skills and craftsmanship that go into producing our famous pottery. Expert guides will show you all aspects of the hand-made processes from mould making, slip casting, hand turning, lithographing, hand painting, kiln firing and glazing.
8. Design your own dinner service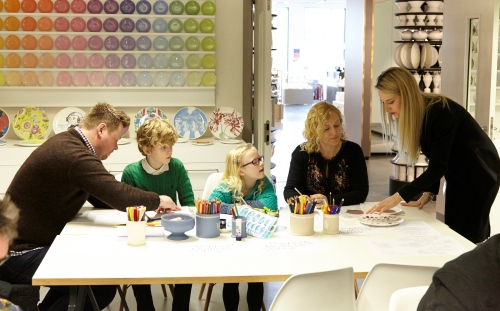 Visit the World of Wedgwood Decorating Studio and have fun and get creative by making your own design to be transferred onto a piece of Wedgwood. Choose from mugs, plates, cups and saucers – you can even design your own full dinner service! Create your own decorative keepsake to take home, or for a permanent memento leave your design with to be expertly applied, fired and posted out to you.
9. Paddle along the canal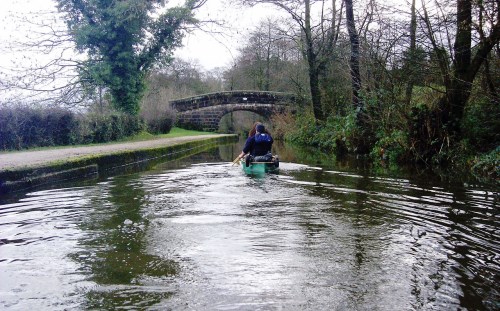 Stoke-on-Trent's Heritage Canoe Trail has been created for paddlers of any ability to enjoy a beautiful and historically rich section of our waterway. Special route markers guide you along the 20 mile canal-based route, along which you'll encounter a variety of water features and many historical landmarks. But don't worry, if you don't fancy paddling yourself, you can always hire a canal barge from Black Prince holidays for an easier more laid-back way to enjoy the waterways!
10. Feed a wallaby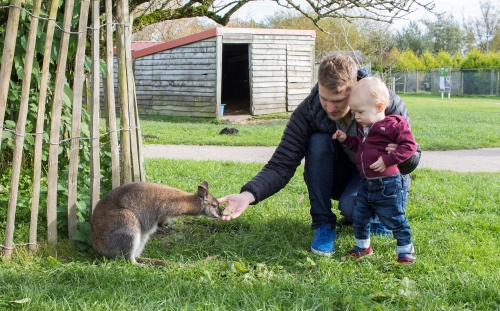 Peak Wildlife Park's large walkthroughs allow you to come face to face with exotic and endangered animals from across three continents. Whether you love lemurs, have a passion for penguins or want to wander with the wallabies (and feed them with your hand!) the park has something for you! There are regular keeper talks and brilliant on-site facilities that provide everything you need for an entertaining, exciting and educational day out!
11. Visit the British Ceramics Biennial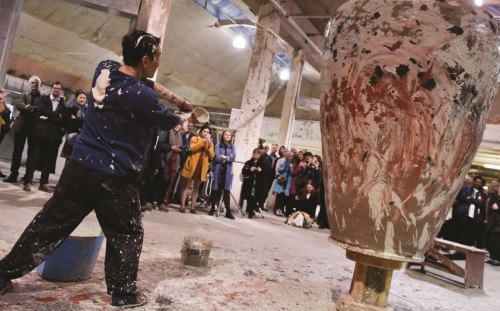 The British Ceramics Biennial returns to Stoke-on-Trent between 7 September and 13 October 2019. The Biennial will again present work from the UK's leading contemporary artists in a series of new exhibitions and special events across the city, embracing the heritage of Stoke-on-Trent as the World Capital of Ceramics. The festival will take place in established venues and non-traditional spaces across the city including the atmospheric China Hall at the original Spode factory site, The Potteries Museum & Art Gallery, Middleport Pottery and World of Wedgwood.
12. See a show in the theatre in the round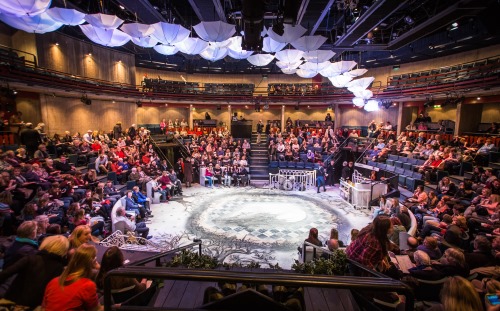 The New Vic Theatre is unique and was the first purpose-built theatre-in-the-round in the whole of Europe. The New Vic Theatre has built a reputation for innovative productions of both new and classic works and offers a brilliant programme plays, productions, events, and exhibitions.
13. Enjoy afternoon tea in the home of ceramics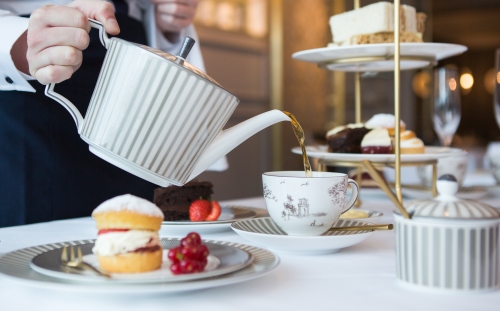 What better place to enjoy afternoon tea than in the home of ceramics! Visit our guide to the top places to enjoy afternoon tea in The Potteries!
14. Discover treasure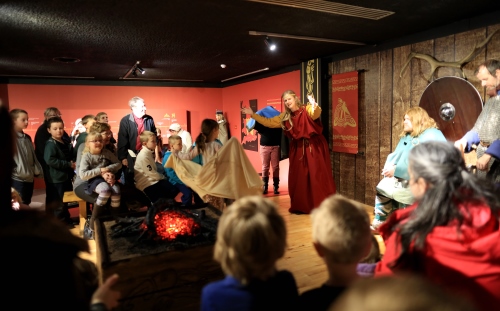 As well as being home to the world's greatest collection of Staffordshire ceramics, the Potteries Museum & Art Gallery is also home to the Staffordshire Hoard, the largest and most valuable Anglo-Saxon treasure ever found. An exhibition sets pieces from the world-famous Staffordshire Hoard in context among items from our collection of Anglo-Saxon finds, many never displayed before, and offers a glimpse into our ancestors' lives. The display features a raised wooden-floored mead hall, with columns and banners adorned with Anglo-Saxon artwork– representing ancient designs on the Hoard artefacts – along with a replica fire pit and king's chair!
15. Visit the toilet exhibition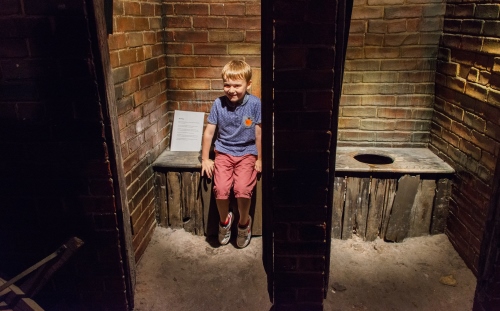 Visit "Flushed with Pride" at Gladstone Pottery Museum to discover a remarkable gallery dedicated to the history of the toilet and lifts the lid on the role that potters played in its development! Follow the story of the WC from the time of Queen Elizabeth 1 through to the toilet of our future.
A fun noisy, touchy feely display, for kids of all ages. The gallery features the sights, sounds and smells of a Victorian slum and encourages you to discover some of the unusual historical alternatives to toilet paper. The gallery includes everything toilet related, from 1970's avocado bathroom suites to interactive exhibits and quizzes!
16. Ride the Wicker Man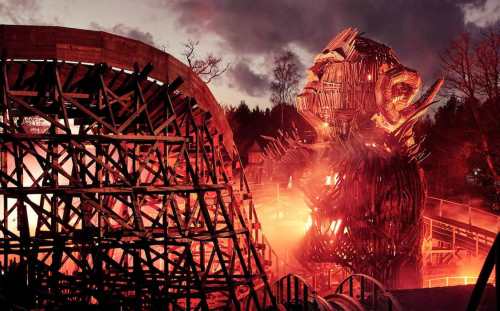 Wicker Man at Alton Towers, is the UK's first new wooden coaster built in over 20 years, a globally unique experience that will reconnect riders with the primal essence of rollercoasters. Join the chosen ones on the world's most immersive rollercoaster experience to date, unifying cutting edge special effects with classic wooden coaster technology for the first time!
17. Visit the literary festival in a factory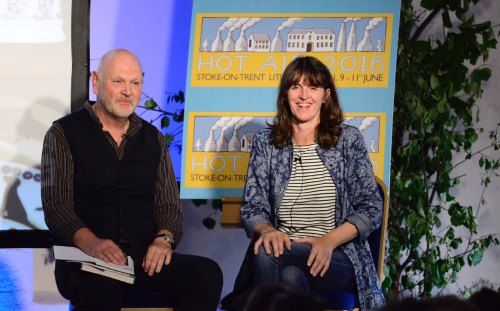 From award winning authors to world-renowned experts, artists and entertainers, The Festival in a Factory is an eclectic celebration of culture and creativity in the inspiring surroundings of the Emma Bridgewater Factory, Stoke-on-Trent, a Victorian pot bank where Emma has manufactured her iconic handmade and hand decorated pottery for more than twenty years.
18. Enjoy a touring west end show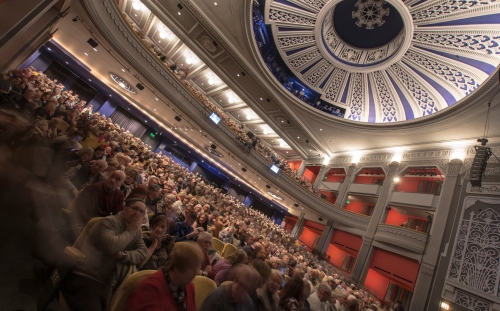 The Regent Theatre in Stoke-on-Trent City Centre's Cultural Quarter plays host to some of the biggest West End stage shows and musicals. Its revival as a theatre saw the art deco building return to its former glory and was opened by the Queen in 2000.
19. Share Your Stoke Story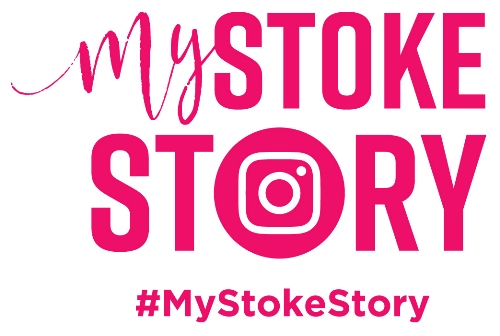 We would love to see your photos and hear your stories of your fun experiences in Stoke-on-Trent. Simply tag #MyStokeStory on your social media posts and you'll be entered into a monthly prize draw to win tickets for up-coming events across the city. Head to www.mystokestory.co.uk for more information.