Attractions
It's been a strange few months with "you know what!" hasn't it? The great news is that as lockdown restrictions are now being gradually eased, our world-class attractions are beginning to reopen with special measures in place to keep visitors safe. So summer doesn't need to be cancelled - this is a wonderful opportunity to enjoy the great things to be found on your doorstep and enjoy a Stoke-cation! Don't forget to share your experiences by tagging #stokecation and #MyStokeStory.
Please note that the situation is changing daily and whilst we're working hard to keep the information up-to-date, please do check with attractions and venues to ensure they're open and whether pre-booking is required.
---
TRENTHAM ESTATE
---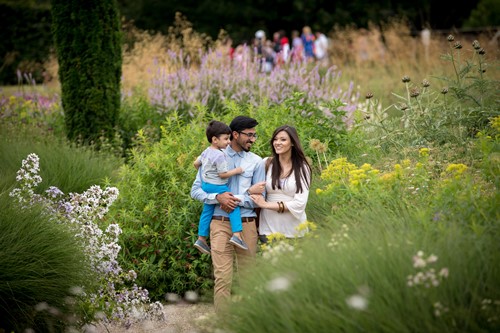 The Trentham Estate provides an important and beneficial beautiful outdoor space for visitors to relax and exercise in. The team at Trentham have worked hard to ensure that they were able to safely reopen the attraction to visitors and a number of changes have been put in place. These include a new pre-booking arrival system for the gardens and a one-way system around the lake. For more information head to www.trentham.co.uk/blog/2020/june/visitor-update-june/
Trentham Garden Centre and a number of shops within the Shopping Village have now reopened. Visit www.trentham.co.uk/shopping-village/shops-reopening/ for full information about which shops are open, when others are reopening, and social distancing measures being put in place.
If you're looking for an adrenaline rush, why not test your head for heights at Trentham's Treetop Adventures high ropes course which re-opened on 4 July.
Trentham was awarded the "We're Good To Go" award by VisitEngland in June.
---
TRENTHAM MONKEY FOREST
---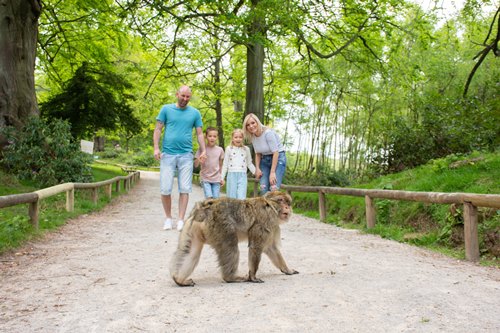 The cheeky Barbary macaques at Trentham Monkey Forest are ready to welcome you into their home this summer! Trentham Monkey Forest, set in beautiful English woodland located at the southern entrance to the Trentham Estate, re-opened on 25 June with new guidelines for people visiting being put in place including online bookings for an allocated timeslot. Trentham Monkey Forest announced the re-opening alongside news of new arrivals this spring as they had welcomed four new babies into the Monkey Forest family during lockdown! Why not take your cheeky monkeys to meet theirs this summer?
---
WORLD OF WEDGWOOD
---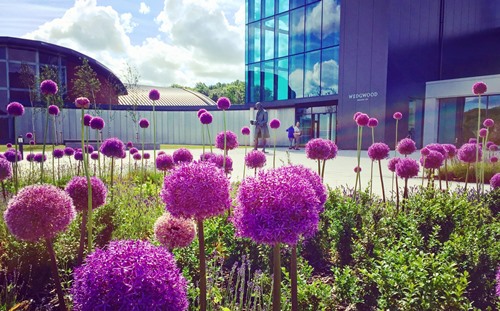 The fabulous World of Wedgwood started to gradually reopen on 30 June with the opening of the Wedgwood Store, Factory Outlet, and Dining Hall restaurant for take-away and alfresco dining. The amazing V&A Collection at World of Wedgwood reopened to visitors on Wednesday 22 July along with Wedgwood Tea Room which will be serving the outstanding Wedgwood Afternoon Tea from Wednesday to Sunday between 12.00pm and 5.00pm (tables must be pre-booked). The disabled toilet, unisex toilet and baby changing facilities in the main atrium will also be available.
The Dining Hall restaurant has launched a new takeaway service and increased the outdoor seating capacity so visitors can enjoy safe al fresco dining. Most of the food items are pre-wrapped and served with disposable utensils. The menu includes artisan sandwiches, soup, cakes, ice-cream, hot and cold drinks. On Friday and Saturday evenings, diners can enjoy hand-stretched, sourdough pizzas with a choice of toppings. (Pizzas must pre-ordered by telephone, please call 01782 282741) Beer and wine are available for drinking on-site - ideal for a relaxing evening picnic.
With Staffordshire Wildlife's Hem Heath Woods neighbouring the Wedgwood Estate, walkers can enjoy uplifting woodland walks followed by a bracing cup of tea and coffee with a slice of cake from the Dining Hall. Walkers are welcome to use the World of Wedgwood visitor car park.
The Factory Tour and Creative Studios remain closed at the moment and there will be a phased reopening of these areas over the coming weeks, in line with government guidance.
---
MIDDLEPORT POTTERY
---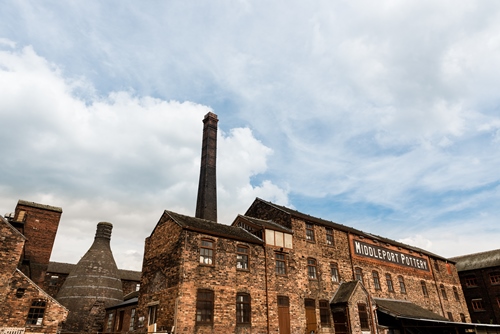 Middleport Pottery reopened to visitors on Wednesday 22 July. The Middleport Pottery site is free to enter and includes access to the Grade II* listed outdoor areas, Tea Room, Middleport Studios and Clay College Gallery. The Heritage Trail is £5.50 per person for adults, and £4.00 for children/young people/students/senior citizens and will be available Wednesday to Sunday from 10.00am to 4.00pm.
Middleport Pottery has also been awarded the We're Good To Go accolade.