Stoke-on-Trent Christmas Shopping
Here's our roundup of some great places to look locally for the perfect Christmas gift… we'd love you to think local this Christmas and support our businesses, where you can, at the end of what has been another difficult year. There are some great gift ideas for friends and family that will be sure to put a huge smile on their face this Christmas.
---
SHOPPING CENTRES & VILLAGES
---
---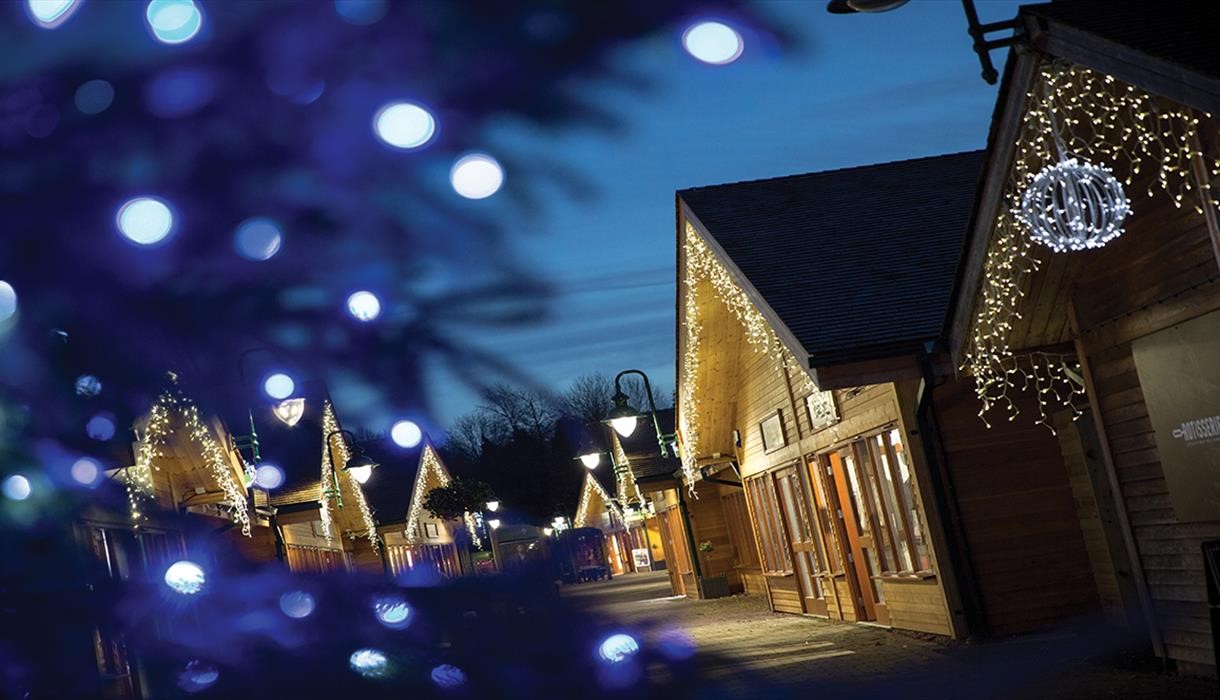 Trentham Shopping Village, a unique shopping experience with a unique blend of independent and nationally renowned high street leading names housed in over 80 timber lodges, is a fantastic place to find that perfect Christmas gift. The village is beautifully lit up with twinkling Christmas lights and you'll be left feeling full of Christmas cheer having ticked off your gift shopping list! Also on site is the massive Trentham Garden Centre full of great products for the home and garden. There are loads of fab places to grab some food and drink in the Shopping Village and there is free parking too!
---
---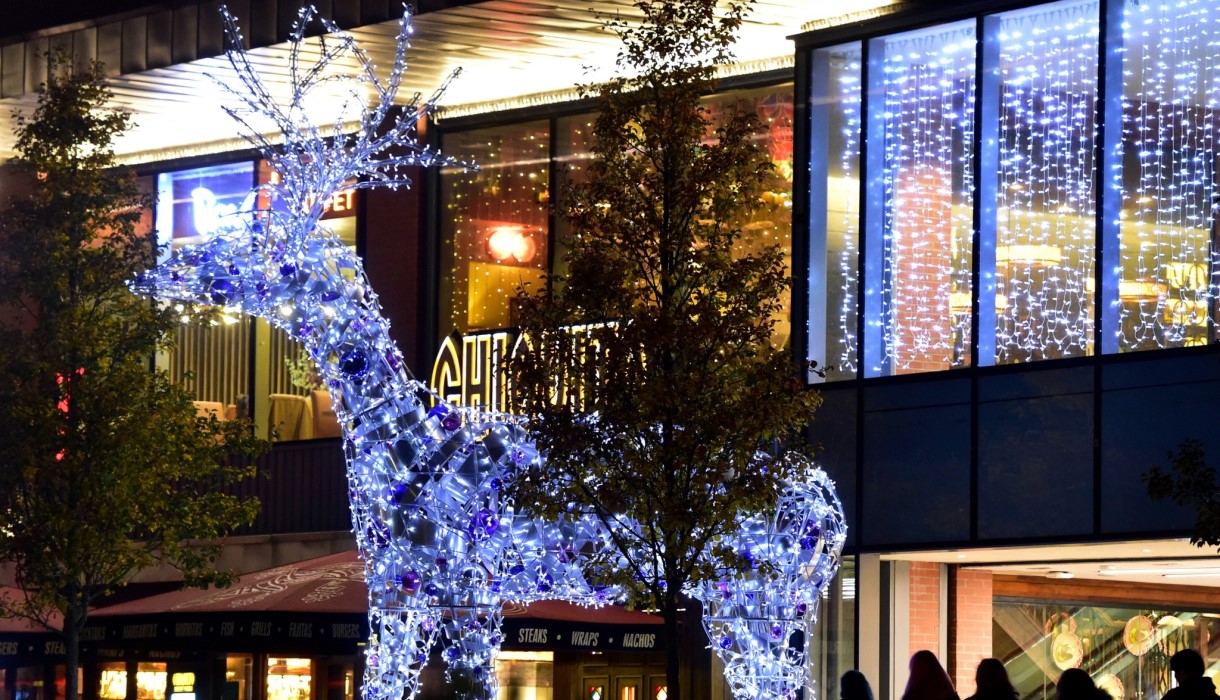 The Potteries Centre is open for late night shopping every Thursday until 8pm and then every night from the 20th to 23rd December – perfect for those last minutes items!
Calling all toy testers! From 4 December the centre will be calling all children with elf potential to go along and be official toy testers at their toy test lab this Christmas. This is for children only - grown-ups need not apply! So kids, grab your lab coat and get testing the toys from The Potteries Centre's stores.
There is a fantastic range of restaurants and places to eat on site. There is also Cineworld which will be showing something for the whole family including a festive screening of Elf to new blockbusters including Ghostbusters.
Parking is just £1.50 after 4pm.
---
---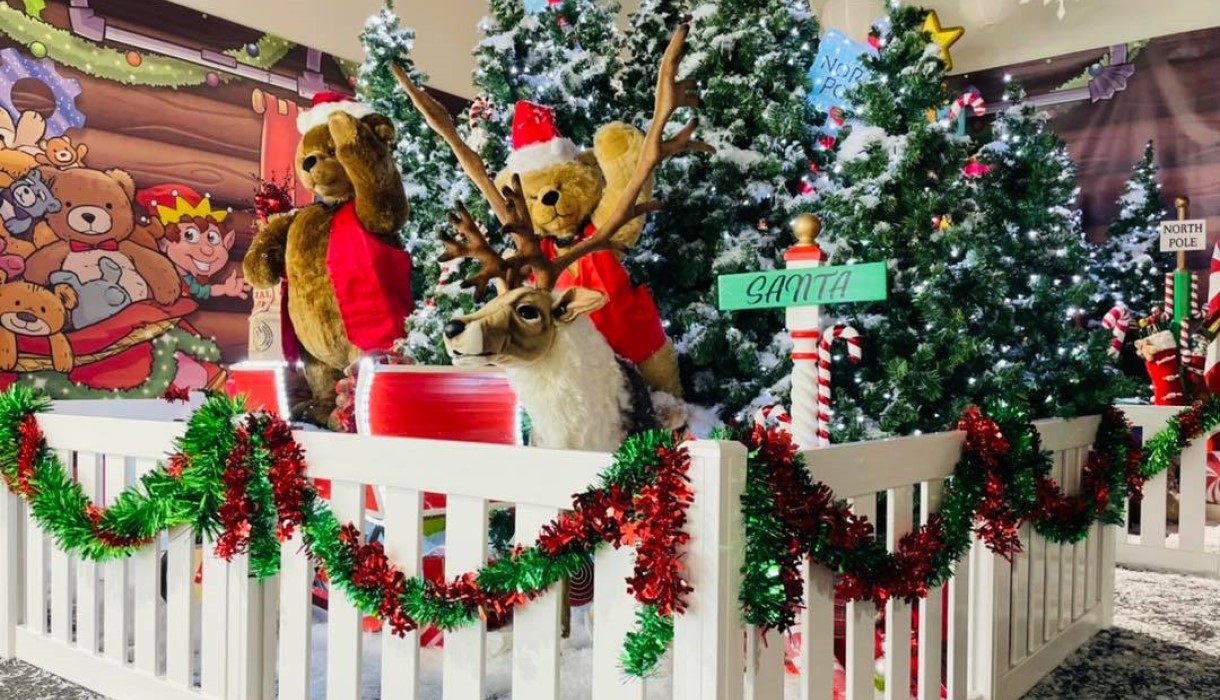 Affinity, home to a range of fantastic discount outlet stores, are temporarily reintroducing late night shopping to give shoppers extra time to mooch around for the perfect Christmas gift. Check out the Christmas opening times here
There is free parking too – so absolutely no need to rush around the shops whilst grabbing those bargains!
You can also enjoy free visits to Santa. Visitors will be able to pay Santa a visit and witness him and his elf working away in his workshop from the 27th November 2021. Although Santa will remain out of contact, he certainly won't be out of sight as families can queue and walk around his open workshop every weekend on the run up to Christmas.
---
LOCAL ARTS & GIFTS
---
---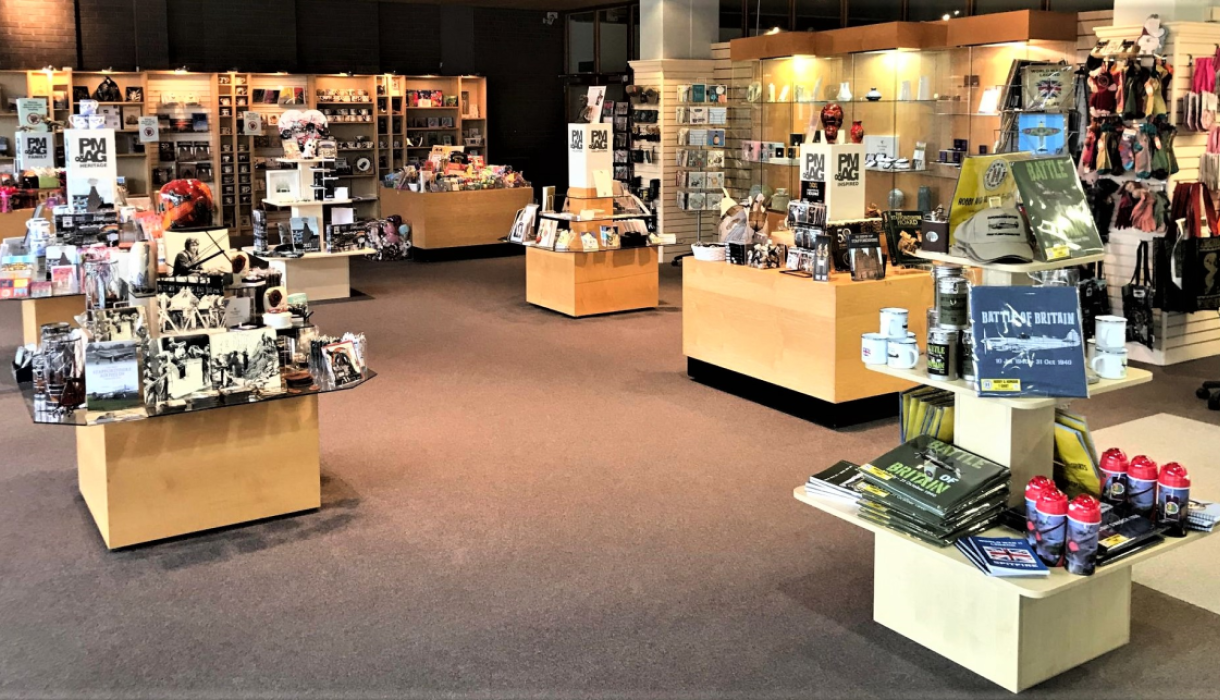 The Potteries Museum & Art Gallery's retail shop stocks a wide range of wonderful items exclusive to the museum including ceramics, jewellery books and stationary. Browse unique gifts inspired by their collections including the Staffordshire Hoard, Ceramics and the brand new Spitfire Gallery. Reflecting the city's industrial heritage, the shop also features a wide range of studio pottery and gifts created by local artists.
---
---
The Gladstone Shop sells a wide range of gifts you won't find on the High Street, including ceramics made and decorated at the museum such as hand painted figures and mugs, along with bone china flowers and flower jewellery made and decorated by the museum's skilled demonstration staff. The museum shop also stock gifts and artworks made locally, from bottle oven themed items to textiles and lots more.
---
---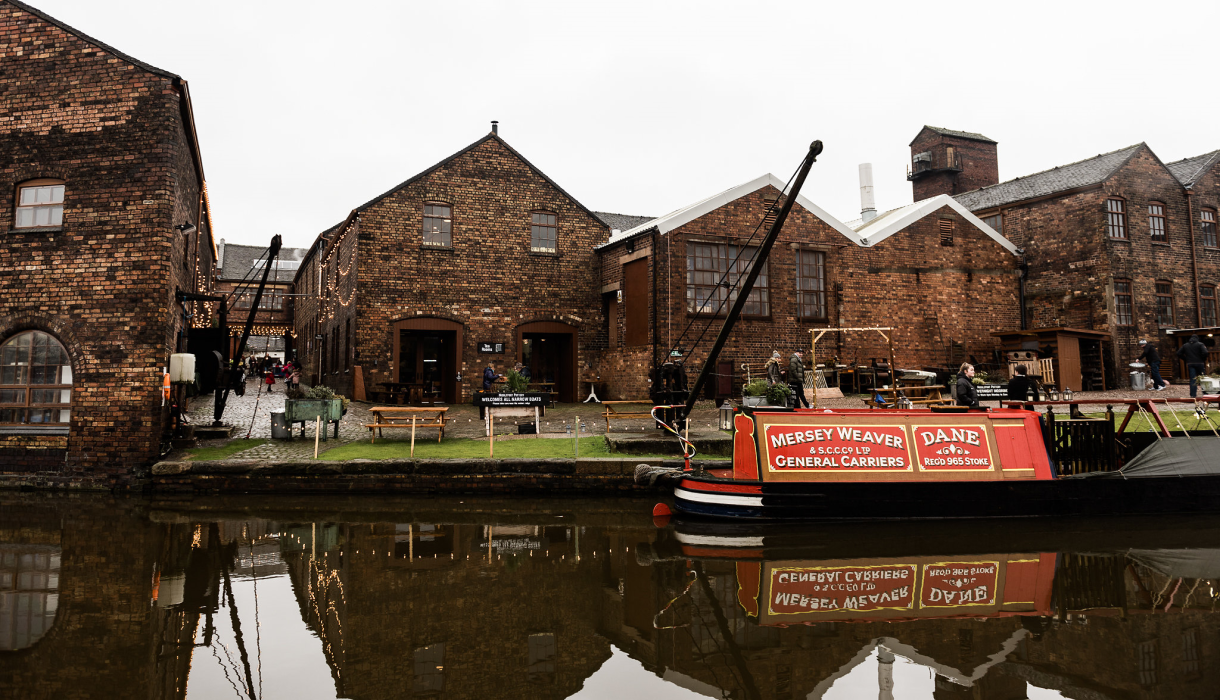 The Middleport Pottery/Re-form Heritage Gift Shop have a great selection of unique gifts that combine Middleport Pottery's fascinating heritage with some of the area's most talented craftspeople. In addition, by purchasing their products you are helping to save, regenerate and transform heritage buildings at risk.
Also on site, located in a 1930s wing of the factory, is the fabulous Burleigh Factory Shop where you will find the widest selection of Burleigh pottery in the world.
Middleport Pottery is home to Middleport Studios, a collective name for six incredible individual open-door creative businesses including Inglewood Designs – Vintage furniture and lighting; Burslem Pottery – Handcrafted Stoneware Pottery; Alex Allday – Ceramic Design and Workshops; Potteries Images – Industrial and Vintage Photography; Emma Bailey Ceramics – Hand painted Bone China; and Canadian Pine – Bespoke Handmade Furniture and Giftware.
Clay College is located at Middleport Pottery and the Clay College Gallery is open from 11am-3pm, 7 days a week where it hosts selling exhibitions of internationally renowned potters, themed to match the curriculum so that students can see, handle and sell the pots they aspire to make. As a not-for-profit organisation any sales in the Gallery help to support the work they do.
Middleport Pottery are also holding Handcraft & Gift Christmas Markets, hosting wonderful local artisan traders providing unique handcrafted gifts for those special 'something different' Christmas presents. The markets take place from 10.00am - 4.00pm on Saturday 20 and Sunday 21 November, Saturday 27 and Sunday 28 November, Saturday 4 and Sunday 5 December.
---
---
World of Wedgwood is a great place to pick up a fantastic Christmas gift. Home to the largest Wedgwood retail space in the world – the luxury Wedgwood Store; and the Factory Outlet that stocks end of line and near perfect products. New for 2021 is Josiah & Co, 'Purveyors of Local Goods', a little shop with a big ambition to put local artisans on the map. Josiah & Co stocks the products of over 35 local makers across Stoke-on-Trent and Staffordshire, making it easy for you to support local people at the iconic attraction. Everything you find in this shop is lovingly hand crafted or curated exclusively by people from the area.
World of Wedgwood are holding Christmas late-night shopping events on Thursday 25 November and Thursday 9 December with complimentary mince pies and mulled wine!
---
---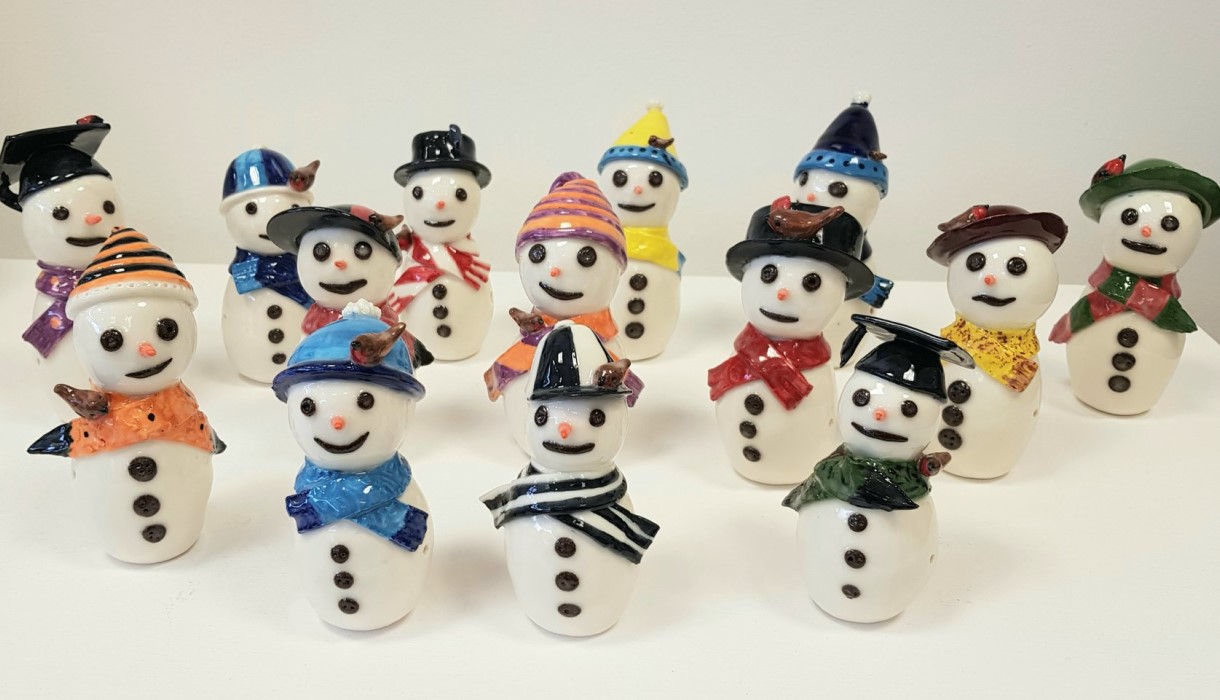 Barewall is an art gallery, based in Burslem, that specialises in British fine art and ceramics connected with Stoke-on-Trent, Staffordshire, the Potteries, the Midlands and the Northern artists. Barewall work with an outstanding collection by artists connected to the Potteries. Please buy online, call 07932 717 718, or arrange a viewing. The gallery is open Monday to Saturday by appointment and encourage pickup every Saturday between 11.00am - 1.00pm or you can enjoy free delivery on all orders over £35 across the UK.
---
---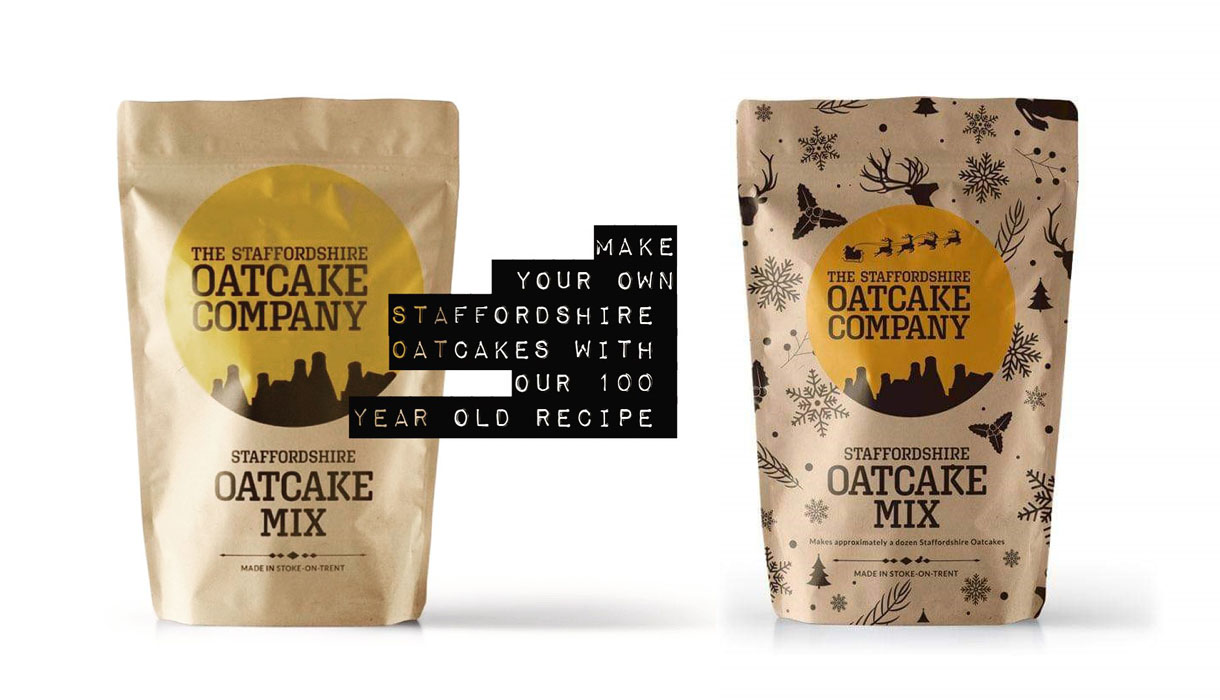 Can you imagine not living in Stoke-on-Trent and being unable to get fresh oatcakes whenever you want them? We know, crazy right? The Staffordshire Oatcake company have overcome this problem and sell dry oatcake mix, meaning that wherever you are in the world you can still enjoy a taste of Stoke-on-Trent. Especially for Christmas, Staffordshire Oatcake Company are selling an Oatcake Mix Christmas Pack - the perfect gift for any Stokies who are missing home this Christmas.
---
---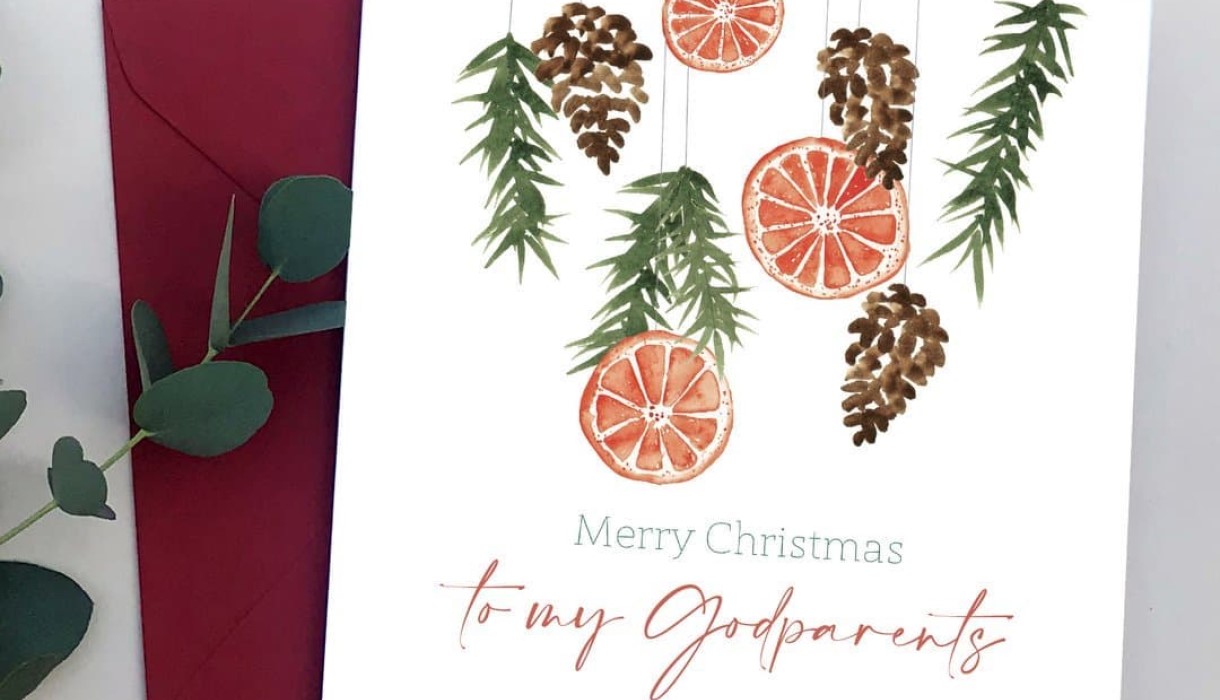 Visitors to the Trentham Estate over the years will know Yellowstone Art Boutique, previously located in the Shopping Village. Now an online only retailer, Yellowstone, run by Hannah Stoney, a watercolour painter with a first class degree in Fine Art: Painting & Drawing, handpick the best of British design to sit next to Hannah's very own beautiful creations! Take a look at Hannah's website for some great gift ideas!
---
---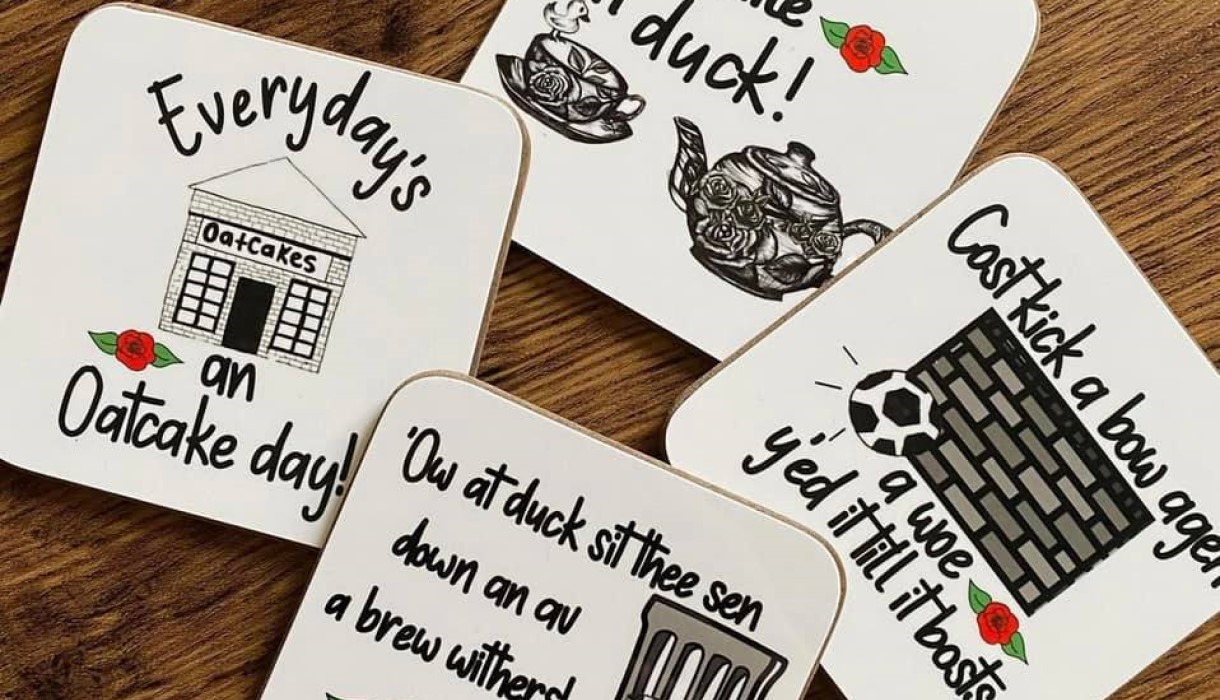 Megan Rose Design Ltd is a local company that specialises in unique prints and gifts. Megan Rose has created a strong brand with her designs and illustrations that champion Staffordshire. Megan draws her inspiration from local heritage and we think you'll love her work!
---
---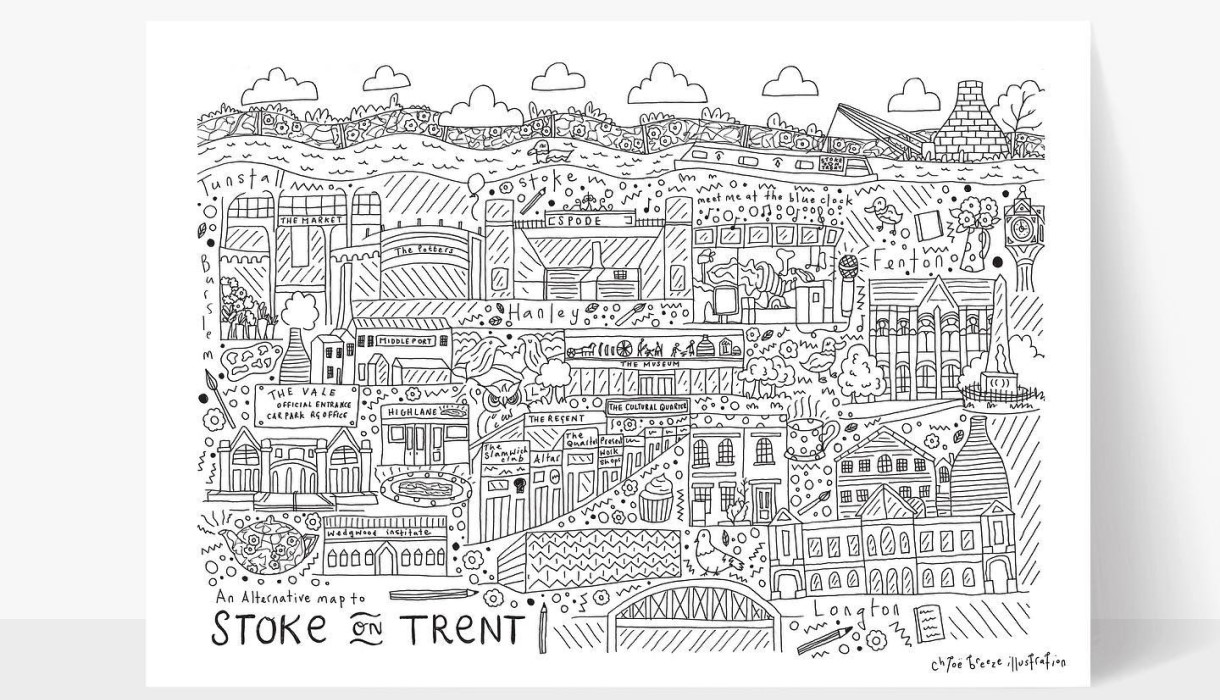 Chloe Breeze is a fantastic local illustrator who graduated from Staffordshire University in 2016. Chloe loves creating fun and playful print and products for your home or as the perfect unique present for friends and family including a fabulous Stokie range! Check out Chloe's website, or visit her as she heads out and about in the run up to Christmas at following: Newcastle-under-Lyme Artisan Market - 28 Nov & 19 Dec; Pop Up Shop at The Potteries Centre - 29 Nov to 5 Dec; Newcastle Common, Newcastle-under-Lyme Town Centre - 6, 8, 10, 11 Dec.
---
---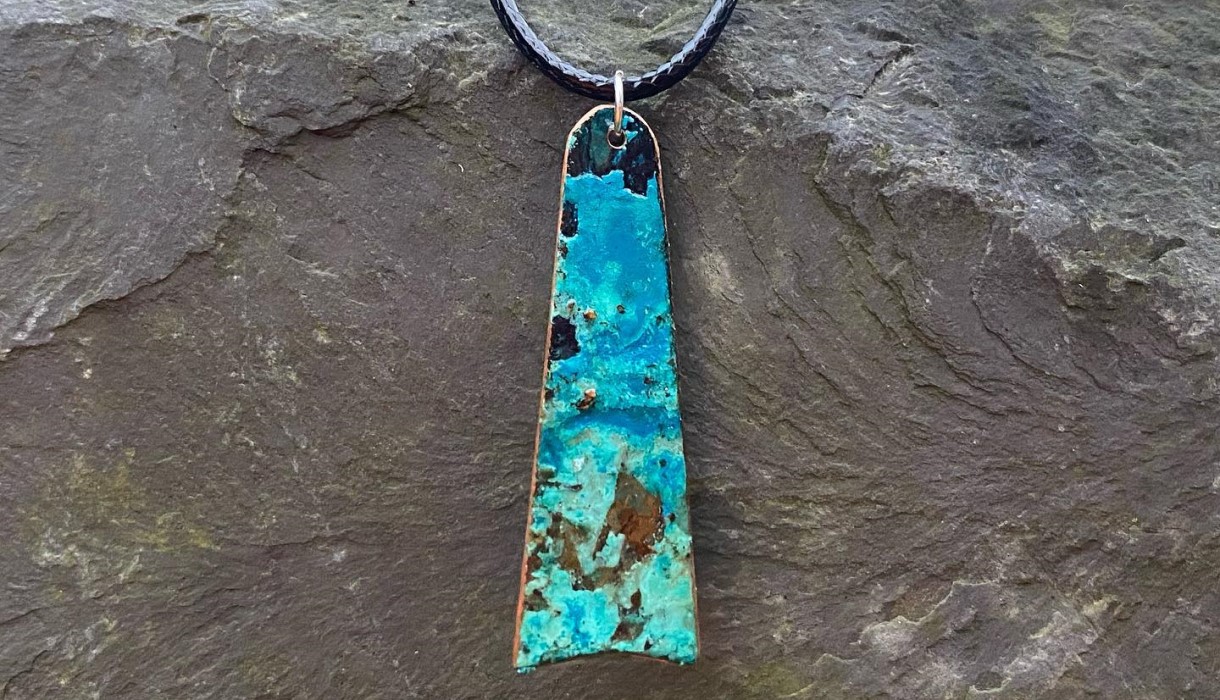 Gems by Soph was set up by Staffordshire University Graduate Sophie during the first lockdown, having recently been made redundant from Monsoon Accessorize earlier in the year. Gems by Soph focus on a wide range of jewellery ranging from silver necklaces and earrings to bespoke handcrafted pieces made from recycled copper cylinders.
---
---

Theartbay Gallery is a community focused gallery, exhibition space and fine art publishers located in Albert Square, Fenton; one of Stoke-on-Trent's finest urban settings. There is a fantastic range of artwork to choose from, including Sid Kirkham's collection.
---
---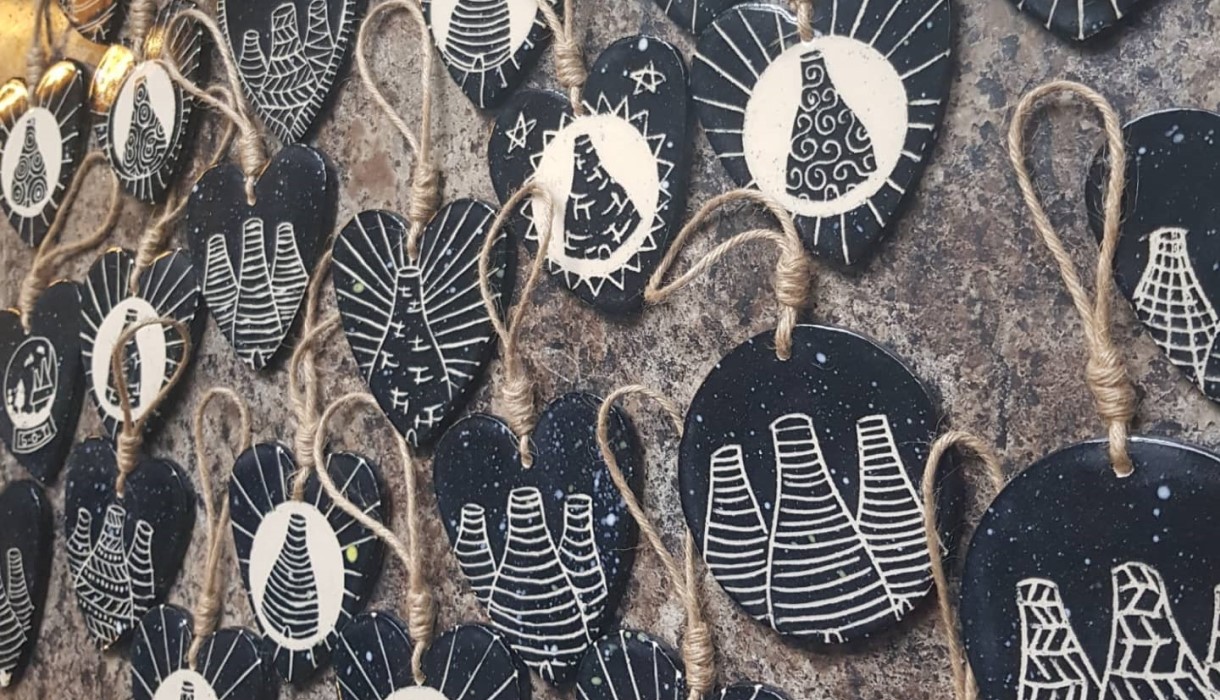 Scruffy Little Herbert has a fantastic range of locally-inspired gifts. All products are carefully designed by Staffordshire based Artist, Illustrator and mum of two Esme Talbot (aka Scruffy) and her unique modern designs are guaranteed to make that somebody special smile on Christmas morning. Esme finds her inspiration in local heritage and brings the things we love from the past into the now, whilst delivering messages to continue traditions into the next generation. You can find Scruffy Little Herbert at Newcastle-under-Lyme Artisan Festive Market on Sunday 28 November and 19 December; at the Pop Up Shop at The Potteries Centre - 29 November to 5 December; and Leek Market on 5 December.
---
---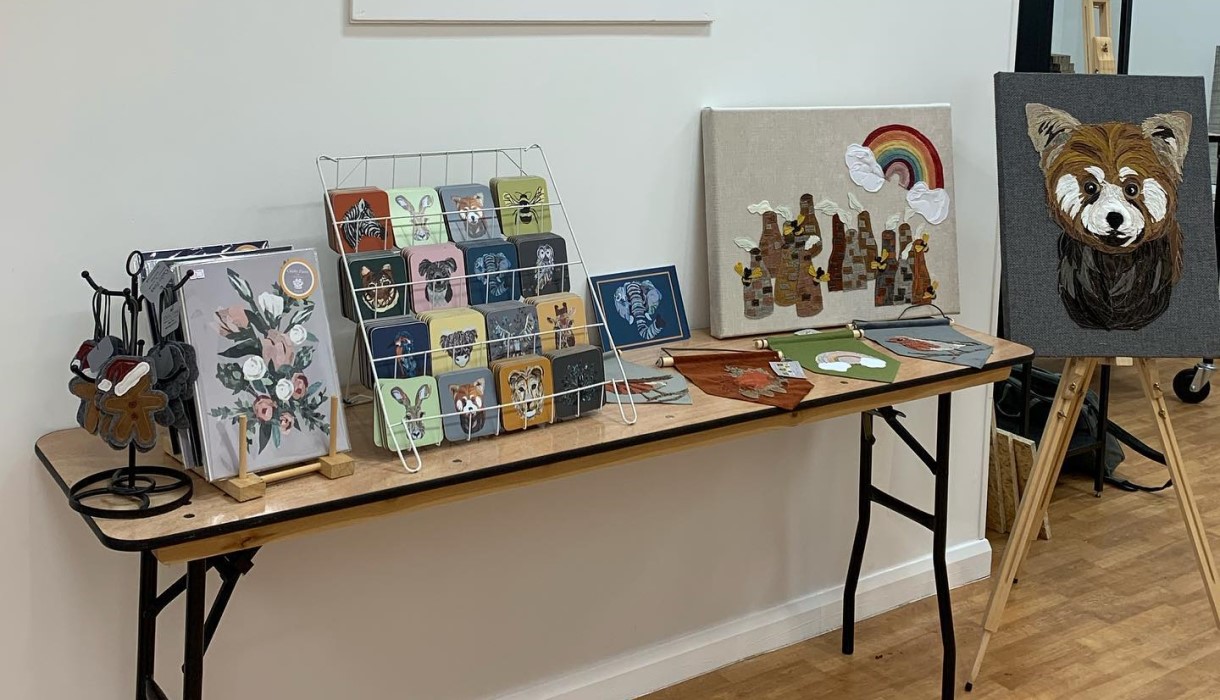 Cushy Paws was created by award-winning designer Grace Hancock through the love for their chaotic and adorable family pets and love of crafts and creativity that runs through their family. Cushy Paws create handmade, unique, customised cushions of pet portraits. Each cushion is created by replicating the portraits of your pet's photograph with a patchwork applique technique using various different woven and printed fabrics on a variety of coloured and textured backgrounds.
---
---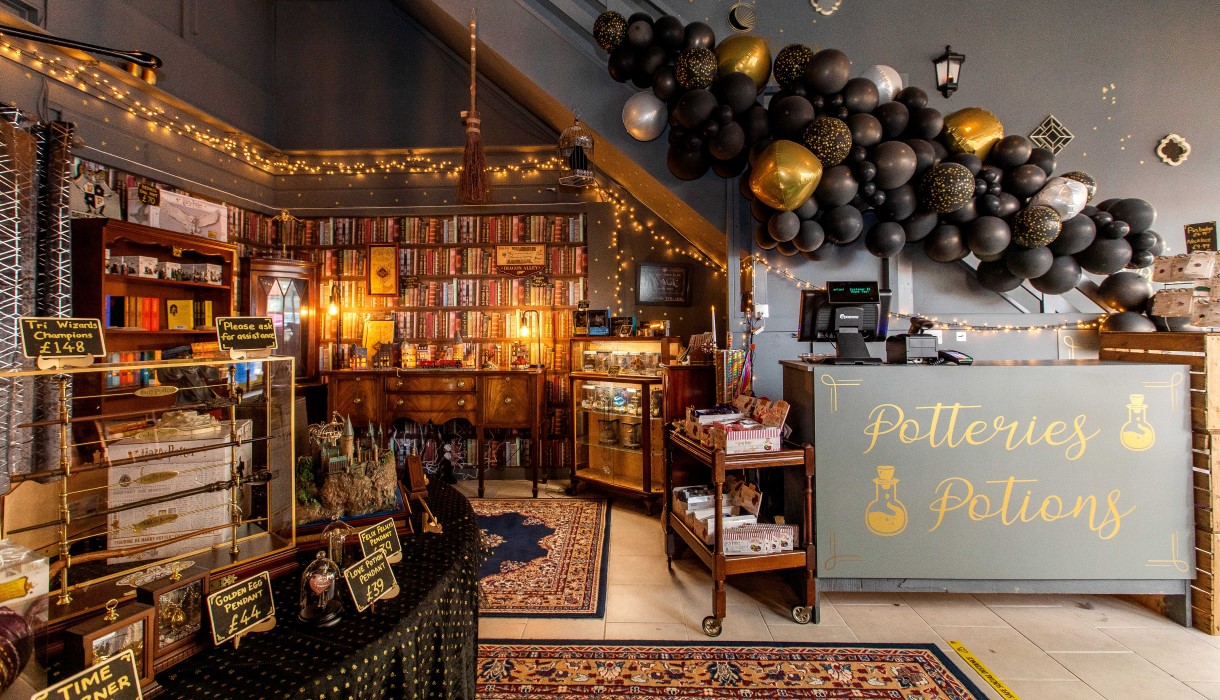 The perfect place to find a gift for all Harry Potter fans! Potteries Potions is a curiously magical shop located in Longton specialising in officially licensed Harry Potter & Fantastic Beasts merchandise.
---
THE GIFT THAT KEEPS GIVING - DAYS & NIGHTS OUT
---
---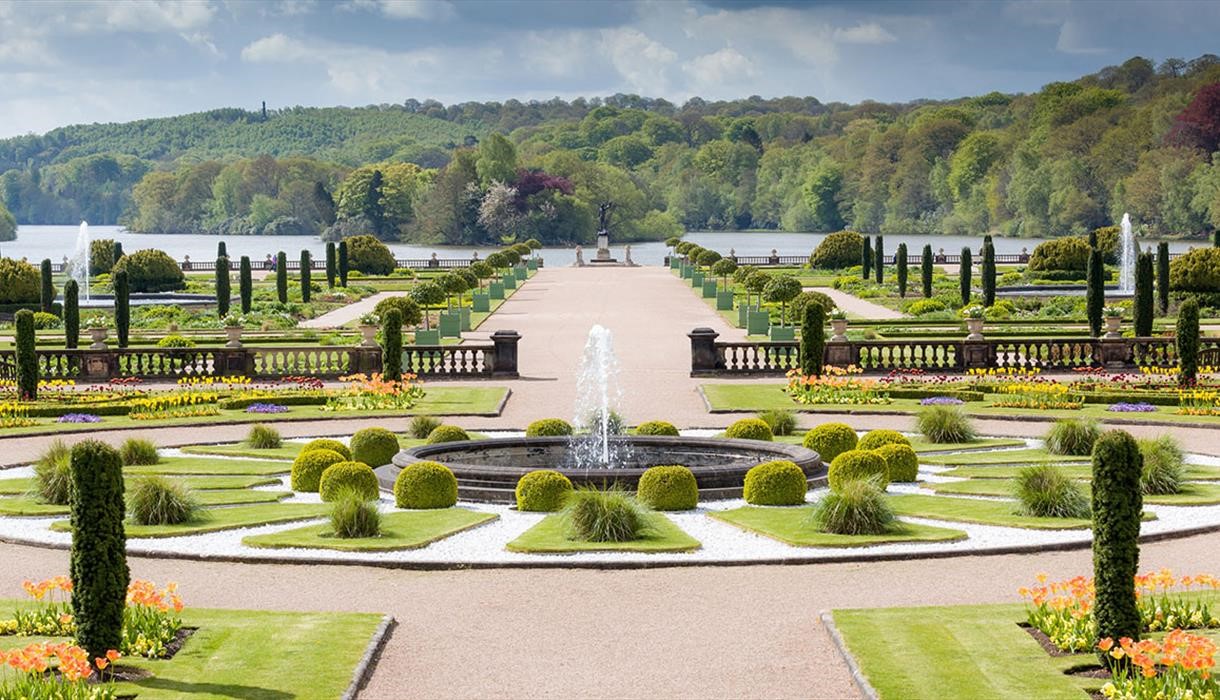 Trentham Estate's Membership makes the perfect gift! The pass gives year-round entrance to Trentham Gardens; 20% discount for friends and family you take along with you; privileged access via main entrance, one hour before usual opening times; priority event booking; discounts in participating shops, cafes, and restaurants at Trentham Shopping Village; and, bespoke newsletters with latest member offers.
---
---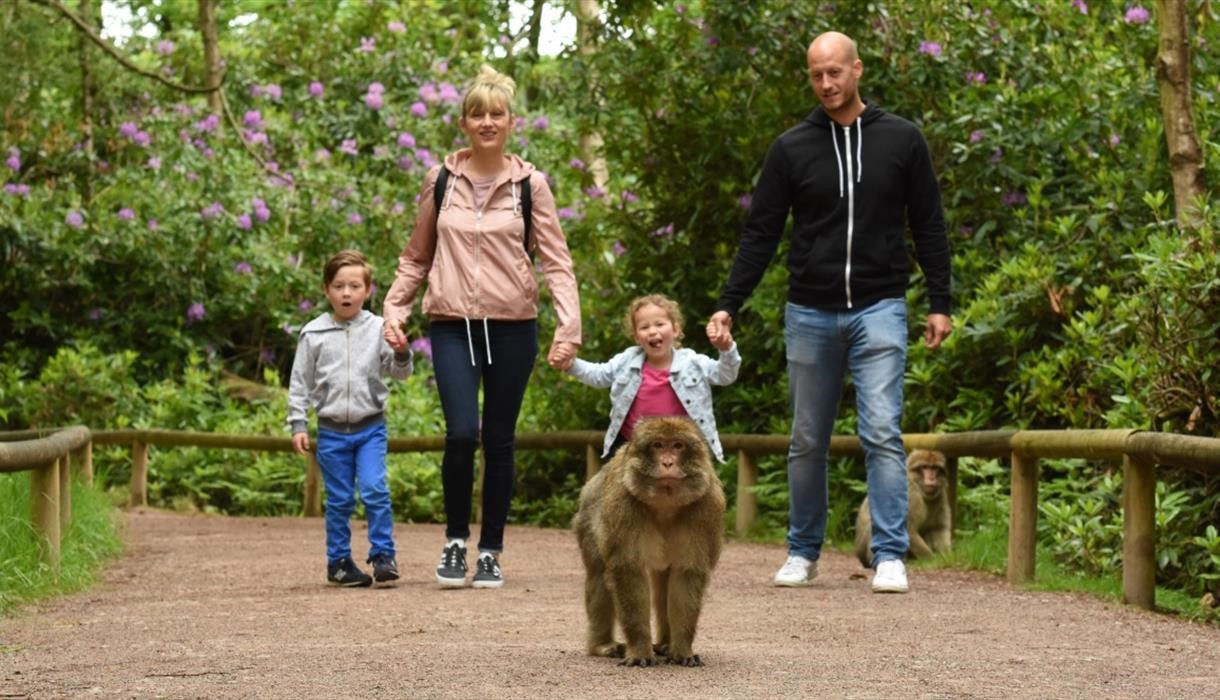 Give somebody the gift of annual membership to the Monkey Forest giving unlimited visits for a whole year! Also available to purchase online are gift vouchers and cuddly Barbary macaque teddies!
---
---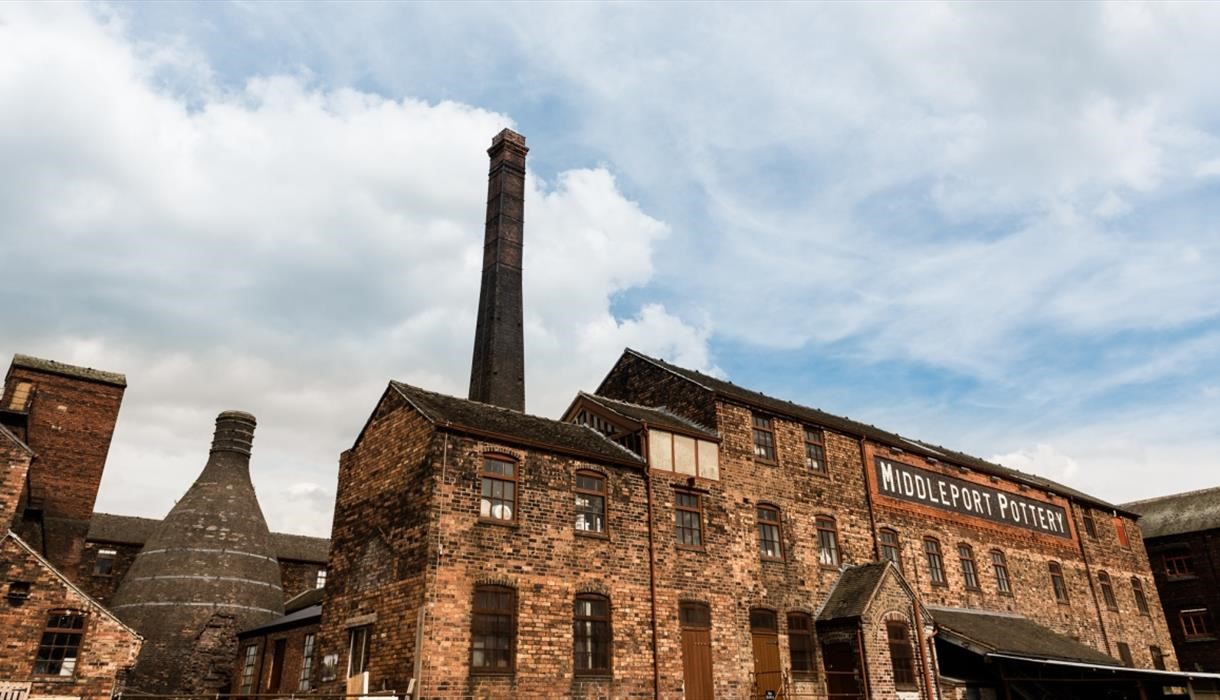 Why not gift a friend or family member Middleport Pottery Membership? For just £15 per adult, membership benefits include Benefits include: One Factory Tour (when the factory re-opens to visitors in line with COVID guidelines), 10% off Tea Room, 10% off Burleigh (excluding best), 10% off Middleport Studios, and unlimited access to the Heritage Areas. Family membership is available for £30 (2x Adults and up to 3x Children) and includes all of the above plus 10 free Play with Clay sessions!
---
---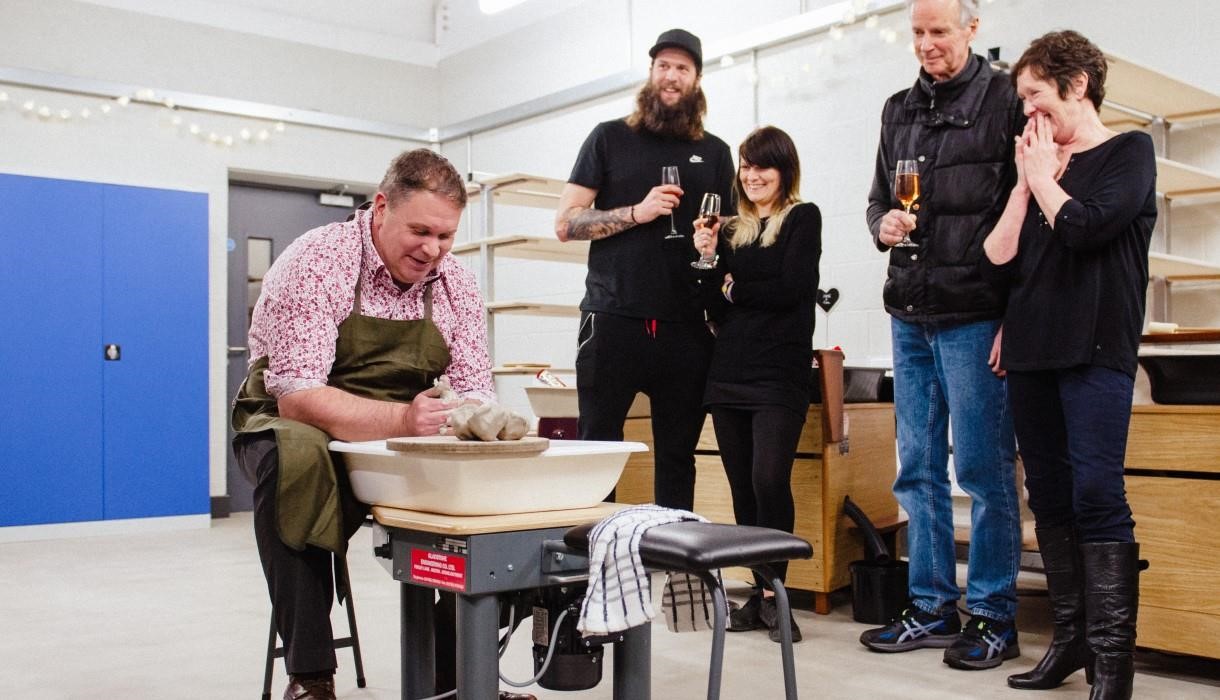 LoveClay Ceramics Centre is a fantastic visitor experience that promotes the importance of clay to the ceramics industry and Stoke-on-Trent. Why not gift a voucher for a course or book upcoming courses in the New Year! The perfect gift to unleash some creativity!
---
---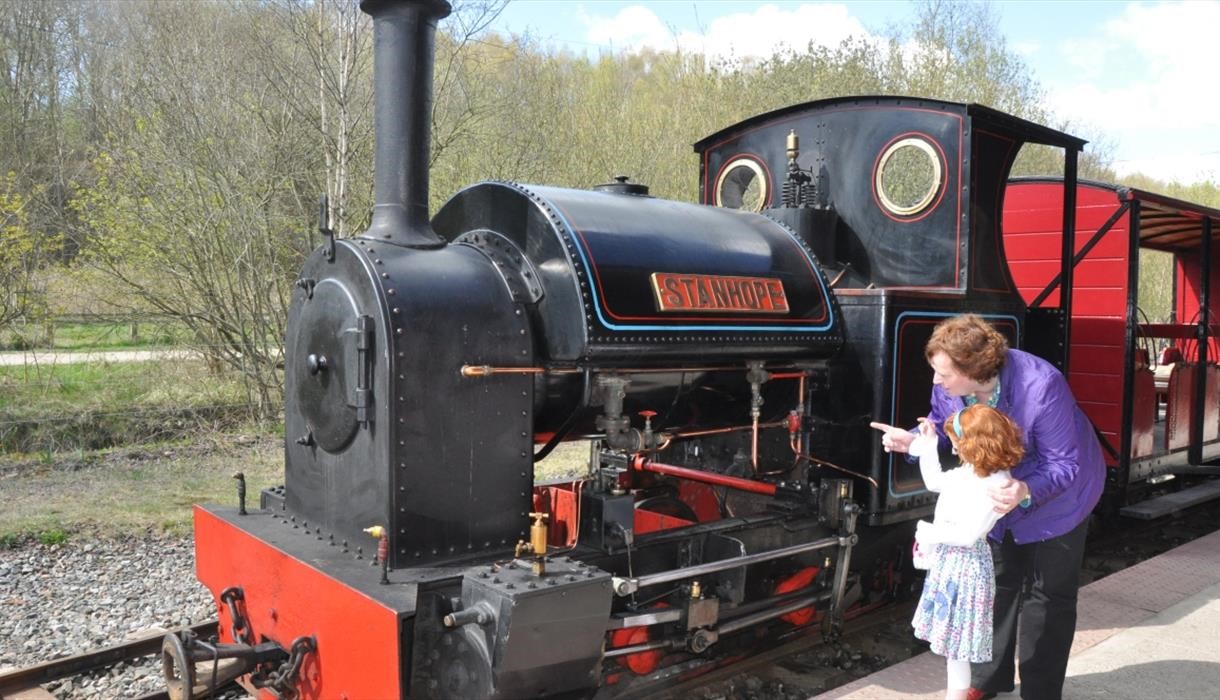 The Moseley Railway Trust is the charity behind Apedale Valley Light Railway - a working railway and museum dedicated to the preservation, conservation and interpretation of industrial narrow gauge railways and membership is available for just £19 a year, £15 for concessions and £9 for under 18s.
---
---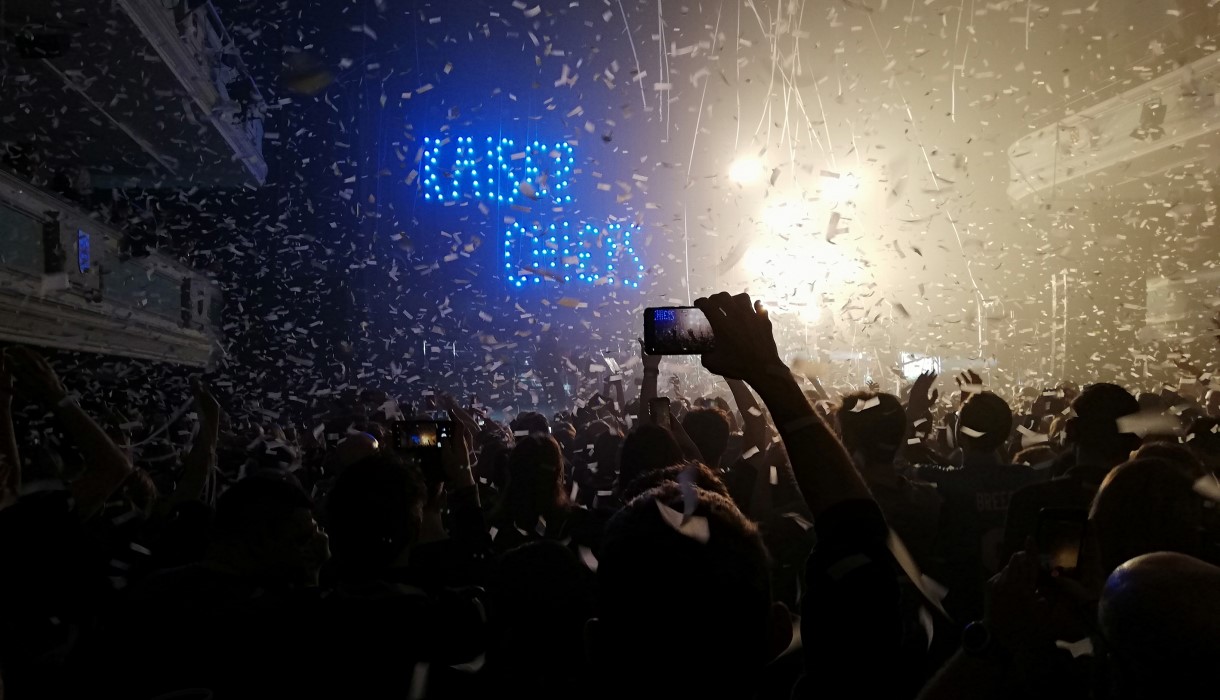 We all missed a great night out at the theatre and it's been fantastic seeing performances taking place in the city again! Why not treat somebody to night at the theatre for Christmas by gifting tickets or giving a gift voucher? New Vic Theatre, The Ambassador Theatre Group (Regent Theatre and Victoria Hall), and Mitchell Arts Centre have a great programme of performances for the new year!
---
---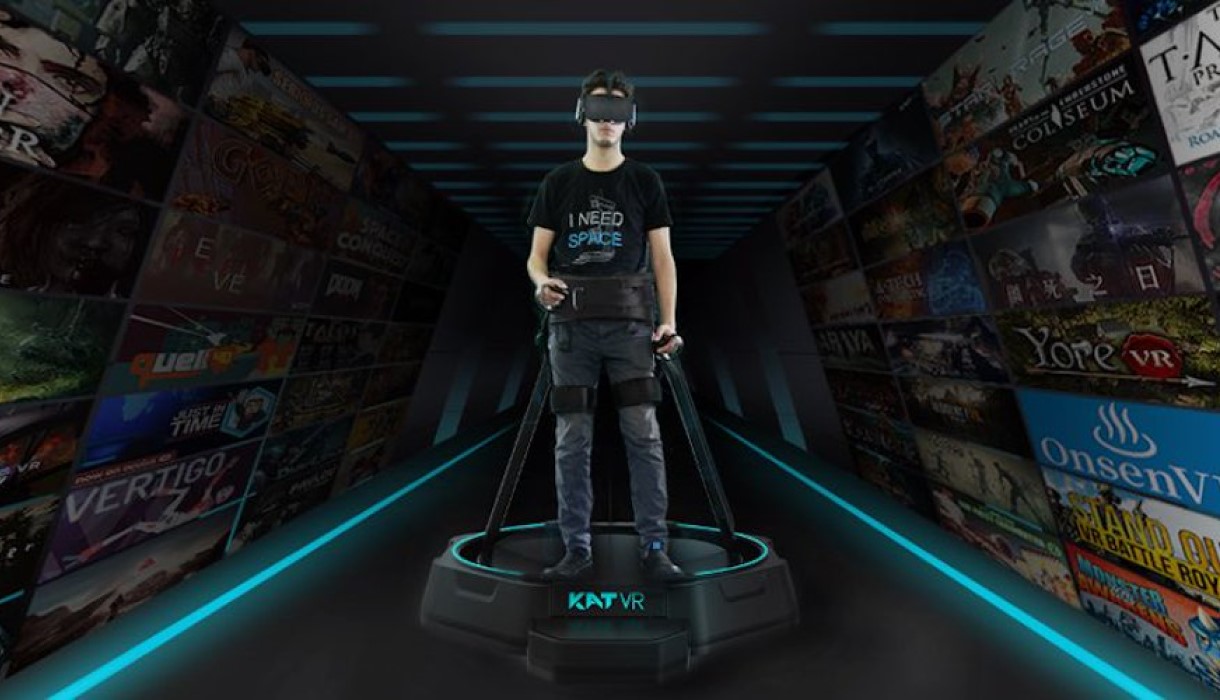 XP-VR, an immersive virtual reality entertainment venue located on Piccadilly, is a fantastic experience for friends and families to enjoy together. Prepare to immerse all of your senses and step into new worlds together. Play as a group, survive as a squad. Get ready for high-end action packed virtual reality fun! Gift vouchers available to purchase via their website.
---
---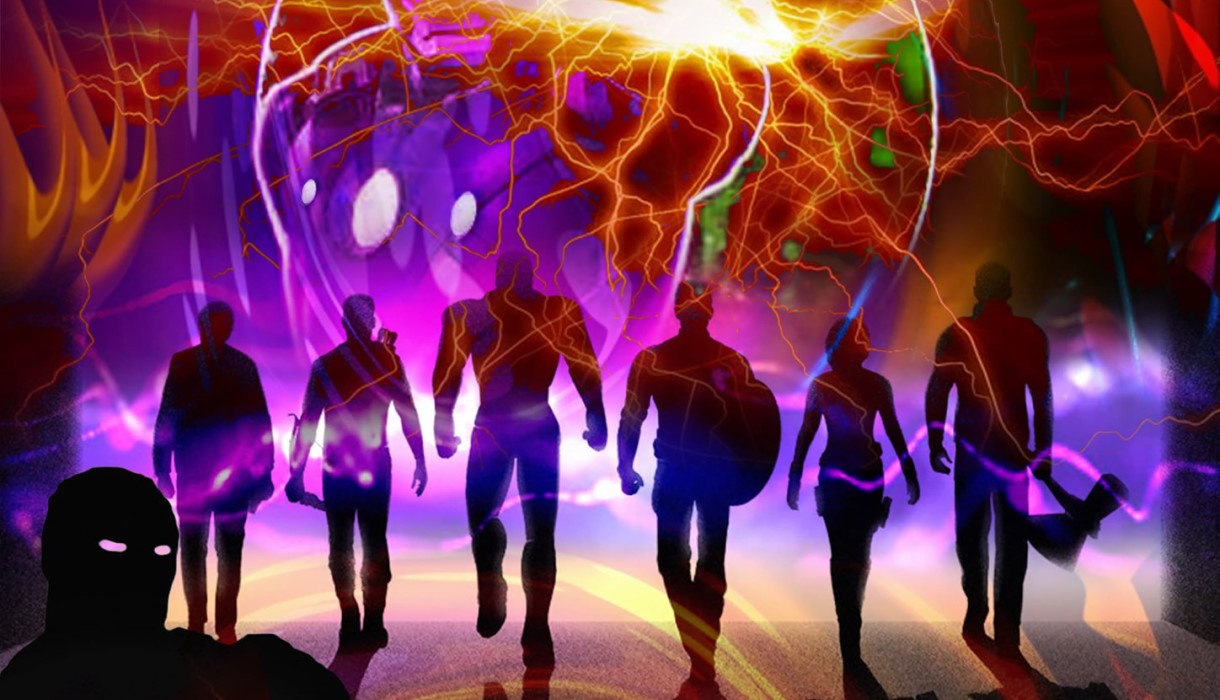 For a Christmas gift with a difference, why not give the gift of a real thrill at Escape Stoke? There's all sorts of themed rooms, including Witchcraft & Wizardry, Area 51, The Da Vinci Code, Taken, Casino Heist and Escape the Seven Seas and gift vouchers are available to purchase.
---
---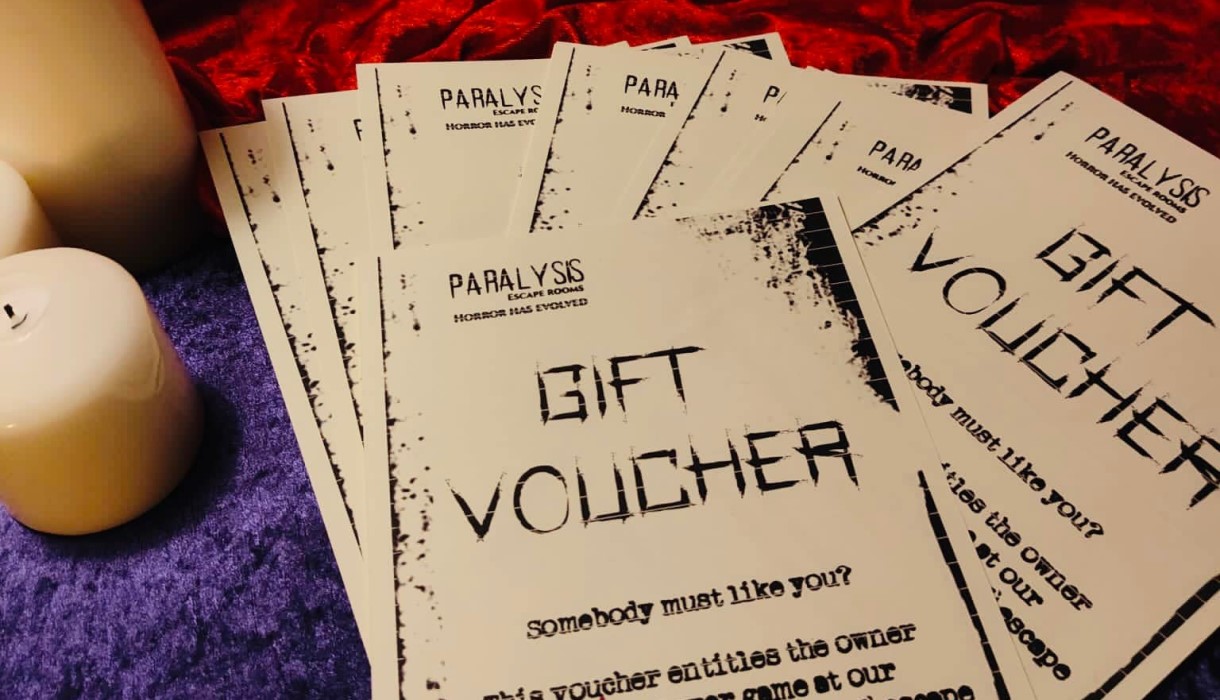 For horror enthusiasts and those who don't scare easily, how about a gift voucher for Paralysis Escape Rooms? And for those who love their horror classics, you can also get your hands on some incredible prints from your favourite films.
---
POTTERY SHOPPING
---
---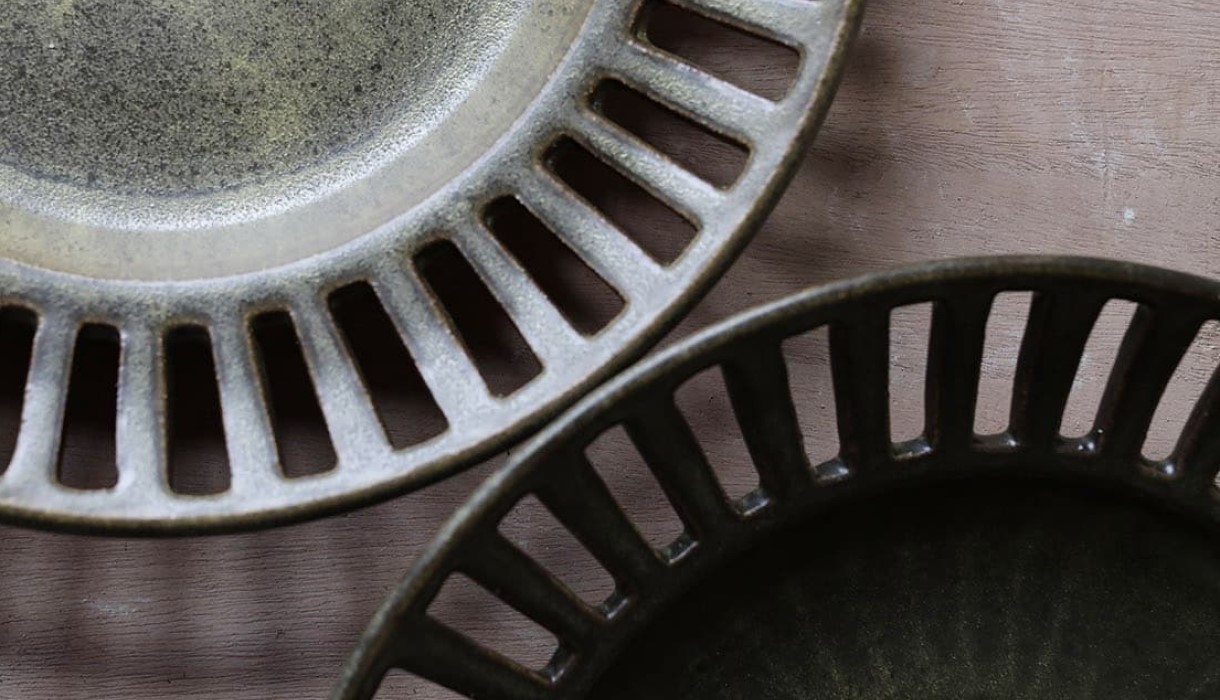 Clay College, based within Middleport Pottery in Burslem, offers a great selection of ceramic ware gifts. The College, that offers a skills-based, full-time ceramics course taught by potters who make a living through ceramics, something unique in the UK, also offers the Clay College Gallery that showcases the work of both students and visiting Internationally renowned Master Potters. The College produce College Range, a range of standard ware produced at the College by the students on their Full Time Diploma Course. Mugs, espresso cups, jugs, bowls and creamers are available to purchase and the proceeds go back to the students to help to fund planned trips and future projects.
---
---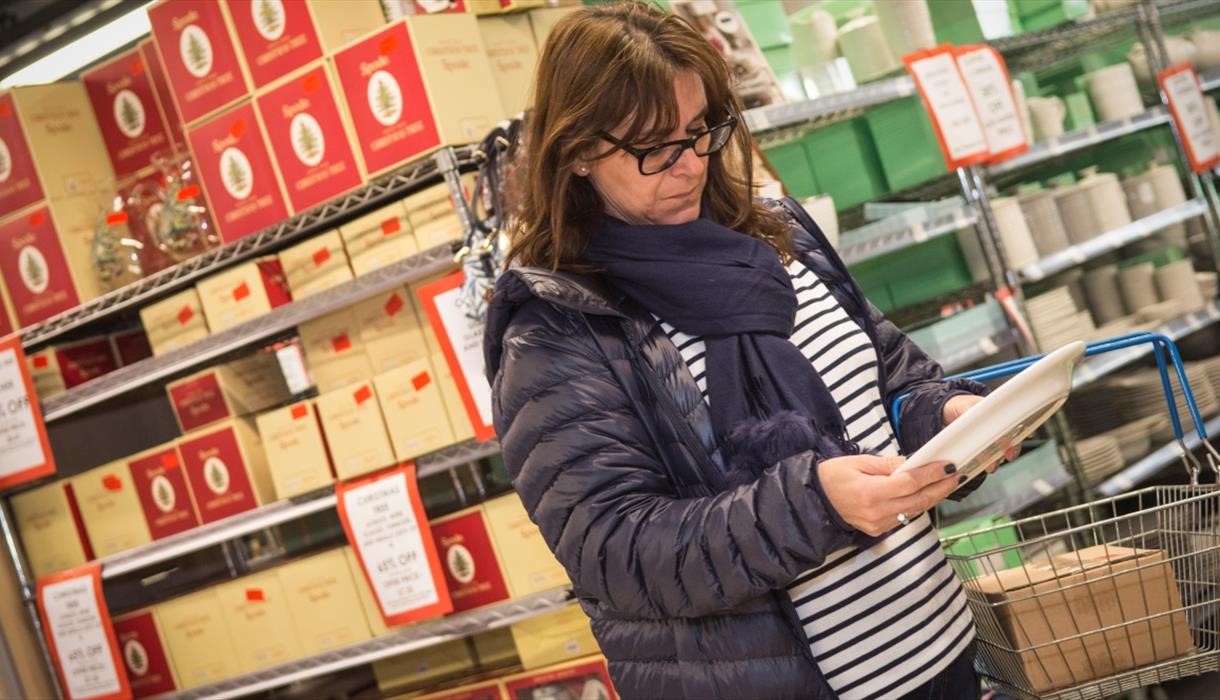 Pay a visit to one of the Portmeirion Factory Shops in the city where you are guaranteed to pick up some bargains. The shops sell a range of products such as tableware, cookware, homeware, home fragrance and gifts. You can shop across all of their six brands too, including, Portmeirion Spode, Royal Worcester, Pimpernel, Wax Lyrical and Nambé.
---
---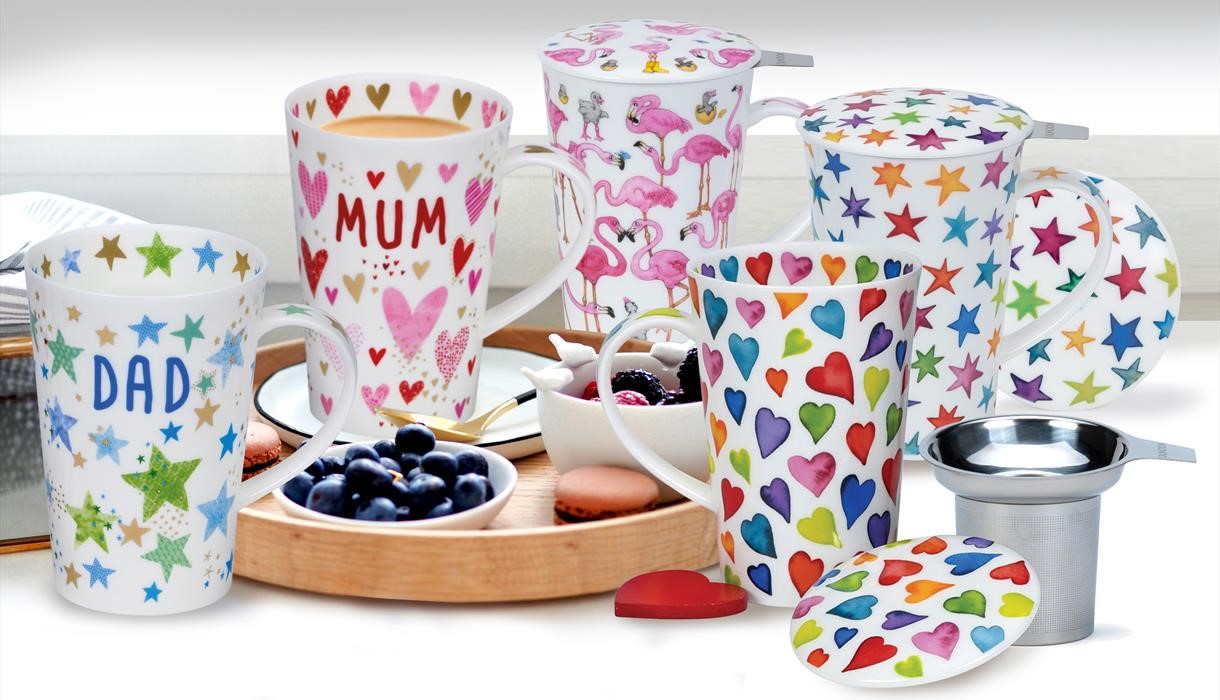 Dunoon are the market leaders in the production of the highest quality Fine Bone China mugs, cups, saucers and teapots. Each one of their products is handled by skilled craftsman, maintaining Dunoon's reputation of over 40 years of excellence in pottery making.
---
---
The Emma Bridgewater factory sits in a lovely position alongside the Caldon Canal in the heart of Stoke-on-Trent. The factory has got a a lovely gift shop selling the newest designs as well as a gorgeous factory outlet full of your favourite pieces that stocks a wide range of seconds (slightly imperfect items) and discontinued lines; tableware, cookware and textiles at reduced prices. For the collector or avid fan they have the occasional sample and one off pieces. Visit the decorating studio before 5th December to create your own uniquely designed presents in time for Christmas delivery.
---
---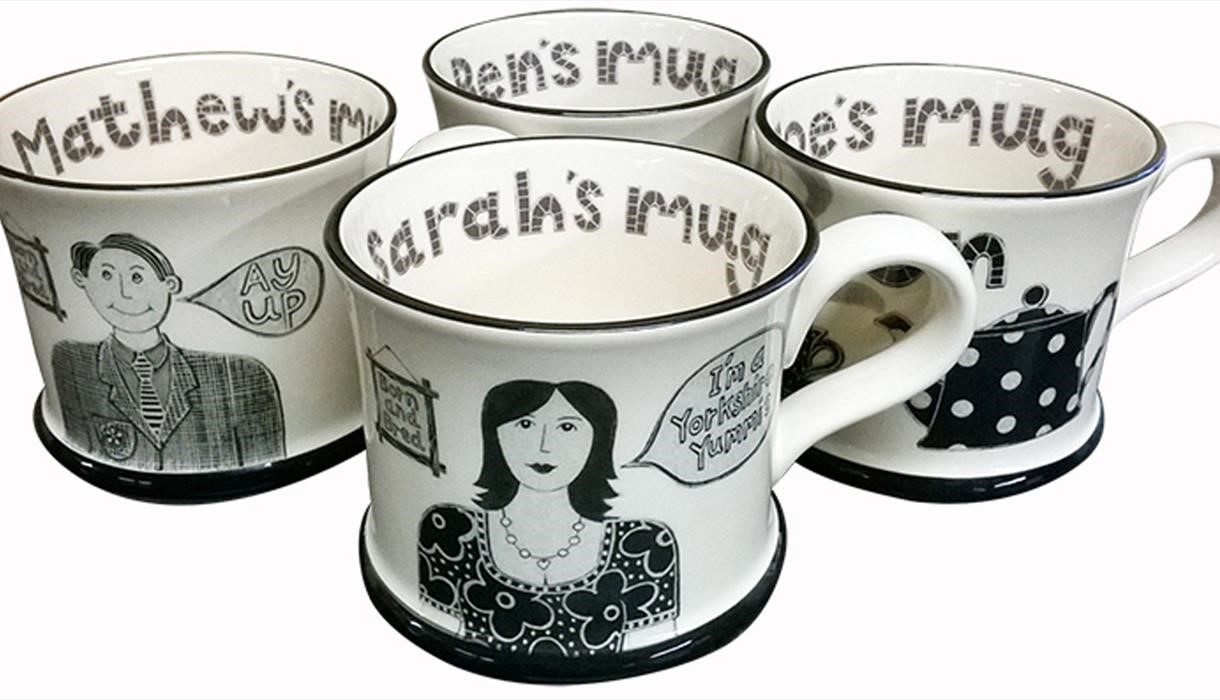 Moorland Pottery, creators of the Stokie Ware and Stokie Gin have lots of brilliant gift ideas including personalised pottery and great designs that celebrate, reflect and enrich the Great British culture and its diversity. You can visit the factory shop based at their works on Moorland Road, Burslem. Parking is available in their yard and the factory shop is within easy walking distance from the town centre.
---
---
Displayed to breathtaking effect, the Moorcroft Heritage Visitor Centre Shop has on offer a kaleidoscope of Moorcroft designs, which provide a wealth of choice. Seconds and discontinued lines are available through Moorcroft's website.
---
---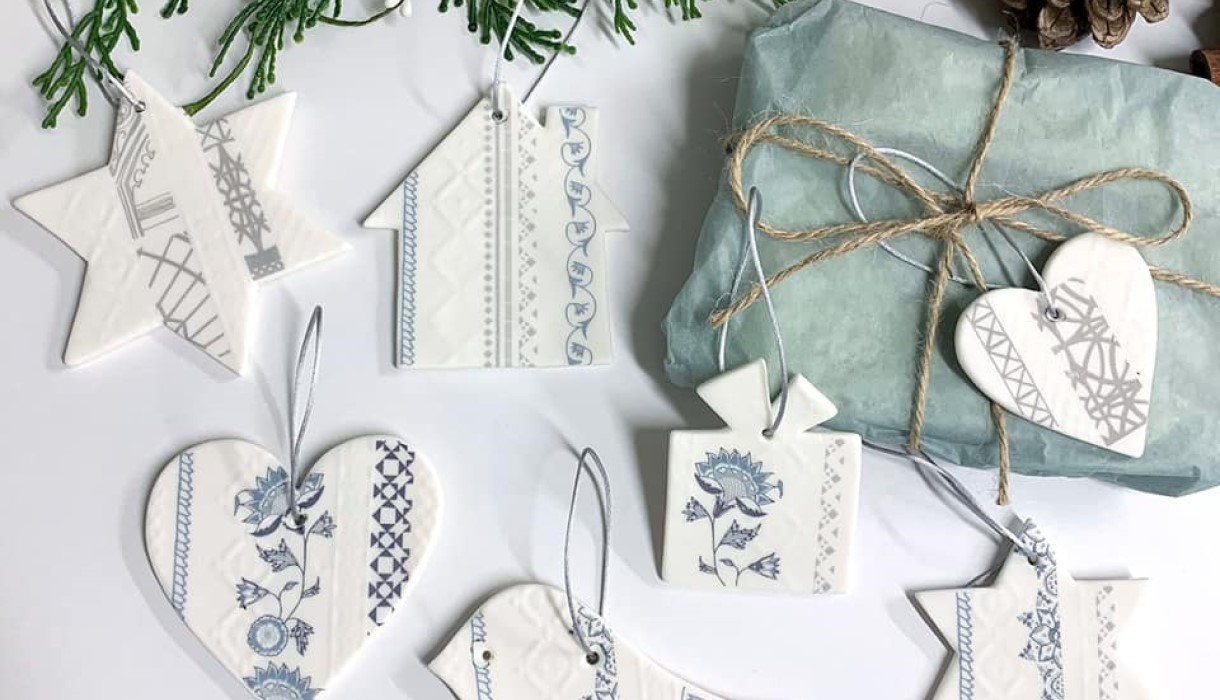 Alex Allday, based at Middleport Studios, is a ceramic & surface pattern designer who produces handmade decorative ceramic homewares with intricate surface pattern designs and textures. Her range consists of hanging planters, tealights, plant pots, fine bone china mugs, vases, framed ceramics, decorative bowls, soap dishes and Christmas decorations.
---
---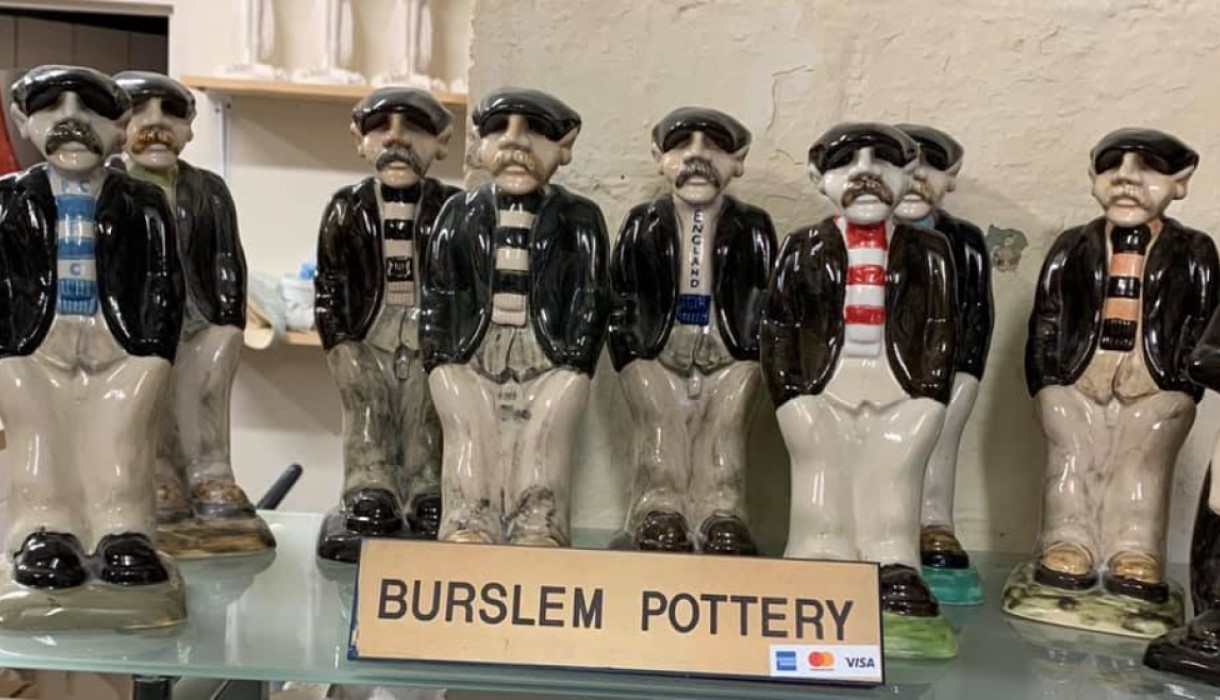 Burslem Pottery produces fine quality art and sculptures in high fired stoneware. All of Burslem Pottery's art is hand-made and hand-painted in a traditional way in Stoke-on-Trent with scenes of local industrial heritage.
---
---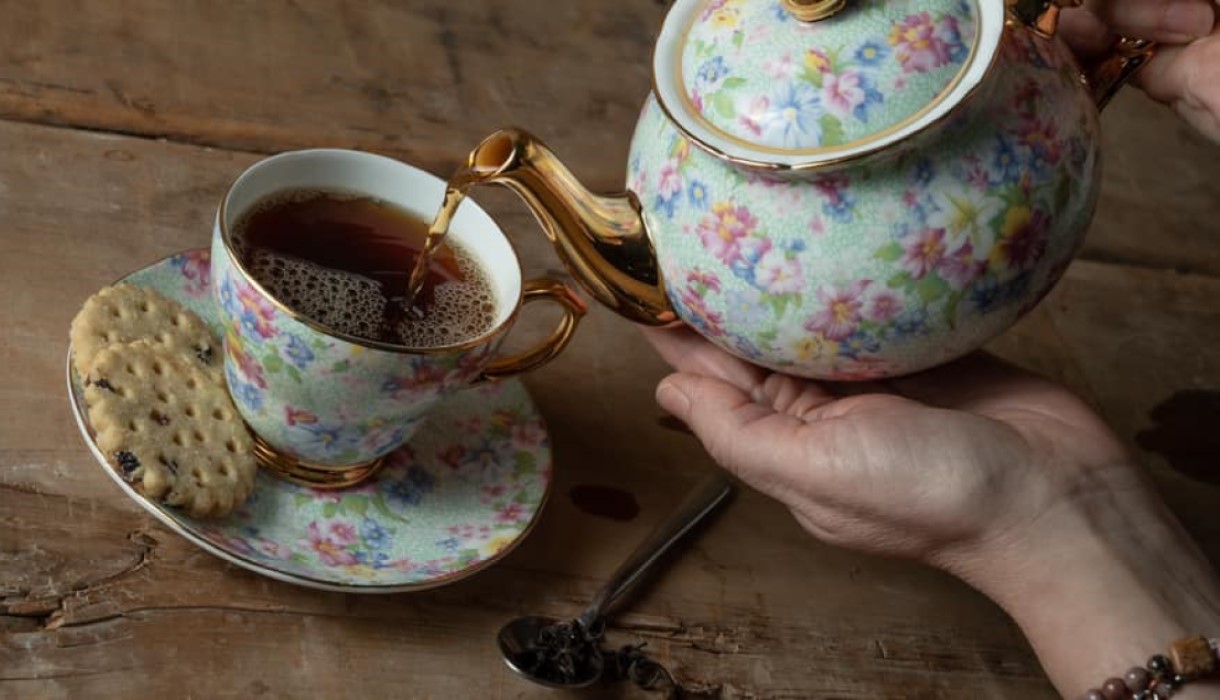 Duchess China have been manufacturing classically designed patterned ranges of Fine Bone China products in Stoke-on-Trent since 1888. They produce beautiful dinnerware, teaware and giftware, and their vast experience is reflected in the outstanding quality and sheer variety of the Duchess products and ranges. New for 2021 is a factory shop at the company's headquarters in Longton selling their ware.
---
---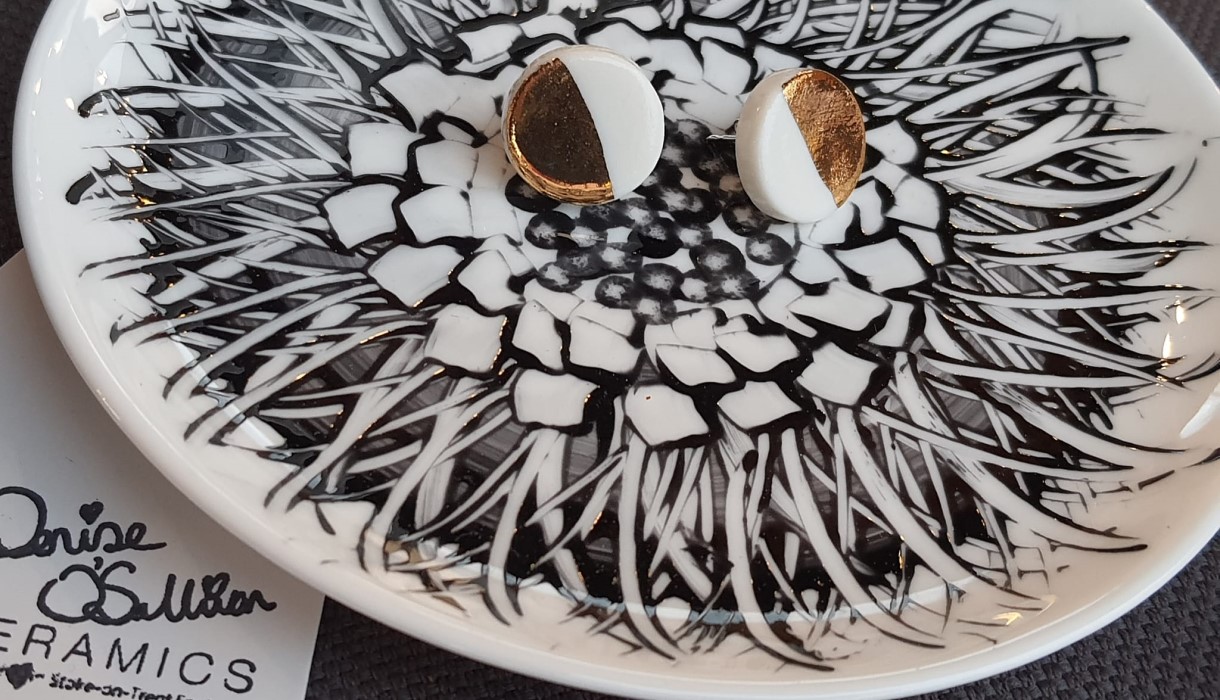 Denise O'Sullivan is a locally based ceramicist who loves clay and is a proud Stokie! Denise works from her studio based in the city and creates a brilliant collection of ceramics including mugs and vases. Her online shop also sells great gifts including a collection of creative kits perfect for the family at home.
---
LOCAL SPORT
---
---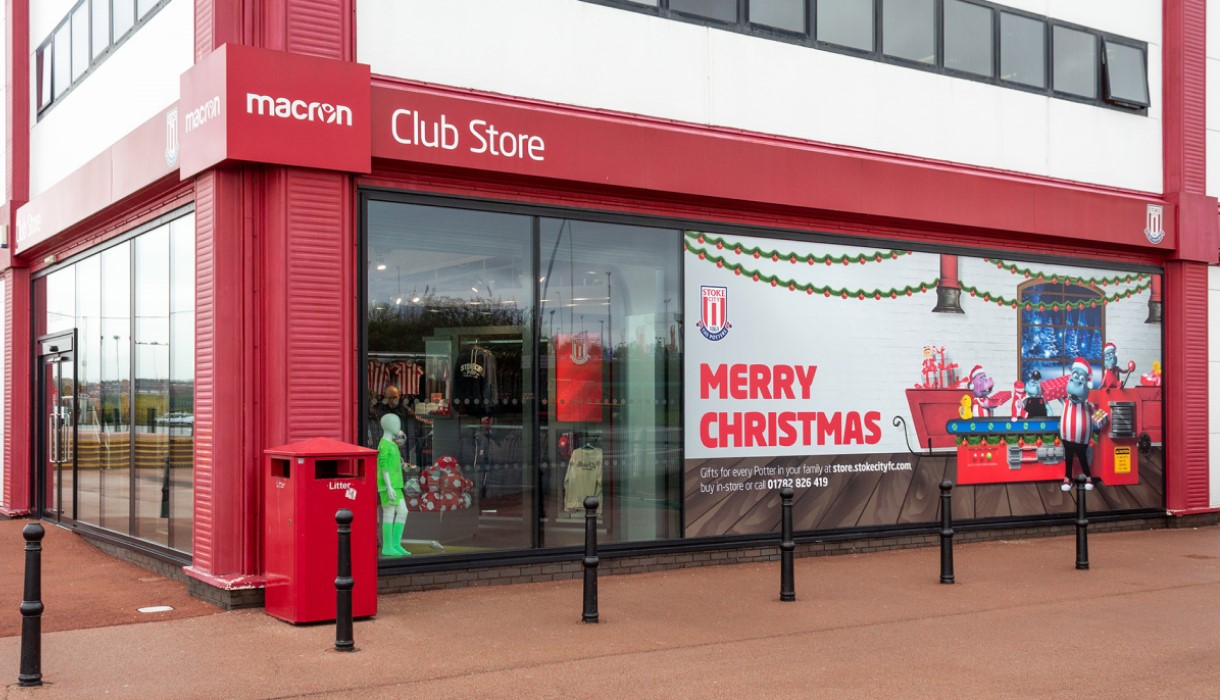 Stoke City's online store will help you put the smile on any Potter's face this Christmas! Head to the store or visit the website for some great gift ideas.
---
---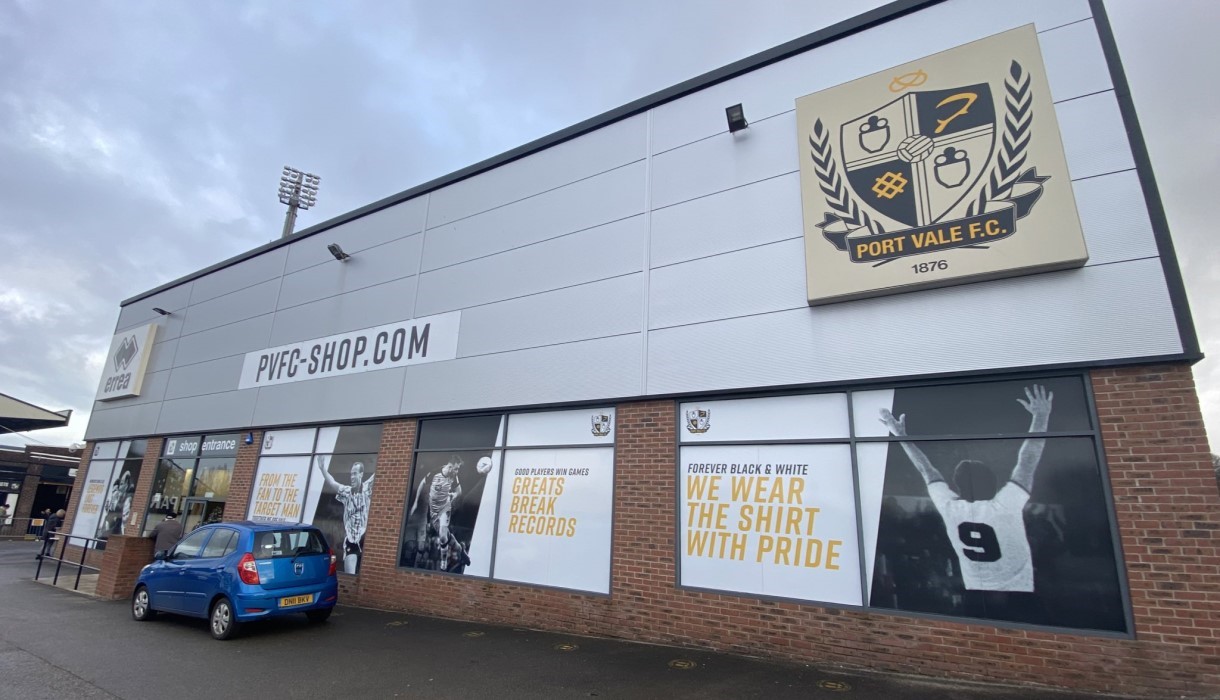 The one stop shop for the Port Vale supporter in your life! From replica kit to local football art you will find something to light up a Valiant's Christmas!
---
CITY CENTRE SHOPPING
---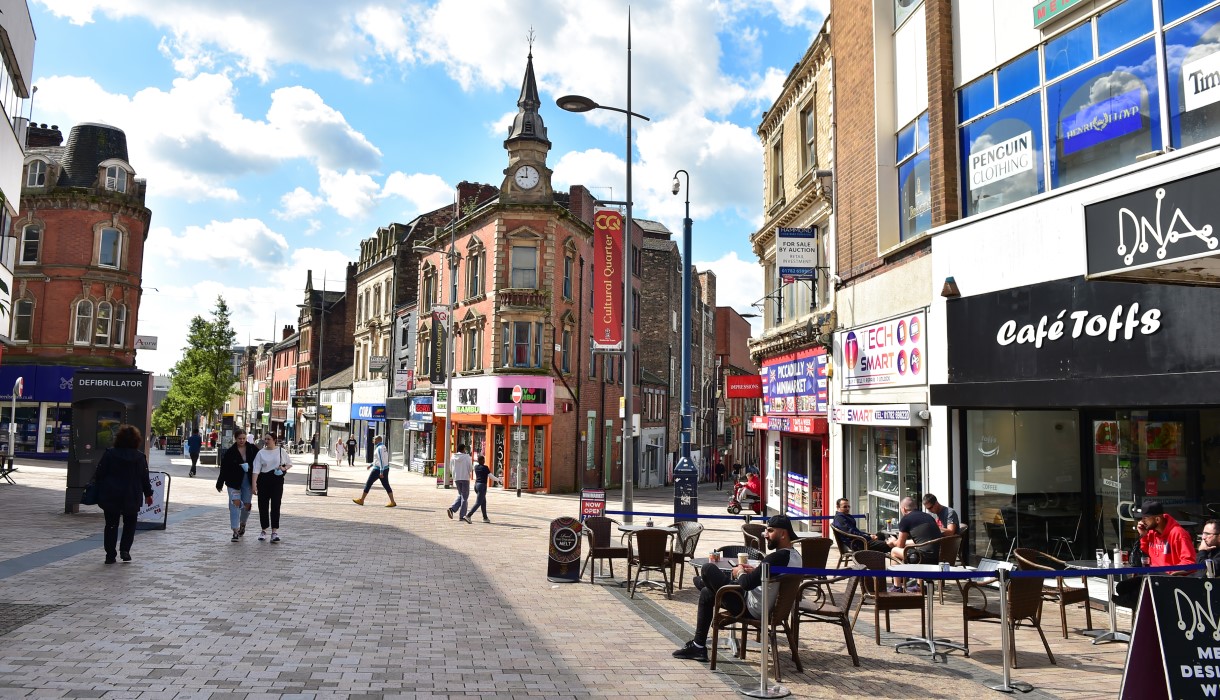 Not only is Stoke-on-Trent City Centre home to great high street shopping and The Potteries Centre, it is also a mecca for small businesses selling items from quirky clothing and accessories to artisan gifts. For more information about City Centre businesses, head to stokeontrentcitycentre.co.uk
---
MARKETS
---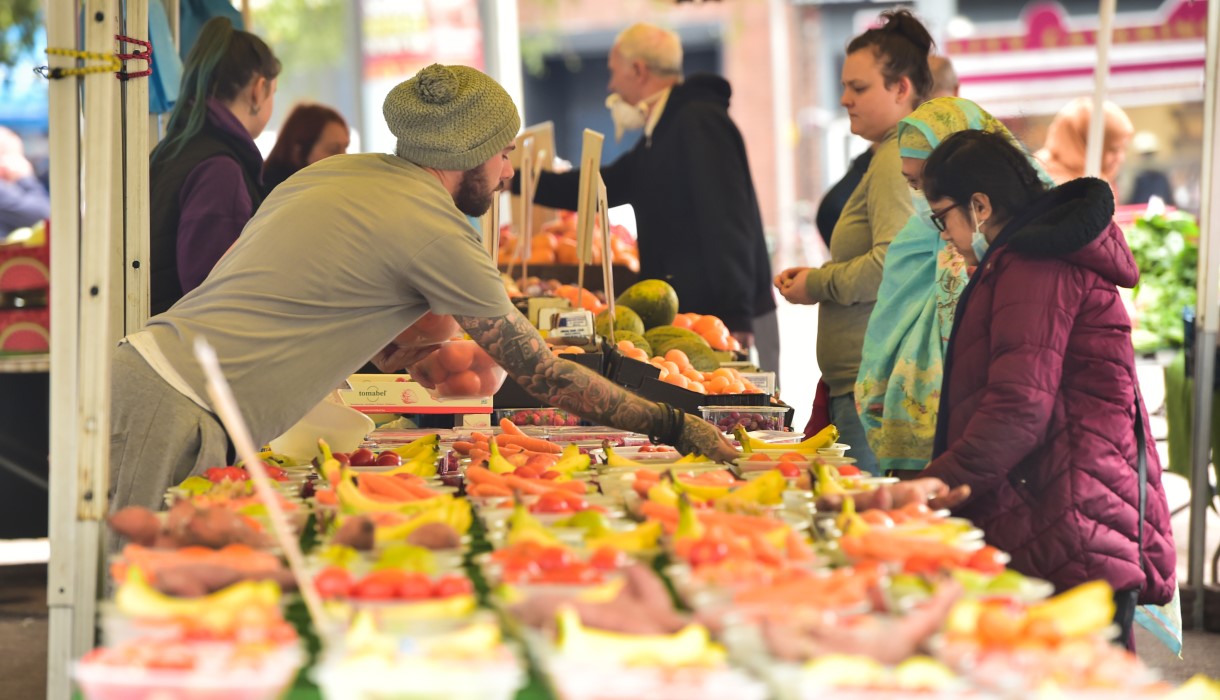 Visiting one of the city's markets is a great way to support local businesses. Whether you're looking for a unique gift, a lovely stocking filler, or buying the produce for your delicious Christmas dinner, let's support our market traders this December by paying them a visit, buying local and supporting small businesses!
To view markets opening days and times head to stoke.gov.uk or visit the markets' facebook pages:
Stoke Indoor Market, Tunstall Market, Hanley Market, Longton Market