National Cream Tea Day
It's National Cream Tea Day on Friday 26 June and here in Stoke-on-Trent we don't need much encouragement to find an excuse to get out our best Stoke-on-Trent made china plates, teapots, cups and saucers! And besides, during lockdown what better way is there to lift spirits than have a cream tea?
---
THE CONCEPT OF CREAM TEA
---
Drinking tea became fashionable in England during the 1660s when King Charles II married the Portuguese Infanta Catherine de Braganza and she brought the custom of drinking tea at court with her. However, 'afternoon tea' didn't appear until the mid 19th century when Anna, the seventh Duchess of Bedford, would become hungry around four o'clock in the afternoon and she asked that a tray of tea, bread and butter and cake be brought to her room during the late afternoon. She began inviting friends to join her and so the concept of 'afternoon tea' began and it soon became a fashionable social event. And of course, Stoke-on-Trent's pottery manufacturers were happy to manufacture and supply tea sets to the country's finest to meet this fashion.
Cream Tea is a concept that originated at a similar time following the tourism boom in the West Country in the 1850s, brought about by the opening of the railway. As visitors boarded the trains and headed south to relax and indulge away from everyday life, hotels, tearooms, farmhouses and cafés started offering delicious afternoon cream teas, made with the finest local ingredients - strawberry jam and clotted cream!
So, hang out the bunting, lay out your best Stoke-on-Trent pottery and let's celebrate with a delicious cream tea during lockdown! You could share some scones with family in the garden or ask friends to join you via Zoom or Facetime for a virtual gathering!
Here's our guide to how to celebrate National Cream Tea Day 2020!
---
THE ESSENTIALS
---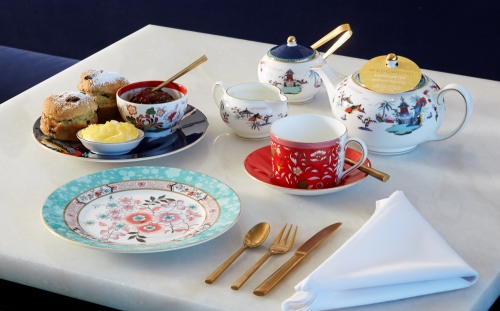 What you will need for the quintessential cream tea:
Stoke-on-Trent made teapot, milk jug, sugar bowl, plates, teacups & saucers.
Spoons, forks & knives
Napkins
Table & chairs
Table cloth
Beutiful flowers to decorate your table
Bunting
Tea, milk & sugar
Scones, jam & clotted cream
---
CREAM TEA ETIQUETTE!
---
The Cream Tea Society have drawn up a list of rules that one should follow when indulging in the quintessential English practice of taking cream tea! Find out the correct protocol here including where to sit if you don't want to pour the tea, whether to add milk before or after pouring tea, and the all important question of whether to spread jam or clotted cream first on your scone!
---
CREAM TEA RECIPE
---
Richard Allen, Executive Chef at World of Wedgwood has kindly shared his recipe for some delicious cranberry scones with homemade Staffordshire clotted cream and Wedgwood strawberry preserve:
Makes 12
Ingredients:
250ml Staffordshire thick double cream
168g Wedgwood strawberry preserve
250g self-raising four
125g unsalted butter
70g castor sugar
25g dried cranberries
25g raisins
½ tsp bicarbonate of soda
½ tsp baking powder
½ tsp salt
125ml buttermilk
1 medium free range egg
½ tsp vanilla essence
A little milk for glazing
For the Staffordshire clotted cream:
Preheat the oven to 85°C
Pour the thick double cream into a shallow oven proof dish so that the cream is approximately 20mm deep.
Place into the centre of the oven and bake for 5-6 hours, or preferably overnight, to form a golden crusty set clotted cream. Remove from the oven and cool on a wire rack.
Carefully scoop out one corner of the set chilled cream and drain off the buttermilk residue and reserve for the scone baking later.
Cover and keep chilled in the refrigerator.
For the cranberry scones:
Preheat the oven to 190°C
Sieve the self-raising flour, salt, baking powder and bicarbonate of soda together into a large mixing bowl.
Add the softened butter and castor sugar, rub through finger tips to form a fine crumb.
Add the dried cranberries and raisins to the crumb and mix well.
Beat the egg and combine with the buttermilk and vanilla essence.
Gradually add the liquid to form a dough. Cover and allow to rest for 30-45 minutes.
Roll onto a floured surface, approximately 20mm thick, and cut out with a 50mm plain cutter, place onto a lightly greased baking sheet and brush with the milk, allow to rest for a further 20 minutes.
Bake for 12-15 minutes until golden, allow to cool.
Enjoy with lashings of your homemade clotted cream and Wedgwood strawberry preserve.
To find out more about Richard and to see more of his delicious recipes, head to www.worldofwedgwood.com/blog-index
---
TEA
---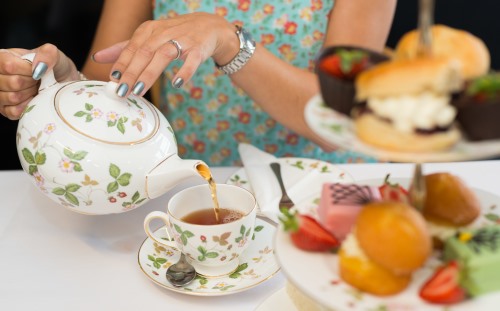 The choice of types of tea is endless but it's important to get the right tea to serve with certain foods. Twinings offer a great guide to pairing teas with afternoon tea on their website and suggest that the perfect tea to compliment cream tea and cream cakes is Assam black tea. Assam black tea is a strong, satisfying tea, perfect for those who love a cup bold in colour, and even bolder in taste. The strong and malty flavour compliments creamy foods and provides a balance to the sweetness of cream cakes.
---
CHILDREN
---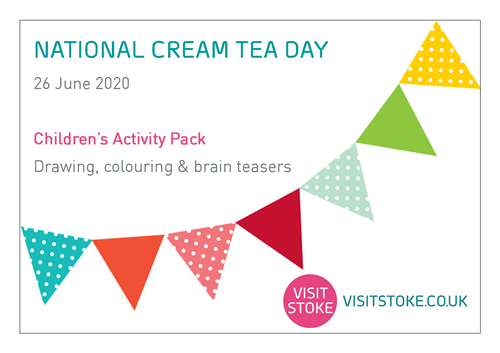 Children shouldn't miss out on the fun! We have pulled together a fun National Cream Tea Day activity pack for children to enjoy! The pack contains drawing, colouring, and brain teaser activities for children to enjoy whilst enjoying a delicious cream tea! Download the pack here.
---
10 OF THE BEST PLACES TO ENJOY AFTERNOON TEA IN STOKE-ON-TRENT
---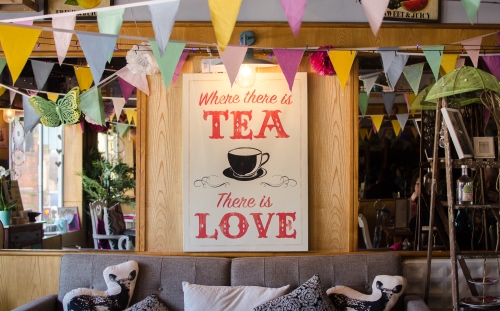 In a city which knows a thing of two about serving tea and cakes, here's ten of the best tearooms of Stoke-on-Trent for you to visit once they have reopened and are welcoming visitors again.