Father's Day in Stoke
Father's Day 2020 – not quite how we imagined it was going to be! But fear not - we can help you plan the perfect day for Dad that will be sure to give him a lockdown Father's Day that he won't forget.
---
BREAKFAST IN BED
---
Start Dad's special day off in style with breakfast in bed and a brew. We're talking about a proper breakfast here – Staffordshire Oatcakes of course! Fill him up with oatcakes full of his favourite fillings and serve him a brew in his favourite Stokie mug!
---
GRAB YOUR WALKING BOOTS OR SADDLE UP ON THE BIKE!
---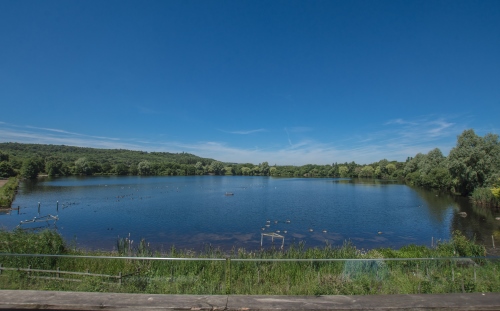 Dad is going to need to work that big breakfast off! We are very lucky to have such beautiful canals, greenways, parks and open spaces in Stoke-on-Trent. Why not head out and explore Stoke-on-Trent's green side? We have some fabulous walking & bike trails to explore and lots of beautiful peaceful spots to sit and relax.
Why not pay a visit to the fabulous newly restored Hanley Park and take a look at some of the wondeful restoration works? The park really is looking magnificent. The cafe in the main pavillion has now re-opened for take-away from 10am - 3pm from Tuesday to Sunday so you can easily grab a drink and a snack too!
Some of our beautiful garden attractions have started to reopen on a limited basis. The Trentham Estate's gardens and Dorothy Clive Garden are now open to a limited number of pre-booked visitors. Please click on their links above for ticketing & booking information.
Respect the social distancing rules, embrace the fresh air, enjoy the flowers, listen to the birds, run from the bees, enjoy the quality time together.
---
PUB IN A BOX!
---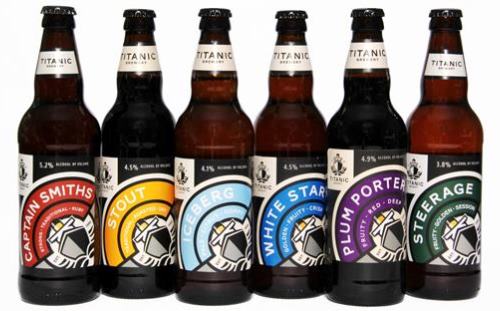 We're not able to treat Dad to the pub this year, but why not bring the pub to Dad? Titanic Brewery are offering a "Pub in a box" – including Titanic beer mats, a Titanic pint glass, a variety of snacks, a pub quiz, and most importantly a great selection of Titanic's amazing beer which includes six assorted 500ml and six assorted 330ml Titanic beers! All this for £25! You can pick up a Pub in a Box from Titanic Brewery in Burslem or alternatively you can call the brewery on 01782 823447 to arrange to collect one from one of Titanic's pubs.
---
AFTERNOON TEA
---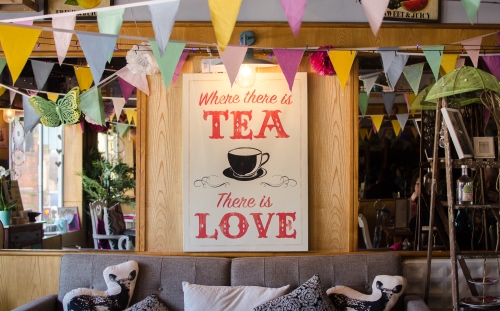 Celebrate Father's Day in quintessential English style and order him a take-away Gentleman's Afternoon Tea from The Quarter in the City Centre. The afternoon tea includes sandwich rolls, savouries, cake, tea & beer and costs £25 per person. The afternoon tea is available for collection or delivery on Saturday 20 June or Sunday 21 June. Orders can only be placed online at www.thequarterdelivery.co.uk and are subject to limited availability – book early to avoid disappointment!
Dorothy Clive Garden are also offering take-away afternoon tea! Simply order in advance and collect on the day! Details available at dorothyclivegarden.co.uk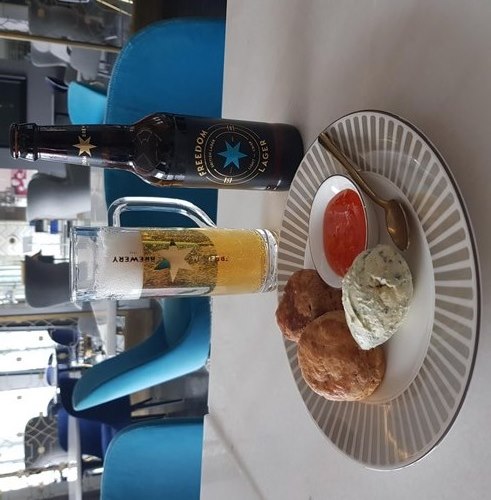 Why not get creative in the kitchen and impress Dad with your baking skills with an afternoon tea? Richard Allen, World of Wedgwood's Executive Chef, has shared the recipe for his delicious Father's Day Savoury Scones with Homemade Chilli Jam and Dovedale Blue Butter! Download the recipe using the link above and don't forget to share your creations with #MyStokeStory. You can find more of Richard's yummy recipes at www.worldofwedgwood.com/blog-index
---
ORDER A TAKEAWAY MEAL
---
We may usually be heading out for a lovely meal to treat Day on Father's Day. This might not be the case this year but there are lots of restaurants offering a take-away menu. Our friends at the Stoke-on-Trent City Centre BID team have compiled a great list of City Centre restaurants offering this service. Visit the BID's website to discover more!
---
TREAT DAD TO THE PERFECT POTTERIES G&TEA
---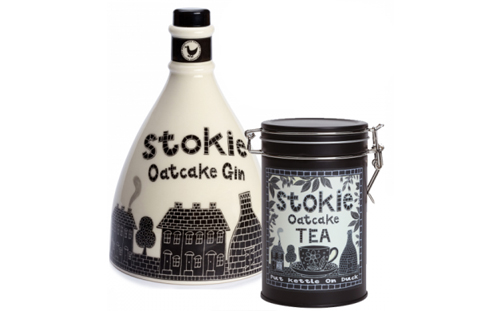 Treat Dad to the perfect Potteries G&Tea this Father's Day! Moorland Pottery's Oatcake Gin became an overnight sensation when it was first launched in 2019. It is available in a collectable Stokie Ware ceramic bottle too - designed to match the shape of the famous pottery bottle ovens which still punctuate The Potteries skyline.
Moorland Pottery have also launched Oatcake Tea, which offers the perfect cuppa for any Dad out there who proudly owns a Moorland Pottery Stokie Ware mug!
Both the Oatcake Gin and Oatcake Tea are available to buy online separately, or together, at www.moorlandpottery.co.uk
---
TAKE DAD ON A VIRTUAL CULTURAL TRIP
---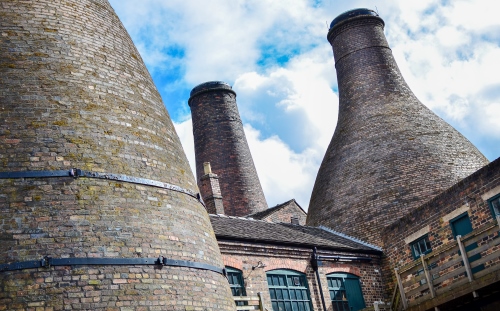 Dad's favourite museums and galleries might be closed at the moment but why not take him on a virtual tour of one of them?
Take Dad around the galleries of the Potteries Museum & Art Gallery on your own private virtual viewing. Around 4,000 of the museum treasures can also be viewed on their online collections web pages. Dad can also explore the magnificent V&A Wedgwood collection at the World of Wedgwood online. Why not explore life in a Victorian Potbank by taking a virtual tour of Gladstone Pottery Museum or if you would prefer to transport Dad further back in time why not go on a virtual tour of Ford Green Hall - a unique 17th century timber framed farmhouse which was home to the Ford family for over 200 years!
---
GET CREATIVE AT HOME AND CREATE A UNIQUE GIFT FOR DAD
---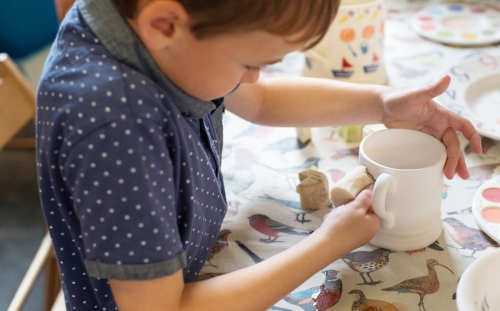 Dad will love a unique special hand-crafted gift and the British Ceramics Biennial's #ClayAtHome project offers the perfect tutorials to help you get your creative juices flowing! You don't even need clay if you can't get hold of any as they also provide a recipe for salt dough which can be used instead!
Check out our Get Creative at Home page where you will discover lots of onlines projects that will inspire you to get creative during lockdown!
---
GIFT VOUCHERS
---
A day trip to some of our fabulous attractions might not be possible at the moment, but why not get Dad a gift voucher or annual ticket that can be used at a later date? World of Wedgwood, The Trentham Estate, Trentham Monkey Forest, & Gladstone Pottery Museum all offer gift vouchers or annual passes that can be bought online.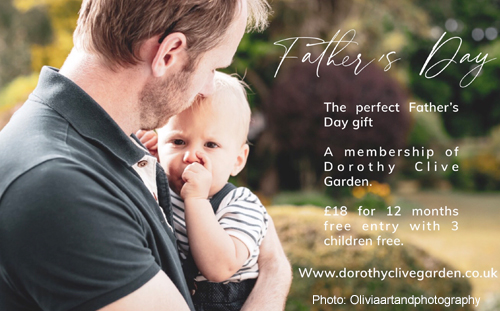 Dorothy Clive Garden are offering annual membership of the garden for Father's Day for £18 - which gives Dad free entry along with 3 children for 12 months.Help to create a future for heritage and receive some additional great benefits by buying Dad membership to Middleport Pottery! Members receive a free factory tour, unlimited heritage, exclusive access to events and 10% off purchases. Family Members also receive 10 free Play-with-Clay sessions.
---
DONATE IN DAD'S NAME
---
Lot's of our amazing attractions and venues are charities and/or rely heavily on the kind support of volunteers and donations. Why not make a donation as a gift in Dad's name and help them to re-open and keep running following this difficult time? Simply click on the links below to find out more information about donating:
Friends of The Potteries Museum & Art Gallery
Spode Museum Trust Heritage Centre
---
LOCAL ART
---
Visit Barewall art gallery's online Gift Shop for lots of unique special gift ideas for Father's Day! Barewall have now launched FREE local delivery for all orders within 10 miles! They will deliver whilst observing social distancing direct to your doorstep safely and with ease. Curb side pickup by appointment from the gallery is also available.
An example of the brilliant gifts available is Spitfire by artist Paine Proffitt. Limited to 50, it's a wonderful homage to one of the father heros of Stoke on Trent.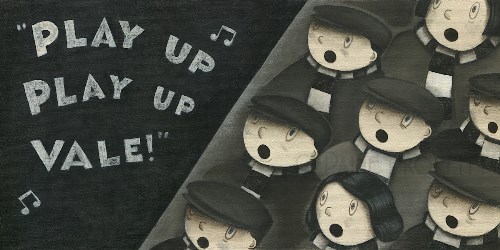 Barewall also have a terrific range of football and sports art available to order online at www.bwsportsart.com. These feature clubs and teams from throughout the UK, not just Stoke-on-Trent including the fabulous artwork of Paine Proffit which is available as limited edition signed prints.
Call 07932 717 718 or visit the shop online at www.barewall.co.uk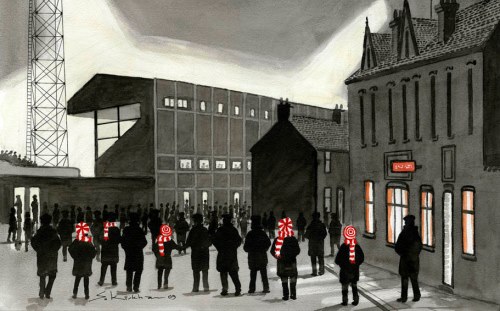 Fenton's The Art Bay Gallery has some fantastic gift ideas for Dad. Lovers of art can find some of the finest artwork produced in North Staffordshire including the original artwork and limited editions of Sid Kirkham - proudly known throughout the region for his affectionate depictions of life in the 1940s - 1960s. Browse the brilliant range of artwork available and orders online at www.theartbay.co.uk. Limited appointment viewings are available at their gallery space - telephone 07809 505244 for more informaion.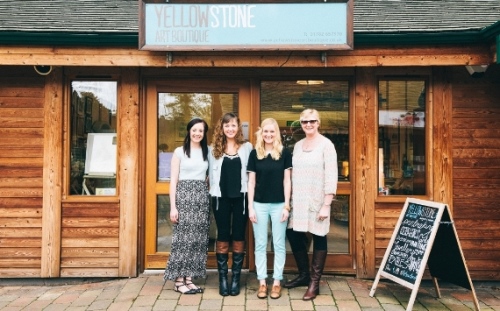 Take a look at the fabulous Yellowstone Art Boutique's website where you find the wonderful work of Staffordshire-based designer and owner Hannah Stoney along with over 40 different artists work. The shop, located within the Trentham Estate's Shopping Village, is a space for new British artists and makers to sell their work and has gained a reputation for being for being a contemporary and accessible gift and homeware store.
---
ORGANISE A VIRTUAL FAMILY STOKE-THEMED QUIZ!
---
This is a great way to get the wider family together to celebrate Father's Day. Zoom has become the world's favourite video-calling/conference calling platform over the last couple of months but Skype, FaceTime, WhatsApp and video calling through Facebook are all great options to catch up and see your Dad on Father's Day even if you can't all get together in person! Split the quiz up amongst you and each devise a different round! Here are some local place name brain teasers to help you get started with your quiz!
---
FOOTBALL
---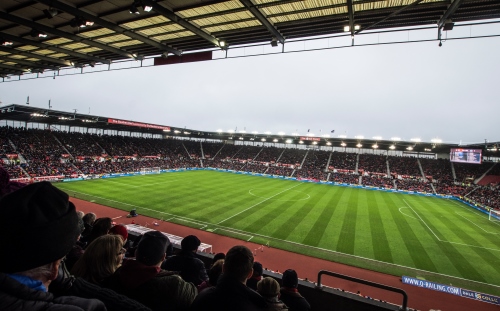 Dad will probably have really missed football over the last couple of months! At a time when our local football clubs will need all of the support that they can get, why not treat Dad to something from the online club shop to show his support of his beloved Potters or Valiants?