Light Night Stoke-on-Trent
Burslem Town Centre
Stoke-on-Trent
Staffordshire
ST6 4AT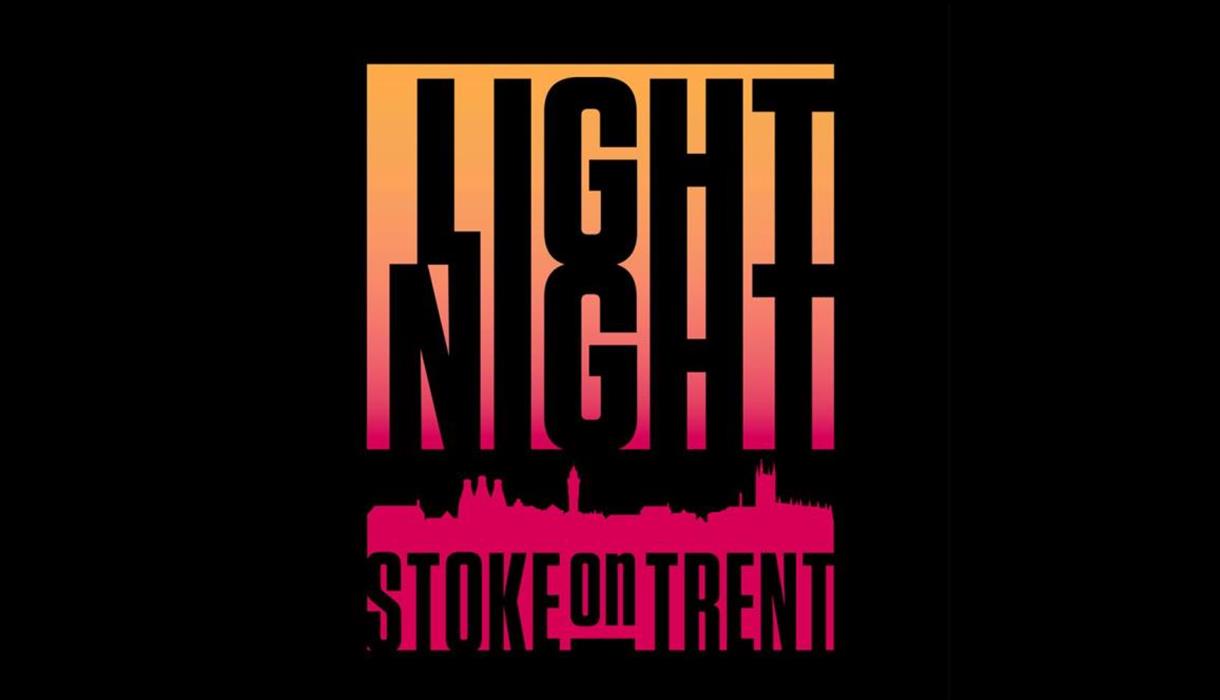 About
Burslem will be magnificently transformed from Thursday 31 January to Saturday 2 February as Light Night Stoke-on-Trent will make the town centre glisten and glow as the cityscape is illuminated. See world-class projections lighting up heritage buildings, illuminated musical parades setting the streets aglow and vibrant artworks igniting corners of the town.
Light Night Stoke-on-Trent is a free evening event taking place over 3 nights building on the energy, momentum and pride generated by Stoke-on-Trent's bid to be UK City of Culture 2021. It is delivered by Appetite in partnership with Stoke-on-Trent City Council and the Cultural Forum. Match funded by Arts Council England and Stoke-on-Trent City Council. Tickets are not required.
The Light Night programme includes:
Sense of Unity by Dundu & Worldbeaters – Friday 1 Feb & Saturday 2 Feb 7:30pm.
Procession Starting Point, St John's Square, Burslem, Burslem, Stoke-on-Trent, Staffordshire, ST6 3AH. Procession finishes at Burslem Old Town Hall.
As dusk falls in Burslem Town Centre gather with your friends and join us on a glowing, musical procession through the night in search of two puppets…
Illuminated against the darkening sky and steered by a team of five skilled puppeteers breathing life into the figures as you meet them, discover Baby Dundu and gentle Giant Dundu in this captivating, unfolding promenade story about the journey from birth to adulthood.
Performed to the world-inspired, high-energy live music of percussion ensemble Worldbeaters and their LED drums, be part of a moving and spirited night-time procession presented as part of the very first Light Night Stoke-on-Trent.
Sense of Unity is a collaboration between specialist German outdoor puppeteers, Dundu and renowned UK percussion ensemble, Worldbeaters. Produced by Activate Performing Arts, funded by Arts Council England through Coasters Touring Network and developed on Newbury Corn Exchange's 101 Outdoor Arts Creation Space.
Please note: Sense of Unity takes place on the Friday and Saturday evening of Light Night only.
This is an outdoor, moving performance.
Lasts: 50 mins approx.
The Fiery Promenade by Walk the Plank – Thursday 31 Jan & Friday 1 Feb 6pm – 9pm, Saturday 2 Feb 7pm – 10pm.
Created by award-winning outdoor arts experts Walk the Plank, experience Queen Street glowing at Light Night Stoke-on-Trent in a captivating series of fiery installations to enthrall and delight all ages.
Experience fire and light in a magical setting as you wander down the street illuminated with intricate sculptures, each animated with the warm glow of fire.
Stoke-on-Trent Illuminated – Thursday 31 Jan & Friday 1 Feb 6pm – 9pm, Saturday 2 Feb 7pm – 10pm:
There will be four stunning animated projections which will illuminate pieces of Stoke-on-Trent's history in Burslem. Especially commissioned for Light Night Stoke-on-Trent from renowned projection experts, Illuminos.
- The Most Powerful Weapon
Old Burslem Sunday School, Westport Road, Stoke-on-Trent, ST6 4AB
The Sunday School Movement set about improving the lives of the working class by educating children. Taking the Bible as their textbook children were taught to read and write on their only day of the week not labouring.
Learn the story of this revolutionary movement which gave thousands of children 'the most powerful weapon' in a powerful animated projection on Burslem's Old Sunday School.
Hear The Light Night Community Choir perform live as part of The Most Powerful Weapon on the Thursday and Friday evenings of Light Night at 6:15pm, 6:25pm & 6:35pm.
Outside of the live performances, audiences will be able to hear an audio recording of the Choir as part of the projection
- Ghosts of The Leopard
The Leopard, 21 Market Place, Stoke-on-Trent, ST6 3AA
Discover the secret history of one of Burslem's most iconic buildings and its incarnations through the centuries, The Leopard.
Haunted by famous visitors from Stoke-on-Trent's past from ceramic artist Clarice Cliff to Charles Darwin, Josiah Wedgwood and canal pioneer James Brindley met in its rooms in 1765 and cemented it's place in the history of the Industrial Revolution.
Its hotel rooms and hidden tunnels were sealed off in the 1930s - but which ghosts will make contact tonight? Witness for yourself in animated projection, Ghosts of The Leopard.
- On Shining Wings by Illuminos
Burslem Old Town Hall, 26 Market Place, Stoke-on-Trent, ST6 4AT
Holding sway over the fortunes of Burslem from the top of the Old Burslem Town Hall, witness the dramatic story of goddess Nike unfold against the brickwork in magical large-scale projection On Shining Wings.

Daughter of a river and the god of warcraft, see how war and water come together to produce Nike, goddess of strength, speed and victory.
- Settling in Stoke-on-Trent
Kismet, 1A Queen Street, Stoke-on-Trent, ST6 3EL
The very first Indian/Bengali restaurant to be opened in Staffordshire, Kismet, meaning 'destiny', was established 1962. Kismet will become the backdrop for a beautiful animated projection capturing the stories from those who have chosen to make their home in the city of Stoke-on-Trent.

Created by photographer Sam Ivin as part of Settling, a project documenting the stories of those who have settled in the city, in collaboration with Illuminos.
Discover the latest programme announcements, times and updates here

Invite your friends and family and follow the Facebook Event here
TripAdvisor
Opening Times
Sorry, this event has passed