English Tourism Week 2020
Celebrate English Tourism Week with VisitStoke
#EnglishTourismWeek is taking place from 25 to 31 May 2020 and while the celebrations will look a little different this year, we still have lots of ways that you can join in and explore activities in Stoke-on-Trent online! Here's our top 10 ways to celebrate from home - don't forget to share your stories on social media using the hashtag #EnglishTourismWeek and #MyStokeStory.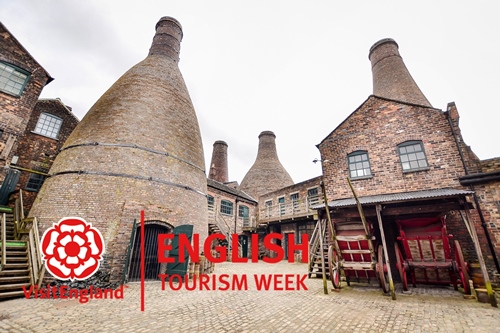 1. Explore our museums from your own home – take virtual tours of Potteries Museum & Art Gallery, Gladstone Pottery Museum & Ford Green Hall. You can also browse the fabulous collections of the Potteries Museum & Art Gallery and the V&A collection at the World of Wedgwood.
2. Get Creative at Home! 8 new Get Creative At Home projects in Stoke-on-Trent have been awarded micro-grants and are kicking off the city's local Get Creative campaign in lockdown.
3. Experiment with British Ceramics Biennial's #ClayAtHome with online video demonstrations, podcasts, and even recipes for salt dough if you don't have clay!
4. We all love Stoke-on-Trent's favourite culinary treat – the humble oatcake! Why not have a go at making your own Stokie oatcakes?
5. Post a picture of yourself on social media from a previous visit to your favourite Stoke-on-Trent attraction using the hashtag #EnglishTourismWeek
6. Download and read an Arnold Bennett novel from his Five Towns series - a series inspired by Bennett's birthplace in the Staffordshire Potteries which became Stoke-on-Trent. Arnold Bennett is included as one of VisitEngland's literary heroes!
7. What could be more English than celebrating English Tourism week with an Afternoon Tea? Make some delicious treats and serve them up on some beautiful Stoke-on-Trent pottery! And don't forget, if you want to be like a true Stokie, turnover your plate, cup, or saucer to check the backstamp to see where it was made!
8. Catch up on the latest series of the Great Pottery Throw Down and get to see the magnificent Middleport Pottery as Melanie Sykes hosts Channel 4's pottery competition which is filmed in the city.
9. If you live in the city, explore Stoke-on-Trent's beautiful open spaces, greenways, canals and parks! Jog, go for a walk, ride a bike and remember to stay two metres apart from others*. Share your Stoke-on-Trent springtime pictures with #MyStokeStory on Social Media. (Please check government guidance for the latest social distancing measures)
10. Make sure to check out our Visit Virtual Stoke guide to help you enjoy Stoke-on-Trent from your home. (We can't wait to welcome you back when the time is right!)