Knock! Knock!
Who's there?
Wanda Witch!
Wanda Witch who?
– Wanda Witch you a Happy Halloween!
Ghostly greetings from Stoke-on-Trent this Halloween! We have lots of treats in store for you this half term (and maybe a few tricks as well)! Read on to discover some great ghoulish events and activities taking place to keep you and your family entertained.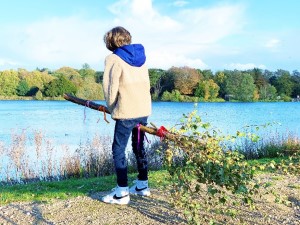 Head to the Trentham Estate for a cauldron full of family fun. Follow the Room on the Broom trail, based on the bestselling book by Julia Donaldson and illustrator Axel Scheffler, this imaginative trail has been designed to take your little ones on a storytelling adventure filled with magic, friendship, dragons, and monsters, with the friendly Witch and her brave companions! Trentham are also celebrating Halloween with Gandey's 'Spooktacular' Circus and a week of broom, wand, and spell making halloween activities in the award-winning gardens. On 23 October, the Trentham Makers Market returns showcasing award-winning local food & drink, art, craft producers, and vintage artisans.
The monkeys at Trentham Monkey Forest won't be missing out on Halloween fun either this year. Children visiting the Monkey Forest on Sunday 31 October in fancy dress will get free admission on what will be the last chance this year to visit the monkeys and see the 9 new babies born in 2021.
Alton Towers' terrifyingly fantastic Scarefest returns with spooks, frights and thrills for everyone at the UK's largest theme park - all just a short broomstick ride from Stoke-on-Trent.
It'll come as no ghostly surprise that in our city of imagination we have some fang-tastic creative activities this half term. World of Wedgwood will be running some spooktacular Halloween Pottery Pumpkin Painting Classes in their Decorative Studio and between the 22 - 31 October, they'll also be turning their Little Gardeners Afternoon Tea into an extra spooky Little Critters Afternoon Tea, with peanut butter jelly sandwiches, fondant pumpkins and jelly worms! Middleport Pottery will be hosting Mini Potters Make! String Art Workshops, alongside Mini Potters Explore, and Half Term Play with Clay. LoveClay Ceramics Centre have Halloween themed Decorating Sessions where you and your family can create your very own spooky masterpiece. The Quarter @ Potbank are celebrating Halloween with a Halloween Mystical Pottery & Fancy Dress Party.
The Dudson Museum will be hosting a range of Half Term Halloween Activities including painting a pot, quiz packs, painting pictures, create bottle ovens, and design a dream catcher. There will also be spooky story time with Mrs Potts plus the chance to enter a free draw to win a book. Also in the City Centre, Mitchell Arts Centre will have an October Half Term Film Club, showing some great family favourites.
It'll be full steam ahead this Halloween at Apedale Valley Light Railway as their Spooky Halloween Specials return on Saturday 30 & Sunday 31 October. Shirley's 1857 Etruscan Bone & Flint Mill will also be in steam and operating as in Victorian times at Etruria Industrial Museum as the museum hosts a Halloween Steaming Weekend!
The Potteries Museum & Art Gallery will be holding a spooky Friday Twilight – Conan Doyle by Candlelight, where Don't go into the Cellar theatre group present a number of memorable ghost and horror stories that rank with the best of their kind!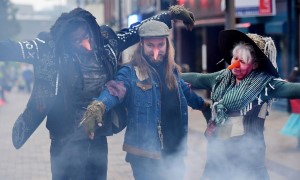 Dare you take on the Phasmophobia VR paranormal experience at XP-VR Virtual Reality Experience with your friends? If you're over 15 you can try the Phasmophobia group horror VR experience right here in Stoke on Trent!
Sunday 31st October sees the return of the highly successful Piccadilly Spooktacular in the City Centre. This year it will be even better as it's the same day as Stoke-on-Trent City Centre BID's Monthly Artisan Market. There will also be Trick or Treat Stands, Street Performers, Live Main Stage Music, and Halloween activities.
Whatever you decide to do this Halloween, stay safe, think of others, and enjoy yourselves. For a full listing of things to see and do and events taking place, head to visitstoke.co.uk and remember to use #MyStokeStory on your social media posts!
Related
0 Comments