It's December!!! Which means that it's time for the VisitStoke Advent Calendar! Keep checking for daily inspiration, offers and ideas as we open each door in the countdown to Christmas!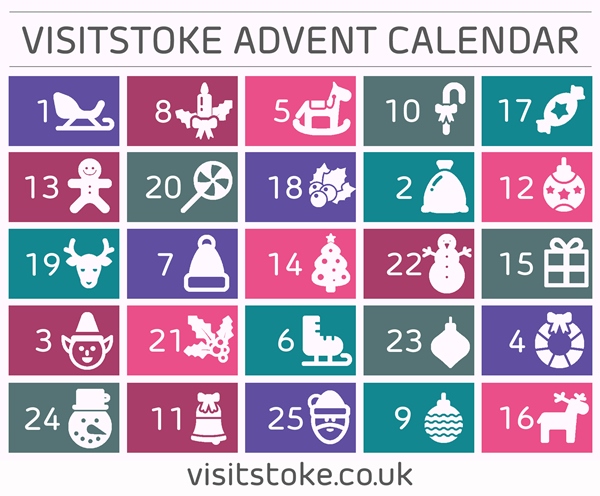 ---
Day 25 - Merry Christmas!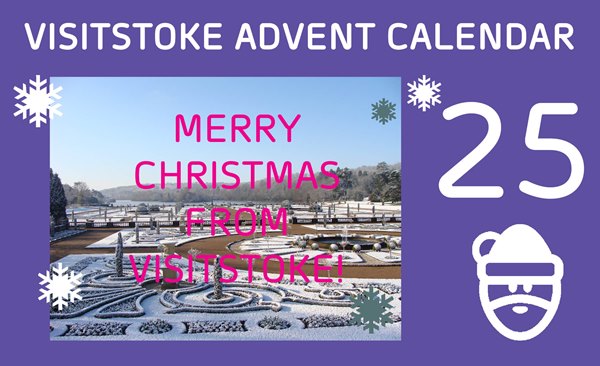 ---
Day 24 is #MyStokeStory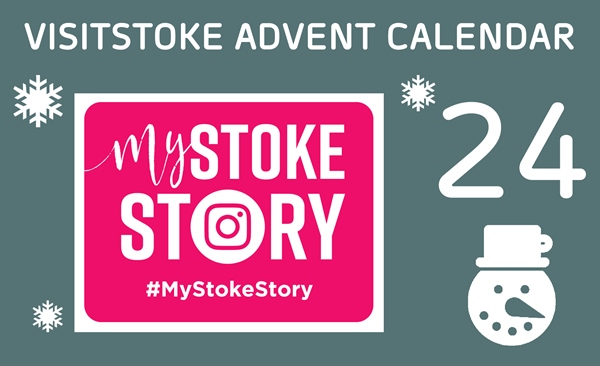 It's the 24 day of the VisitStoke Advent Calendar! Today we have our Stoke-on-Trent Cultural Destinations campaign #MyStokeStory behind the door! If you're out & about in Stoke-on-Trent this Christmas don't forget to share your experiences using #MyStokeStory
---
Our parks and green spaces are behind day 23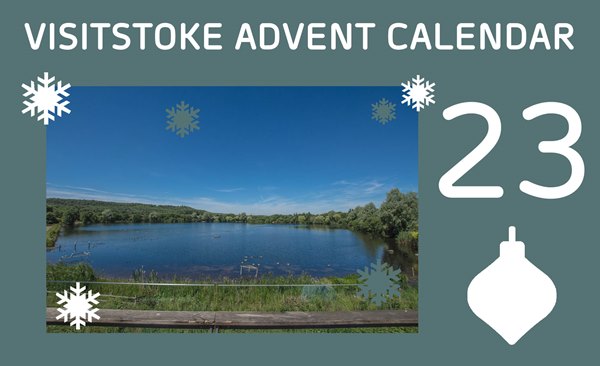 It's day 23 of the VisitStoke Advent Calendar and our fabulous parks and green spaces make an appearance today! They provide the perfect place to get out for some fresh air to walk that Christmas pudding off!
---
Day 22 - Titanic Brewery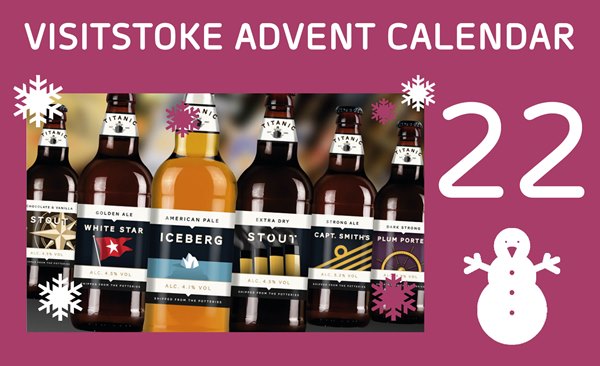 Cheers! Behind door number 22 of the VisitStoke Advent calendar is Stoke's favourite brewery Titanic Brewery! We think Titanic's Plum Porter is the ultimate Christmas pint! What's your favourite Titanic ale?
---
Day 21 is festive football fixtures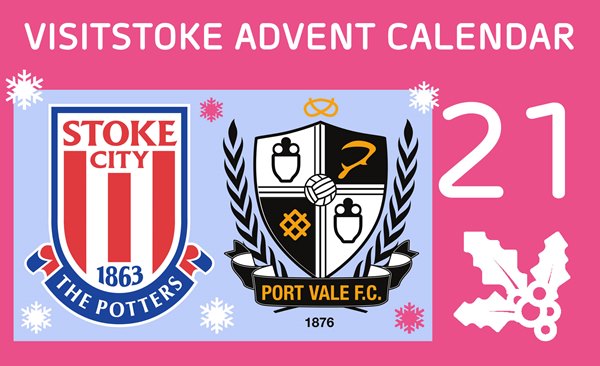 Behind door no 21 of the VisitStoke advent calendar is our 2 great football clubs Stoke City & Port Vale. Both have got a busy festive period coming up - check out the fixtures here.
---
Day 20 is the Oatcake!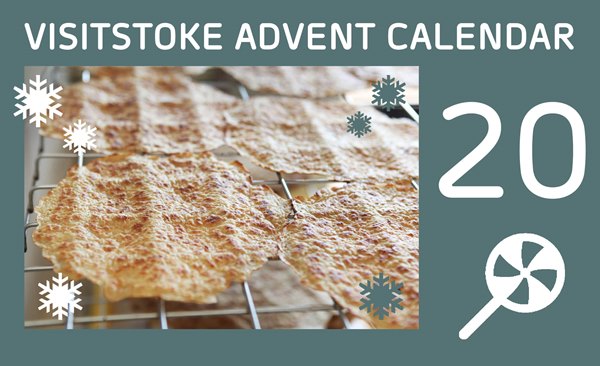 Day 20 of the VisitStoke Advent Calendar and behind today's door is the mighty oatcake! Make sure you stock up before Christmas!
---
Day 19 is the Dudson Museum!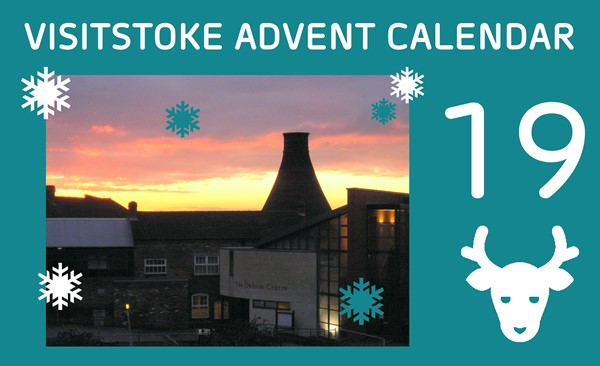 Behind door number 19 of our Advent Calendar is the wonderful Dudson Museum! Housed in an atmospheric Grade II listed bottle oven, you will experience the company's heritage from 1800! Admission is free too!
---
Day 18 is Royal Stafford!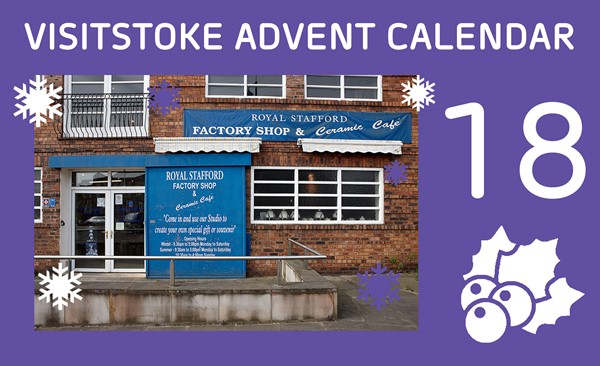 Royal Stafford is behind door 18 of the VisitStoke Advent Calendar! The Factory Shop sells seconds and discontinued lines including designer ranges making this a must for bargain hunters! There's also a ceramic cafe where you can create that unique gift!
---
Pottery Factory Shopping is behind door number 17!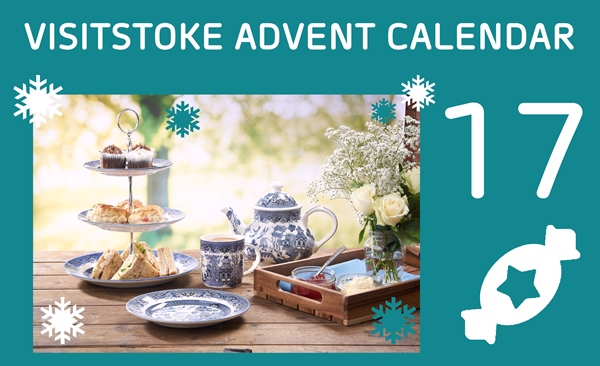 Day 17 of the VisitStoke Advent Calendar and today is Pottery Factory Shopping! We have a remarkable array of ceramic factory shops, selling everything imaginable: from dinner services, figurines, table & cookware, to mugs, jugs & jewellery!
---
Cheeky monkeys are behind door no. 16!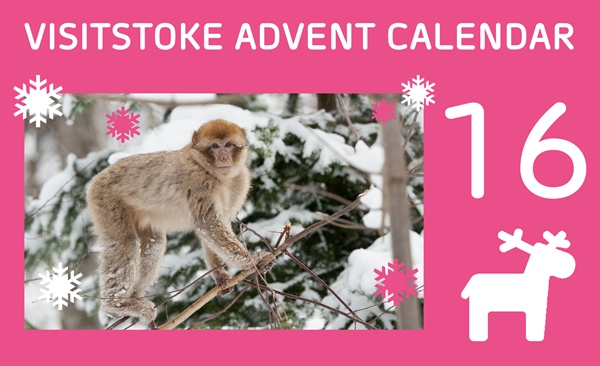 Trentham Monkey Forest is behind day 16 of the VisitStoke Advent Calendar! If you're looking for unique Christmas gift ideas Trentham Monkey Forest offer breakfast with the monkeys experiences, gift vouchers and annual membership!
---
Ford Green Hall is behind day 15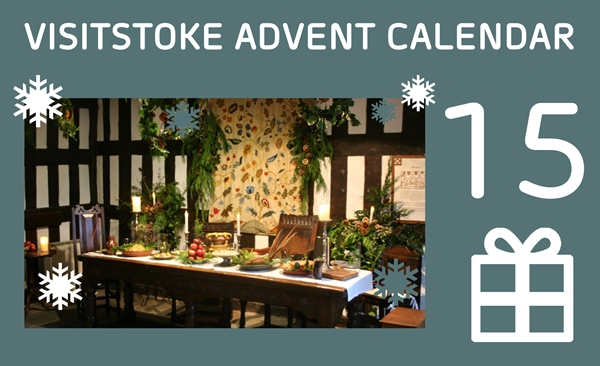 Day 15 and we head back to life in the 17th century on the VisitStoke Advent calendar with Christmas at Ford Green Hall which takes place today between 11am and 3.30pm!
---
Day 14 and we've got a Christmas Showcase!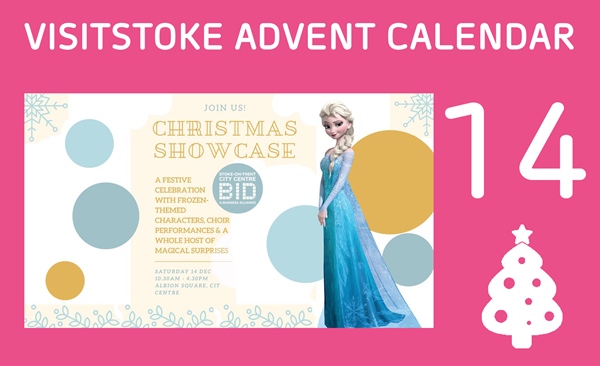 Day 14 of the VisitStoke Advent calendar and today we have Stoke-on-Trent City Centre BID's Christmas Showcase taking place in the City Centre - a festive celebration with frozen-themed characters, choir performances & a whole host of magical surprises!
---
Day 13 is the Regent Theatre's Sleeping Beauty panto! Oh yes it is!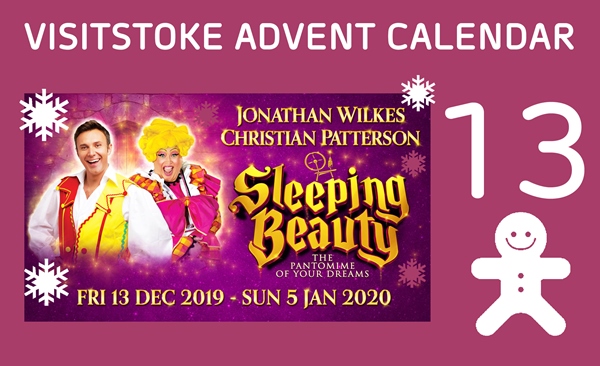 Behind today's door of the VisitStoke Advent Calendar is the Regent Theatre's Sleeping Beauty starring Stoke's panto royalty Jonny Wilkes and Christian Patterson! Running from 13 Dec until 5 Jan, it promises to be a belter!
---
It's day 12 and we're warming up for carols!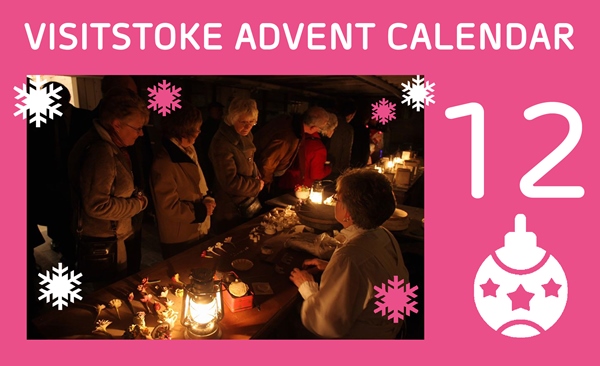 Day 12 of our Advent Calendar is Gladstone Pottery Museum's Twilight Christmas Carols which is taking place on Friday 13 Dec. See candle-lit demonstrations of pottery skills and listen to a brass band play Christmas carols in the cobbled courtyard.
---
Santa makes an appearance on day 11!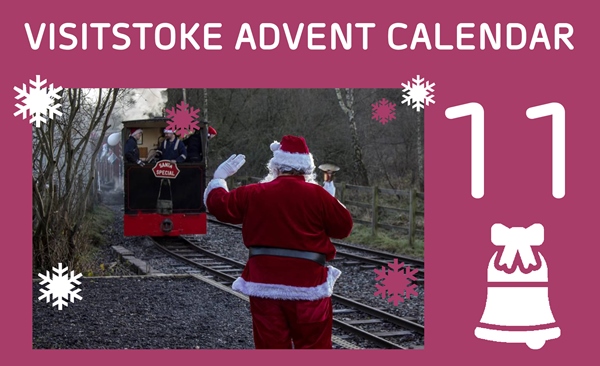 Apedale Valley Light Railway are on day 11 of the VisitStoke Advent Calendar! Head to Apedale on 14, 15, 21 & 22 Dec and enjoy a ride on the Apedale Valley Light Railway Santa Special and meet the big man himself!
---
Get creative on day 10!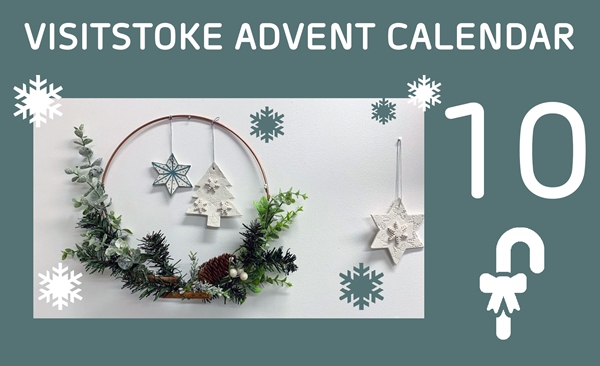 It's day 10 and LoveClay are on today's VisitStoke Advent Calendar! LoveClay hold brilliant ceramic workshops, exhibitions and themed events throughout the year and have a wreath making workshop and a Ladies Evening taking place this week!
---
Get your Christmas shopping all wrapped up on Day 9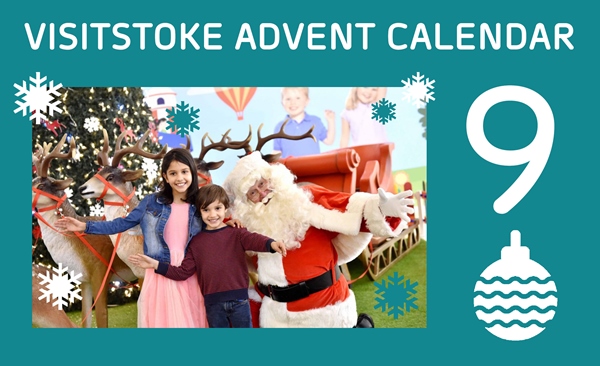 Intu Potteries is behind door 9 of the VisitStoke Advent Calendar where you'll not only find 96 stores, 13 restaurants and a cinema but also lots of festive fun including Santa, a Festive Area, and a magical indoor snowfall display!
---
It's full steam ahead on day 8...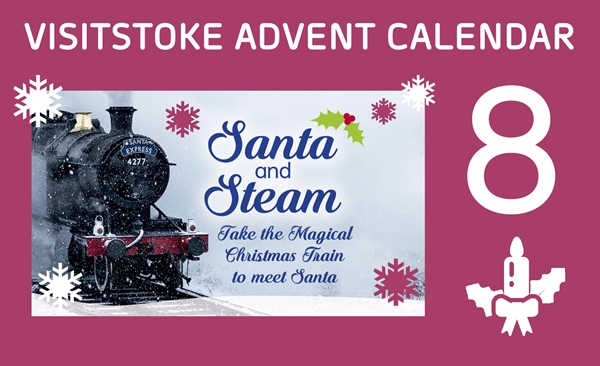 Churnet Valley Railway's magical Santa and Steam journeys are behind door number 8! Sit back and enjoy the ride as it steams through the Staffordshire Moorlands.

As Santa strolls through the train bearing wonderful gifts for each little Boy and Girl. Mums, Dads, Grandmas and Grandpas can relax and enjoy a mince pie and a glass of sherry in festive filled coaches which will delight all.
---
There's a party behind day 7!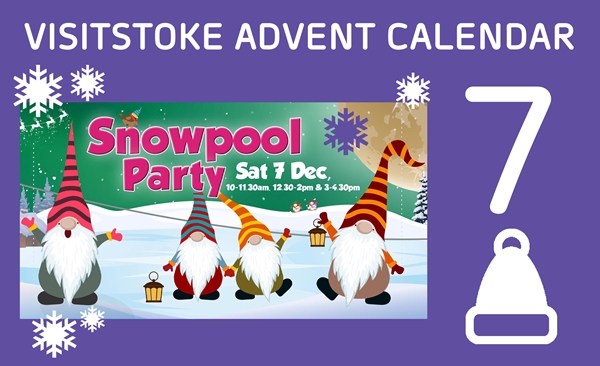 There's a Snowpool Party taking place behind door no. 7 of our Advent Calendar! Today, Dimensions Leisure Centre will be transformed into a Winter Wonderland with a snow pool, Santa's grotto, Christmas movies, bouncy castle and craft stalls!
---
Behind the door to day 6 is...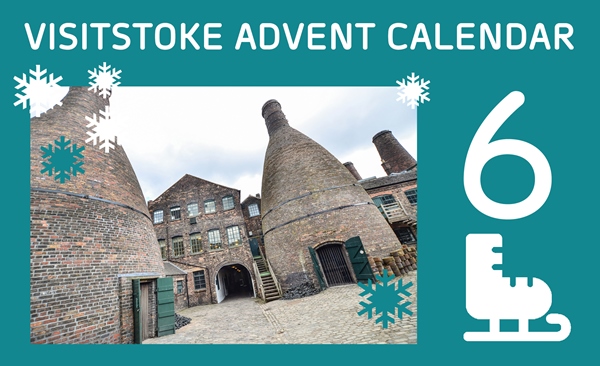 Gladstone Pottery Museum! Head to Gladstone Pottery Museum on Saturday 7 Dec for their Christmas Victorian Fun Day and enjoy seasonal stories, join the naughty elves in a snowball fight and take part in Christmas craft activities!
---
World of Wedgwood is behind door no. 5!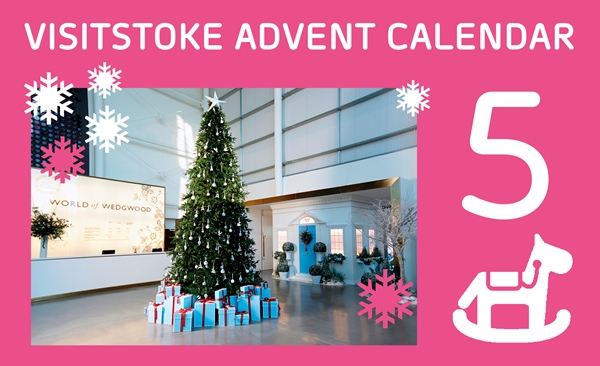 World of Wedgwood will be hosting a festive Christmas Market taking place between 7 & 8 December with everything you need for your Christmas celebrations! Why not design your own Wedgwood Christmas Bauble or sample a delightful Festive Afternoon Tea too?
---
Day 4 and it's the Trentham Estate's magical Shopping Village!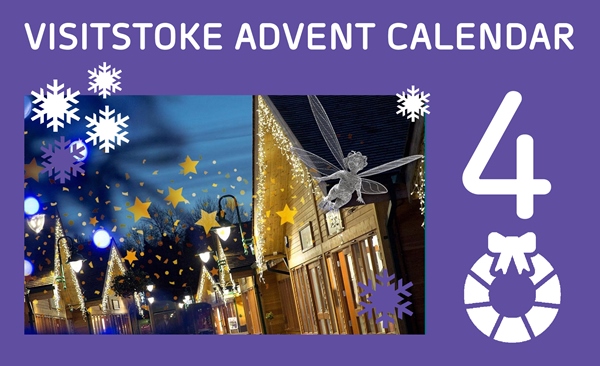 The Trentham Estate's Shopping Village is behind day 4 of the VisitStoke Advent Calendar! Browse 77 timber lodges, all twinkling with festivity, housing amazing shops, cafés and restaurants. FREE parking & open late night on Weds 4, 11 & 18 Dec
---
What has day 3 of the VisitStoke Advent Calendar brought us?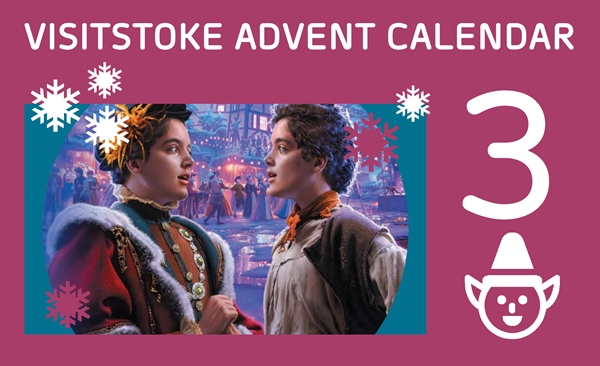 It's the New Vic Theatre's fabulous Christmas production - The Prince and the Pauper! The New Vic have brought to life another classic adventure story in their stunning trademark style!
---
Day two of the VisitStoke Advent Calendar...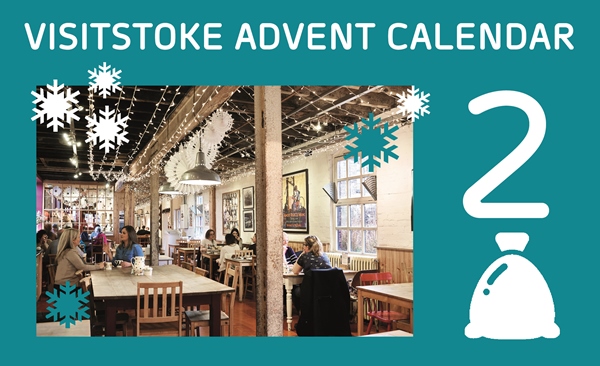 Emma Bridgewater is behind door number 2 and they have loads going on this December including Shoppers Tours & Breakfasts, Living Nativity, Christmas Afternoon Teas, and Decorate Your Own Presents!
---
So here we go. Day one...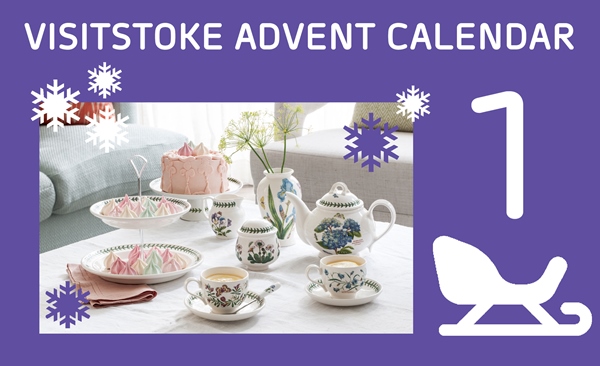 Behind the 1st door is Portmeirion Home & Gifts who are offering 10% discount to VisitStoke visitors at their Stoke-on-Trent stores - download the voucher here. (Valid until 12 Dec)
---
Related
0 Comments